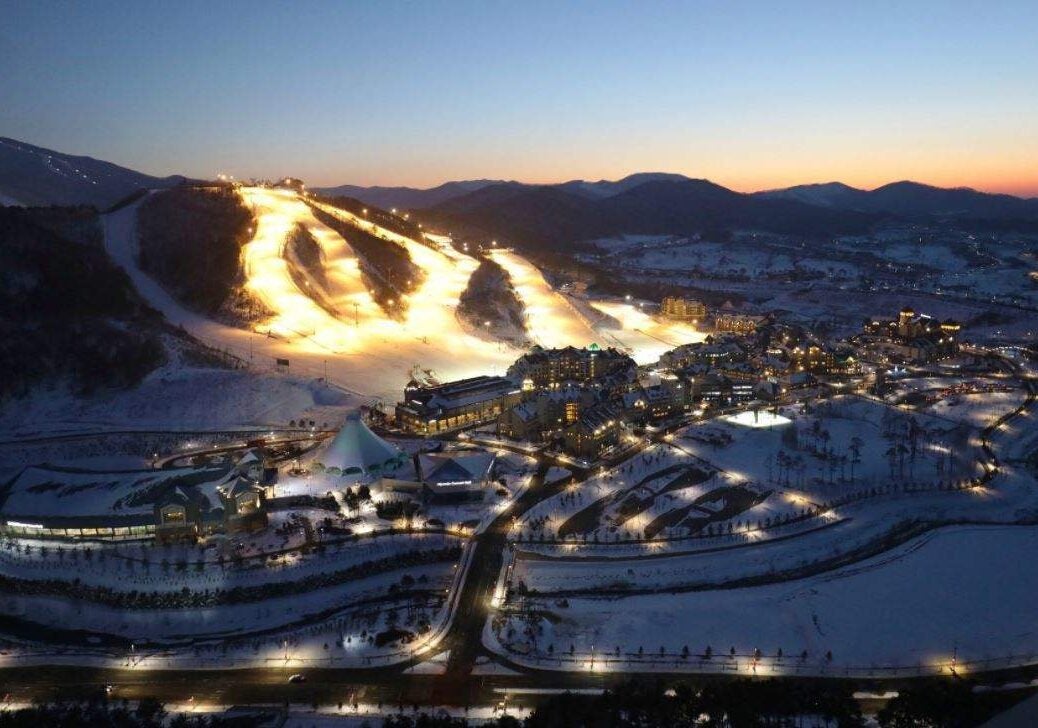 South Korea expects 83,000 foreign fans to pack into Pyeongchang next month for the PyeongChang Winter Olympics 2018.
If you're one of those making your way to East Asia to witness the sporting elite competing for Olympic glory, this guide will help to make your time in Pyeongchang comfortable, exciting and action-packed.
With temperatures expected to fall to as low as -10 degrees Celsius, you need to know what you're doing and where you're going before you venture outside – find out where to stay, where to eat, where to drink and what to do in advance.
Where to watch
PyeongChang Olympic Stadium, A category seating
If you can brave the icy PyeongChang air, some of the best moments will be found at the official Olympic Stadium. The venue won't be holding any sporting events. However, the open-aired arena will play host to 35,000 spectators in February, as fans pack into the venue for the Winter Games' opening and closing ceremonies.
Watch your country's delegation parade around the arena from the best seats in the house.
Price: 1.5m KRW (approximately $1,400)
Alpensia Ski Jumping Centre, A category seating
Watch on in awe as athletes reach speeds of up to 65 miles per hour as they hurtle down the Alpensia Ski Jumping Centre's 125 metre high hill.
With a capacity of just 8,500, this venue offers a reasonably intimate environment compared to other stadiums. With category A seating stretching around the perimeter of the venue, you're guaranteed a good view of the action no matter where you find yourself sitting.
Price: from 120,000 KRW (approximately $110)
Jeongseon Alpine Centre, B category seating 
For the full Winter Olympics experience, ditch the stadiums and take your place at the base of the Gariwang Mountain for the alpine skiing events.
The 3,600 seats on offer will appeal to the bulk of attendees. However, the event will be best viewed by those with category B tickets, who will see the competitors glide towards the finish line from 1,370m above them without having to crane their necks.
With the alpine skiing events set to take at least a few hours, you might get tired legs, but it will all be worth it for the superior view.
Price: from 60,000 KRW (approximately $60)
Where to stay
InterContinental Alpensia Pyeongchang Resort
Luxury hotel chain InterContinental's four star Alpensia Pyeongchang Resort is tucked away at the base of the Taebaek Mountains, which offers beautiful views of Pyeongchang's natural beauty.
The InterContinental Pyeongchang provides the perfect place to warm up after a long day spent in the cold. With well-stocked rooms, an assortment of restaurants, bars and lounges and a luxury spa, there's everything you need to keep yourself fed and entertained without leaving the hotel.
Although, if sitting around isn't your idea of relaxation, unwind with a few rounds at one of the hotel's three golf courses.
Price: from 151,137 KRW per night (approximately $142)
Yongpyong Resort
While Pyeongchang is the official host county, parts of the tournament will also be held in the nearby Yeongdong region, meaning that few places offers a straightforward journey to and from the Olympic venues.
However, Yongpyong, located nearby the Gariwang Mountain, offers Olympic viewing just a stone's throw from your hotel room. The organisers will be hosting the alpine skiing events at the nearby Jeongseon Alpine Centre.
Aside from easy access to Olympic events, Yongpyong Resort also provides luxury accommodation, restaurants and entertainment. For a more private, homely stay, consider renting one of Yongpyong's on-site villas.
Price: from 218,250 KRW per night for a one bedroom villa (approximately $205)
SEAMARQ Hotel 
Swap the secluded ski resorts for the hustle and bustle of Gangneung, Pyeongchang's sandy, coastal city.
It might be the wrong season for a dip. However, the East Sea will still provide a perfect view from the window of your room at the SEAMARQ Hotel. Describing itself as a "luxtige hotel" (luxury and prestige), this modern hotel offers everything that you could possible need to have a comfortable stay in Pyeongchang.
With temperatures set to be below zero in February, the room's heat control system will help to warm you up after venturing outdoors. Alternatively, you could always grab the champagne from your well-stocked mini-fridge and hop in your private hot tub.
Price:  from 465,300 KRW per night for a double room (approximately $437)
Where to eat
Wow Daegwallyeong Hanwoo Jinbu 
This Pyeongchang eatery has made a name for itself as the go to place for foreign visitors to the area. Outstanding customer service and informative staff helps to make the eating at Wow Daegwallyeong Hanwoo Jinbu an enjoyable experience free from the stresses caused by the language barrier.
This restaurant only uses the highest quality, healthy ingredients, raised and grown in the fields around Pyeongchang. Offering meat cooked to perfection, there's a reason why it's ranked Pyeongchang's number one restaurant on TripAdvisor.
Price: est. 10,930 KRW for a main course (approximately $10.30)
Pyeongchang Olympic Market
If you want to eat like a local, head to the Pyeonchang Olympic Market. There are plenty of local markets around Pyeongchang, but none quite stick to the old ways like this one.
Running since 1955, the Olympic Market continues to provide traditional dishes, prepared in a traditional manner, that are often hard to find in the region's more tourist-focused areas. Tuck into buckwheat noodles made the Pyeongchang way using buckwheat taken from the region's yellow fields.
If you're unsure about venturing away from Pyeongchang's tourist hotspots, rest assured that you will encounter a helpful and warm-hearted community.
Price: exact cost varies, but reasonably priced
La Yeon
Pyeongchang is a relatively small, quiet region. You won't exactly be spoilt for choice if you stick to the main Olympic areas. Consider taking the two hour trip to Seoul for the very best food that South Korea has to offer. La Yeon is one of just two three-star Michelin restaurants in South Korea.
This high-end eatery guarantees a delicious meal  of high quality Korean seafood that few restaurants can offer, albeit at a fairly hefty price. However, as leading restaurant critic Andy Hayler told us, it isn't the menu that excels at La Yeon, but the excellent customer service and splendid skyline view of South Korea's capital.
Price: 160,000 KRW to 250,000 KRW (approximately $150.25 to $235)
Where to drink
Oxy Lounge 
Open until 11pm, the Oxy Lounge at the luxury InterContinental Alpensia Pyeongchang Resort offers the perfect place to unwind as night falls over South Korea.
With windows that stretch from the floor to the ceiling, Oxy Lounge offers a view of the Taebaek Mountains that adds to its alpine, ski lodge feel. Sit inside and watch the sun go down by the fireplace, or take your drink out to the terrace and keep cosy around the fire pit.
Price: N/A
Rush
For those heading to Gangneung for the PyeongChang Winter Olympics 2018 coastal cluster events, Rush offers a night out that isn't all that different to what you might find in the Western world.
This basement club offers that rock-and-roll, dive bar environment that makes for a great night out. Live bands regularly grace the stage and the music doesn't stop until late.
Likewise, if you fancy taking a break from Korean cuisine, Rush also serves up a great burger. With a strong ex-pat community, you will feel right at home.
Price: N/A
Jinbu-myeon 
Noraebang, better known as karaoke in the Western world, is Korea's idea of a brilliant night out.
No matter where or what you're drinking, a night on the town isn't complete without a trip to the nearest karaoke bar. Let out your inner K-pop star as you sing along to the likes of PSY, BTS and BoA. All noraebangs are pretty much the same – a private room, a karaoke machine well stocked with new hits and golden oldies, and a television to read the words off of.
We won't recommend one particular place. Karaoke bars litter the streets of South Korea, so it won't be difficult to find one. If you want plenty of choice, consider heading to Jinbu-myeon  where a different Noraebang sits on every corner.
Price: N/A
Where to go
Woljeongsa Temple 
This 1,400-year-old Buddhist temple is one of Pyeongchang's major tourist traps, but a trip to the region wouldn't be complete without making your way around Woljeongsa. Encompassed by a sprawling fir tree forest is a traditional red temple coated in beautiful paintings and enchanting relics.
Woljoengsa houses national treasures such as the nine-story octagonal stone pagoda and the bronze bell of Sangwonsa temple. Be sure to feast your eyes on these Korean wonders. Sure, you might have to fight through crowds of fellow tourists to catch a look.
However, Woljeongsa provides a taste of Korean and Buddhist culture with a touch of grandeur that few other temples offer.
Price: 3,000 KRW for an adult (approximately $2.80)
Daegwallyeong Snow Festival
The PyeongChang Winter Olympics 2018 won't be the only event in the county during February.
Daegwallyeong's annual Snow Festival will already be in full swing by the time the Winter Olympics gets underway at the PyeongChang Olympic Stadium just a stone's throw away from Daegwallyeong's centre.
The Snow Festival is one of the biggest cultural events in Pyeongchang's calendar and continues to grow each year. With thousands of tourists in town for the Olympics, 2018 will likely be the biggest festival yet.
Kicking off with a firework display on 2 February, the festival will offer two weeks of everything from snowman building to naked marathons.
Price: 17,000 KRW for a day pass (approximately $16)
Jeonggangwon
For the foodies among you, a trip to Jeonggangwon, located a short drive away from Pyeongchang's centre, is a must.
Otherwise known as the Korea Traditional Food Culture Experience Center, Jeongangwon offers those interested in traditional Korean food the chance to learn, prepare and taste such wonders as fermented gochujang and bibimbap.
Containing a food museum, traditional Korean garden eatery, animal farm, spa and sculpture park, Jeonggangwon has something that will keep the entire family entertained. Likewise, it will also provide a welcomed break from the Pyeongchang snow.
Price: 3,000 KRW for an adult (approximately $2.80)