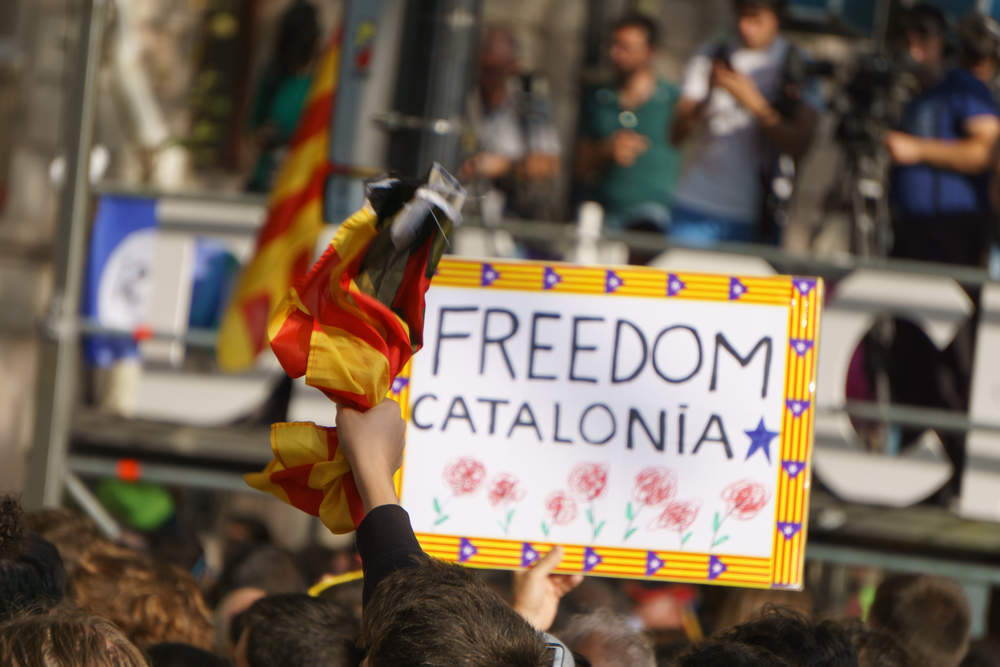 Spain has extended direct rule over Catalonia after yesterday recognising the powers of newly elected Catalan leader Quim Torra but objecting to his choice of councillors.
Spain's Prime Minister Mariano Rajoy refused to ratify Torra's cabinet — some of whom are being held in custody and others exiled separatists.
Now the seven-month stand-off that has rocked Spain and Catalan — which represents one-fifth of the Spanish economy — looks set to drag on.
Torra was chosen for the job by the region's deposed president, Carles Puigdemont, and is a hard line nationalist. He was elected last Monday and sworn in as president of Catalonia in Barcelona on Thursday.
Madrid has said it will end direct rule over Catalonia once a regional government is formed but hurdles are already being hit and Torra's pledge to pursue Catalan independence look likely to bring larger ones.
Who is Quim Torra?
Joaquim Torra i Pla, known as Quim Torra, was sworn in as the 131st President of Catalonia after a hotly contested election that saw him secure the presidency by a single vote — winning by 66 to 65.
A native of Girona in north-eastern Catalonia, Torra graduated from the Autonomous University of Barcelona in 1985 with a degree in law and spent most of his early career as an executive for multinational insurance company AXA Winterthur.
In 2008, he founded a publishing company that specialised in disseminating Catalan literature and revived a journalistic tradition from the 1920s and 1930s called "A Contra Vent Editors".
Torra's political career began in 2017 when he was elected to the Parliament of Catalonia as an MP for Together for Catalonia (JxCat) — a coalition of independents under the leadership of former Catalan President Puigdemont.
Puigdemont supported Torra's candidacy in a video he recorded while under self-imposed exile in Berlin.
After initially failing to achieve an absolute majority of 68 votes needed for outright victory on 15 May, Torra claimed 66 votes, with 65 against and four abstentions in the second round. This was enough to declare him as president two days later.
Upon election, one of his first pledges was to reinstate Puigdemont as the President of Catalonia. He said:
Our President is Carles Puigdemont, and we will be faithful to the mandate of October … to build an independent state in the form of a republic.

Everybody will win rights with the republic. Nobody will lose rights. The republic is for everybody, no matter what they vote. We have a unique opportunity, let's use it. Let's design from scratch what we want.
On the basis of the referendum in October last year, the Catalan cabinet will take over direct rule of the region, overriding Article 155 of the Spanish Constitution that previously gave Madrid the power to suspend Catalonia's political autonomy.
Andrew Dowling, lecturer in Catalan history at Cardiff University, told Verdict:
Catalan society is split down the middle on every issue. For opponents of independence, Torra is seen to represent intolerance. Supporters of independence are so alienated from Spain, they will support any leadership candidate.
Torra controversies
In 2012, Torra wrote an article for Catalan news site El Món in which he referred to Spanish opponents of Catalan independence as "beasts in human form".
Those comments received criticism from anti-racism group SOS Racisme, which branded Torra a xenophobe, and later El Món issued a retraction saying Torra words "were not racist but we reject them anyway".
The Spanish Special Prosecutor's Office for Hate Crimes and Discrimination opened an investigation into Torra's comments on social media into whether they are hate crimes. Torra has since apologised for making these comments.
Torra also promised to create what he called a "state council in exile" and to restore the deposed vice-president Oriol Junqueras and interior minister Joaquim Forn, who are both currently in jail awaiting trial.
He reportedly plans to visit seven more politicians and activists who were jailed for their part in the independence referendum.
Dowling said:
The appointment of Torra is an attempt to keep the independence question in the news by trying to embarrass Spain internationally. Given the controversial views of Torra, he is probably damaging the cause.

He has no actual political experience of any kind. He has never held public office and has no experience of public policy.
Dowling said he does not expect further immediate unrest in the region, adding: "Disruptions of varying kinds can certainly be anticipated in the next few months. October is likely to be a tense time as the trials of the political leadership in prison are expected then."
Torra is already caught between pressure from the Spanish Government on one side and hardline separatists on the other, who are concerned his stance is too conciliatory towards Madrid.
However, unlike his predecessors, Torra is not currently facing charges in Spanish courts — perhaps a sign of progress for the troubled region.