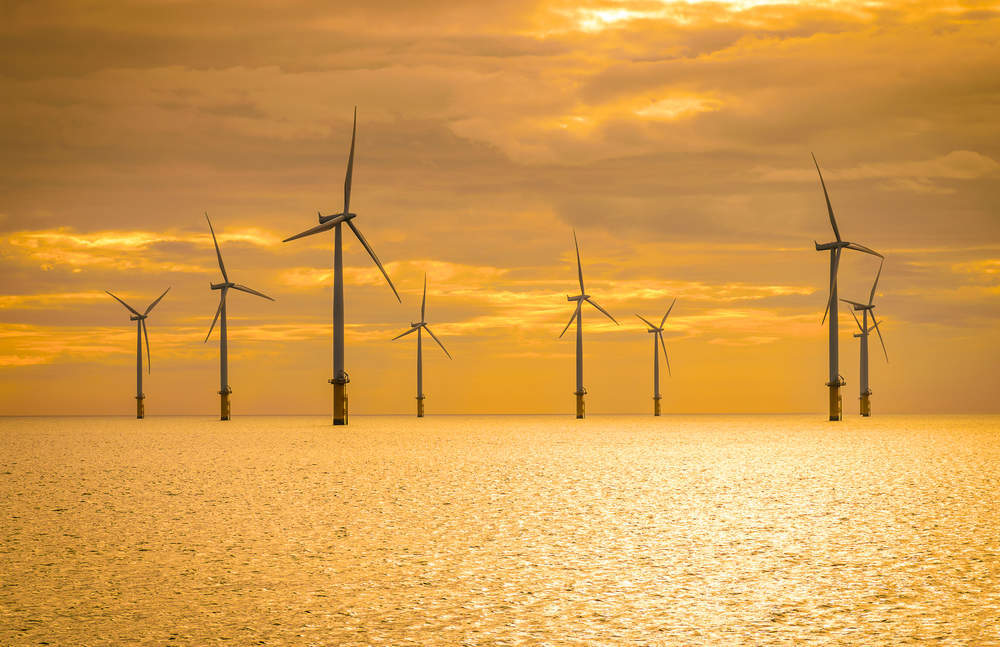 The UK has broken 13 clean energy records in 2017, making it the country's greenest year ever according to the National Grid.
However, the country's continued reliance on gas has kept it from reaching its emission targets.
Britain managed its first full 24 hours without any coal power in 135 years (since the industrial revolution) in 2017 — an achievement that head of energy at Greenpeace Hannah Martin said would have been "unimaginable" ten years ago.
Other accomplishments include the most wind power produced in one day and the most electricity produced from solar power at any one moment.
Overall in 2017, renewable energy generated over three times more electricity than coal, with wind production beating that of coal 263 days (over 75 percent) of the year and solar overtaking fossil fuel on 180 days.
For the first time the cost of offshore wind power fell below the price of nuclear.
While global coal use currently produces around 40 percent of the world's electricity, it now supplies less than seven percent of Britain's electricity.
Gareth Redmond-King, head of energy and climate at WWF said:
We have never been cleaner or greener – and we are on course for an even better year in 2018.
An energy department spokesperson said Britain was reducing emissions faster than any other G7 country — Japan, Italy, the US, France, and Canada — and the government has plans to continue reducing carbon emissions throughout the 2020s. The spokesperson added:
The UK is a world leader in clean growth.
What more can be done?
Meanwhile, the UK's high consumption of gas somewhat dampens the successes of the past year.
Over the course of 2017, wind power outranked gas on only two days of the year, while fossil fuels overall were beaten by renewables on just 23 days of the year.
Andrew Crossland from MyGridGB and the Durham Energy Institute said:
If we continue to use gas at the rate that we do, then Britain will miss carbon targets and be dangerously exposed to supply and price risks in the international gas markets.
He added that government support for low carbon alternatives is needed to "avoid price and supply shocks for our heat and electricity supplies".
Many have called for more drastic measures from the government in ensuring emission targets are reached.
Emma Pinchbeck, executive director of Industry body RenewableUK, said "more boldness" was needed from the government, suggesting the development of onshore wind in the pursuit of a "golden age for renewables" in 2018.
Redmond-King pointed to the country's failure to curb consumption at home, saying the National Grid figures are:
A success in terms of power; we haven't done so well in relation to cutting emissions in our homes and vehicles. That's where we need more concerted action.
In October the government announced its clean energy strategy, which included over 50 measures designed to improve clean power and energy efficiency.
However, the strategy has been criticiser from a number of sources.
Green Party co-leader Caroline Lucas described it as a "blueprint for underachievement", while others said the proposal did not set out how de-carbonising homes would be achieved.
Additionally the WWF said that the proposed commitment to ending the sale of petrol and diesel vehicles by 2040 is not radical enough, and should be brought forward to 2030.
UK's energy status
The UK currently stands as the fourth cleanest power system in Europe and the seventh worldwide. It is outranked by the Scandinavian countries and Germany, which has increasingly invested in developing renewable energy.
Since 2012 the UK has halved its carbon emissions in the electricity sector and has announced plans to phase out unabated coal by 2025. Unabated here meaning that the coal is burnt without capturing the resulting carbon emissions.
Last month Britain launched an organisation alongside Canada called the Powering Past Coal Alliance, dedicated to phasing out the use of coal for energy production by 2030.
Members include France, Finland and Mexico — though some of the highest coal-consuming nations such as China, Germany and the US have not joined.
Saying this, Canada and the UK are two of America's closest allies, and their pioneering of renewable energy marks an opposition to US president Donald Trump's proposed revival of coal.
Green energy records broken in 2017 by Britain
First 24-hour period without coal generated power

Longest period without coal generation

Greenest summer – more than half (52 percent) of energy generated from low carbon sources

Lowest amount of carbon produced by electricity production at any one moment

Largest amount of energy produced from renewables at any one moment

First time wind, nuclear, and solar produced more than gas and coal

More electricity generated from solar energy than ever before at a single moment, producing a quarter of Britain's energy supply

Highest percentage of solar produced relative to national demand

Most wind power ever produced in a single day

Most offshore wind power produced in a single moment

Most electricity produced from all wind generation at any moment

Most electricity produced from hydro power at any one moment