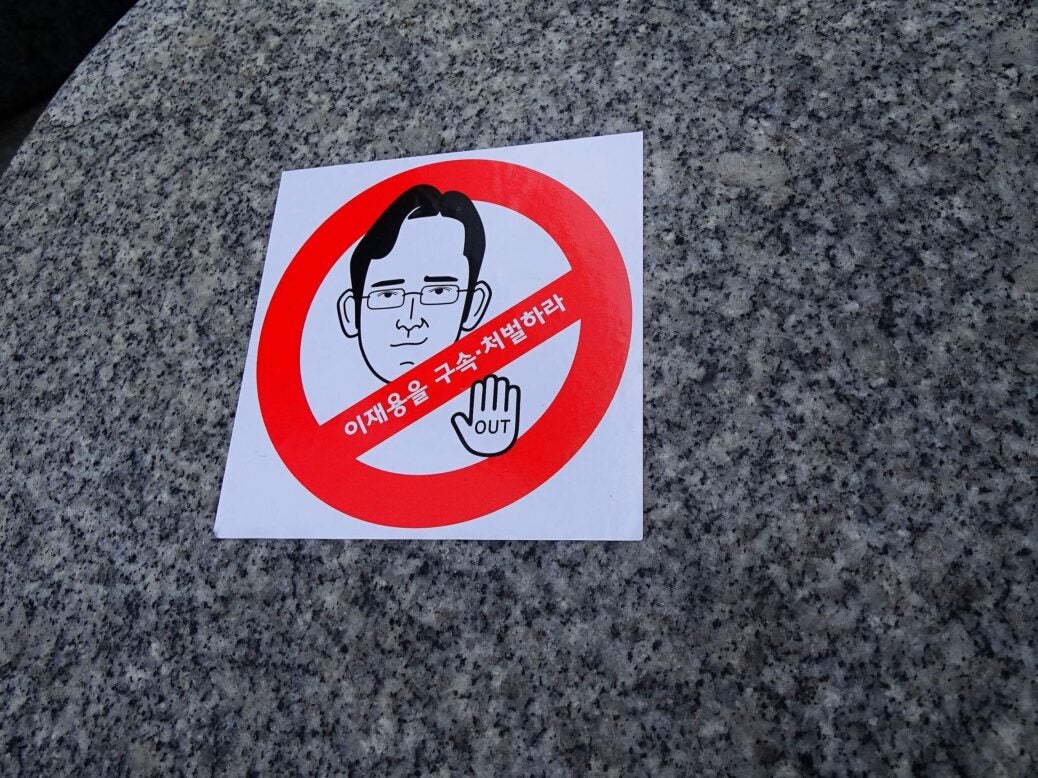 Samsung's acting group leader, Lee Jae-yong, has been sentenced to jail for five years for corruption in what has been dubbed "the trial of the century".
Lee was on trial for charges relating to bribery, embezzlement, and corruption, linked to the impeachment scandal that has brought down South Korea's former president Park Guen-hye.
Samsung's share price was down one percent this morning.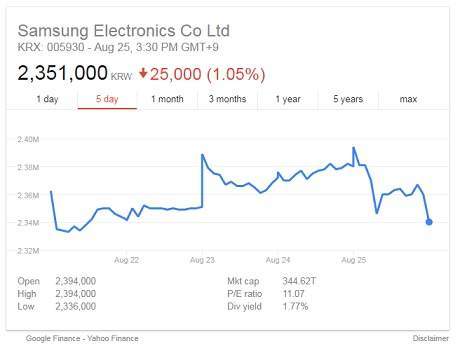 What has the Samsung trial been about?
Lee was standing in for chairman for his father, the official head of Samsung Lee Kun-hee, who suffered a heart attack in 2014 and has been ill ever since.
Under South Korea's chaebols rules, the country's biggest family-run corporations, the leadership of the company only passes to the heir once the current head has died.
However, in February Lee was arrested and accused of giving donations worth £$36m to organisations linked to Choi Soon-sil, president Park's friend, and confidante. This was done in order to support a restructuring of Samsung that would see Lee become the official group leader.
It was thought that Lee would be subject to up to 12 years in prison for the charges, however, he will only serve five now.
His lawyer, Song Wu-cheol, has said Lee's legal team will appeal the decision. Song told Reuters:
We are confident the ruling will be overturned.
What has the public reaction been?
Since the scandal erupted in South Korea, there have been riots and protests in the streets of Seoul. Two people were killed in clashes with the police after Park was impeached.
According to the BBC, there has been much anger in the country that Lee would get off or receive a reduced sentence.
One source told Quartz that it is likely Lee will return to Samsung after his jail sentence, though likely to go to one of the company's international offices.
They still need Samsung to not fall apart. Still, it looks really bad to Koreans if Lee comes right back, so exile has been a popular way to deal with the need to lay low.
How can Samsung move on from this?
Four other Samsung executives are still on trial, so there are those decisions to look forward to.
Also, the company will need a stand-in group leader whilst Lee is on trial and his father is ill. Lee has two sisters, one of which is the president of Samsung's theme park, Samsung Everland.
For the electronics side of the business, however, things are looking up. This week it released the Samsung Galaxy Note 8 to much fanfare and banished the woes of last year's Galaxy Note 7 battery scandal.
Samsung is the second biggest smartphone maker, and sometimes biggest, alongside Apple so if its electronics division keeps puffing along well it should remain one of the most powerful tech companies in the world, despite the scandals.
Yet, it looks like its influence in South Korea will be greatly diminished after this.