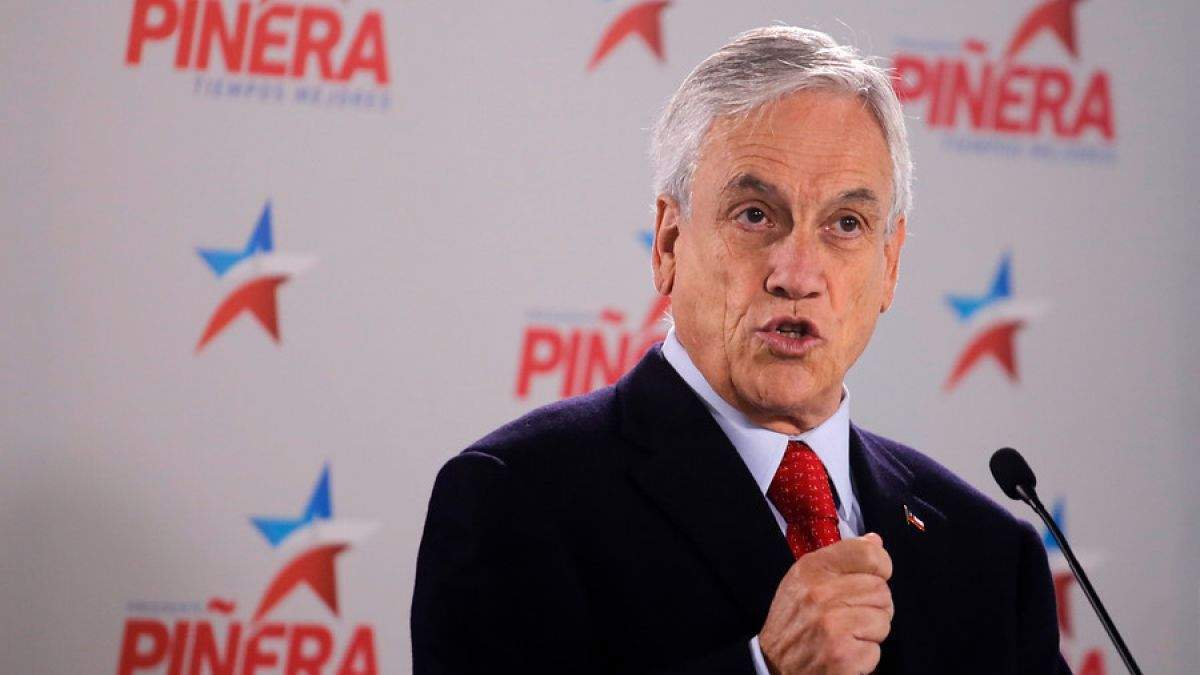 Billionaire Sebastián Piñera of the centre-right coalition Chile Vamos (Let's go Chile) was inaugurated yesterday as Chilean President after winning 54.6% of the votes in the December elections.
Piñera's net worth is $2.8 billion as of 3 March 2018 making him the fifth richest person in Chile, according to Forbes.
He will replace Michelle Bachelet, Chile's first and only female President. He also succeeded Bachelet last time he was President between 2010 and 2014.
To win the Presidential election, a candidate has to receive 50% of the votes.
At the end of November, Piñera failed to win a majority – he won 36.6%. Piñera had to face a second round election – called a run-off. It is rare for Chilean Presidents to win an outright majority in the first round.
In the run-off Piñera faced Alejandro Guillier of Bachelet's Nueva Mayoria (The New Majority) left-wing coalition since he received the second highest number of votes in the first round – 22.7%.
How well do you
really

know your competitors?

Access the most comprehensive Company Profiles on the market, powered by GlobalData. Save hours of research. Gain competitive edge.
Company Profile – free sample
Thank you!
Your download email will arrive shortly
Not ready to buy yet? Download a free sample
We are confident about the unique quality of our Company Profiles. However, we want you to make the most beneficial decision for your business, so we offer a free sample that you can download by submitting the below form
By GlobalData
Due to strict Presidential term limits as a result of Chile's dictatorial past, Bachelet was unable to stand in the 2018 election (candidates are not allowed to hold successive terms in office).
According to Sergio Urzua, Associate Professor in Economics at the University of Maryland, who participated in a discussion panel for think-tank Inter-American Dialogue,
Piñera won 3.8 million votes in the run-off election – this is the highest number of votes a Chilean President has won since 1990 when the country transitioned back to democracy following Augusto Pinochet's 15-year dictatorship.
Economic Implications of Piñera's election
Like many countries in Latin America, Chile has struggled to generate significant economic growth since the global financial crash in 2008-9.
Chile's economy stagnated during Bachelet's term – annual growth was approximately 1.9% from 2014.
This was "by far the lowest in any administration since the 1990s" according to Urzua.
Average annual economic growth during Piñera's first term from 2009 to 2014 was 5%.
The economic stagnation has especially concerned the middle classes who have prospered as a result of the commodity boom centred on copper production.
They are worried that they could fall back below the poverty line if the economy fails to improve.
These factors made economic affairs central to the Presidential election.
Piñera's strong showing in the polls after becoming Chile Vamos' official Presidential candidate in July 2017 led to a resurgence of the Chilean stock market after six years of stagnation, according to the Financial Times.
In November 2017 the country's stock market was up 28% compared to 2016, which means Chile is outperforming all regional peers except Argentina.
The markets were encouraged by Piñera's electoral campaign centring on a commitment to revitalise Chile's stagnant economy as well as a presumption he will act in the same way as he did during his first term when he enacted pro-business policies.
Piñera's slogan for the 2018 Presidential election was Better Times Ahead.
According to the Santiago Times, Chile's English language newspaper, during the campaign he declared "we need to replace the bad government to improve the country which is currently stagnant."
During the Inter-American dialogue panel event, McLarty Associates Latin American regional director Gabrielle Trebat said:
Pinera has it as his goal to increase private investment by 38% in the first four years.. [and] on the campaign pledged about $30bn to modernise and improve rails and roads.
Academic at New York University who specialises on Chilean politics, Patricio Navia, told Verdict:
The markets are rallying behind Piñera because they expect that he will get back on the market-friendly and socially-oriented policies that he implemented in his first administration.
During her term in office, Bachelet undertook many social reforms in an attempt to reduce social inequality in Chile. These reforms included educational and labour reforms – however, the primary one was the increase in corporate taxes.
The corporate tax rate has been set at a minimum of 27%. This is the highest in the region making it difficult for Chilean companies to compete across the Latin American continent.
These reforms were widely criticised as being poorly designed and implemented.
Both the Chilean business community and the general population were critical of them – according to Urzua "since the very beginning, more than 50% of people were reporting that they were not happy with them".
A major issue was that they made economic growth into a secondary governmental priority.
Piñera has said he will not reverse these reforms, instead he will perfect them.
Sociologist Eugenio Tironi told the Financial Times:
Piñera is going to correct, not reverse the reforms. He will tidy the state up a bit and make it more efficient.
Bank of America Merill Lynch economist Ana Madeira told the Financial Times:
The expectation is for a moderation in the reformist agenda of the current government that led to pessimism in the business community.
Piñera has pledged he will amend the labour reforms and cut corporate taxes.
Economist specialising in Latin America at Capital Economics Edward Glossop told Verdict:
There is a quite a lot of optimism surrounding Piñera's election because of the hope he will cut the corporate tax rate.
Trebat added:
We can expect Piñera to both simplify and address the corporate tax rate. I think we may see Pinera try to reduce it a little bit to more competitive levels.

I think there will be some efforts to repeal some aspects of Bachelet's labour reforms…[but] this is going to be very hard in an environment where unionisation has increased.
In order to safely secure his electoral victory, the billionaire appealed to unity during his run-off election campaign.
Piñera said after winning the most votes, but failing to win a majority in the first round:
Votes do not belong to anyone, we will appeal to the social centre of people, people who believe in moderation, common sense, progression, those Chileans who want change for the better.
According to The Economist, as well promising economic growth, he pledged more handouts for the poor and extra public spending for pensions, healthcare and education to satisfy the middle classes.
Trebat argued that Piñera will have to continue to respond to societal demands throughout his tenure since he cannot repeat the mistakes of his first term when "he was viewed as much more close to CEOs and executives than he was to the people".
His ability to roll back the reforms will be further hindered by his Chile Vamos coalition not holding a majority in the Chilean Congress.
Legislative elections for Chile's National Assembly occurred simultaneously to the first round of the Presidential election.
Chile Vamos won 46% of seats in the Chamber of Deputies and 44% in the Senate.
Bachelet's Nueva Mayoria coalition won 27% of seats in the Chamber of Deputies and 34% in the senate.
Director of the Centre for the Study of Political Opinion at the University of Chile Robert Funk commented in the Inter-American dialogue event:
The real challenge in terms of the results is that no one can claim victory, everyone can claim victory.
Kenneth Bunker from Chile's Central University told Bloomberg:
Pinera will face a very fragmented Congress. He will be a moderate leader with no legislative majority.
Trebat said she believed amending the corporate tax rate would be "his first real challenge" in the National Assembly because "an increase in the corporate tax rate helped to bring in some much needed revenue."
Glossop agreed, saying:
Because of his lack of support in Congress it will be hard for him to actually implement corporate tax reforms.
During the Inter-American dialogue discussion, Trebat characterised Piñera's upcoming balancing act between placating domestic political demands and the markets as threading a needle.
She said:
He is going to have to find a way to thread that needle. To address some of the social concerns while avoiding major structural changes that will deter…investment.
Piñera will be aided in his upcoming four-year term by the increasing prices of Chile's main export commodity, copper.
Copper prices have risen by more than 20% since mid-2016 to a three-year high of approximately $7,000 per tonne according to the Financial Times.
Chile is the world's largest producer of copper and depends on it for almost half of its total export revenue.
According to the Observatory of Economic Complexity, Chile's exports of copper ore and refined copper are worth $24.4bn per year. The second most valuable Chilean export commodity is sulphate chemical woodpulp at $2.27bn.
The Economist argues the 5% economic growth Piñera presided over during his first term was helped by the high price of copper.
However, analysts note that Piñera will also benefit from appearing more open to investment than Bachelet's administration, particularly in the realm of copper.
His position as Chile's fifth richest man undoubtedly makes him seem more business savy than socialist, medically trained Bachelet.
Resource analyst for Fat Prophets, David Lennox, told CNBC:
We certainly think that his pro…attitude that he had in his prior presidency will in fact…give the markets some confidence that we will see some changes going on in Chile.
Bachelet's reforms have been blamed for the fall in investment into Chile's copper-dependent economy. The Financial Times reported investment fell from 7% of GDP in 2013 to 3.5% in 2017.
Navia told Verdict:
"Piñera will put up a sign that says 'Chile is open for business again'.

The sign will replace the sign that Bachelet put up which said, 'If you want to do business in Chile, these is the long list of conditions you must first meet'.