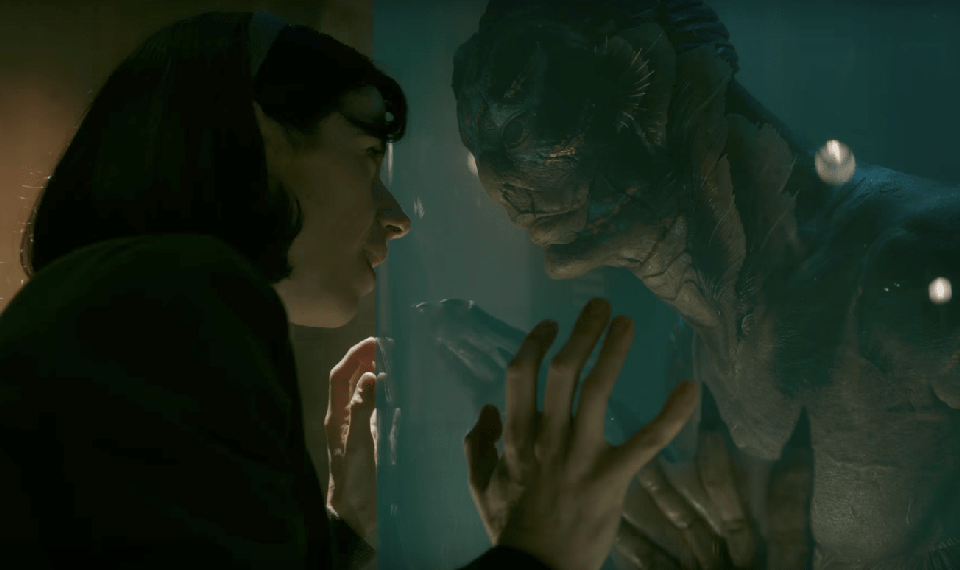 This week had been going so well for Guillermo Del Toro's The Shape Of Water. 
On Tuesday it won 13 nominations for the Academy Awards, more than any other film.
The film, which came out in December in the US and will reach UK in February, won critical acclaim. It has a 92 percent certified fresh rating from critics on Rotten Tomatoes and 86 percent on Metacritic. The film has also been an awards darling.
Notably it picked up a Golden Globe for Best Director, and a Critics' Choice award for Best Picture. In total it has been nominated for 234 awards, won 50, and results are pending on 60 of them.
However, things have got a little sticky for The Shape Of Water after its Oscars nomination success.
Does The Shape Of Water bear similarities to a 1969 play?
According to the estate of Pullitzer winner Paul Zindel, The Shape Of Water's plot is derived from that of Zindel's 1969 play, Let Me Hear You Whisper.
How well do you
really

know your competitors?

Access the most comprehensive Company Profiles on the market, powered by GlobalData. Save hours of research. Gain competitive edge.
Company Profile – free sample
Thank you!
Your download email will arrive shortly
Not ready to buy yet? Download a free sample
We are confident about the unique quality of our Company Profiles. However, we want you to make the most beneficial decision for your business, so we offer a free sample that you can download by submitting the below form
By GlobalData
David Zindel, son of the author and playwright wrote to the Guardian to explain his complaints:
"We are shocked that a major studio could make a film so obviously derived from my late father's work without anyone recognising it and coming to us for the rights.

"A lot of people are telling us they are struck by the substantial similarities. We are very grateful to Paul Zindel's fans for bringing this to our attention."
The allegations have been made before by denizens of the internet, but this is the first time Zindel's estate has commented on the matter.
To be sure, there are certainly plenty of similarities between the two stories.
Spoilers follow
Paul Zindel's play, Let Me Hear You Whisper
Helen works as a cleaner on the night shift at a US laboratory in the 1960s. She discovers that the lab are performing mysterious experiments on a dolphin. She develops a relationship with the dolphin by bringing it food, and dancing with a mop to a love song in front of its tank.
Helen learns the dolphin can speak English. After discovering the creature is key to a military plot, and will be vivisected, Helen hatches a plan to save it and release it in the ocean. Enlisting her friend, fellow janitor Danielle, the pair sneak the dolphin out in a laundry hamper.
Guillermo Del Toro's film, The Shape Of Water
Mute woman Elisa works as a cleaner on the night shift at a US laboratory in the 1960s. She discovers that the lab are performing mysterious experiments on a bizarre fish-man hybrid. She develops a relationship with the fish-man by bringing it food, and dancing with a mop to a love song in front of its tank.
Elisa begins to teach the creature to speak in sign-language. After discovering the creature is key to a military plot, and will be vivisected, Elisa hatches a plan to save it and release it in the ocean.
Enlisting her friends, fellow janitor Zelda and repressed gay roommate Giles, as well as a labratory double-agent working for the Russians, they sneak the fish-man out in a laundry hamper.
Before releasing him to the sea, Elisa falls in love with the fish-man and the pair have human/fish-man sex.
The fish-man also eats one of Giles' cats. Meanwhile, the government try to track down their creature. Eventually, Elisa finds herself in a race against time to free the monster.
Are the two films linked?
So yes, for the first half, The Shape Of Water does seem similar to Let Me Hear You Whisper. 
However, a Fox Searchlight spokesperson defended Del Toro's film:
Guillermo del Toro has never read nor seen Mr Zindel's play in any form. Mr del Toro has had a 25-year career during which he has made 10 feature films and has always been very open about acknowledging his influences. If the Zindel family has questions about this original work we welcome a conversation with them.
In a January interview with the magazine Written By, Del Toro explained how the idea for the film was told to him by novelist Daniel Kraus.
Kraus, who became an associate producer on the film, pitched the idea as a "janitor that kidnaps an amphibian-man from a secret government facility".
Obviously, there's only so much that can be done with that concept to differentiate two depictions of it, but still The Shape Of Water seem similar.
What are the differences between the two projects?
The major differences between the projects are their respective tones and the way they end.
In the same Guardian article that her son commented on, Zindel's former wife Bonnie Zindel noted that the themes of the play reflected her husband's belief "that love, not war, is the answer to world peace".
The Shape Of Water similarly focuses on the theme of love, but the film is a much more traditional personal romance movie.
It is pitched as a light-hearted, joyful love story than Let Me Hear You Whisper which leans more into science-fiction tropes and heist plotting.
Could there be another explanation?
This isn't the first time that two unrelated projects have been linked. The Hunger Games was accused of being a rip-off of Koushun Takami's 1999 novel Battle Royale despite the fact that the author of the former claimed to never have heard of the latter before finishing her project.
Elsewhere Avatar was often-described as a sci-fi rip-off of Mulan, Dances With Wolves, and Frank Herbert's Dune.
But perhaps there's a reason for these creative works which seem oddly similar to their counterparts.
Influenced by the work of Carl Jung, in 2004, Christopher Booker described seven basic plots. In his book, he describes how all stories ever told conform to seven basic archetypes. He argues that most stories ever told can share these basic archetypes.
It isn't too much of a stretch to suggest that applying certain specific genre-trappings onto one of these plots may end up forcing creators down similar paths.
Other works that may have influenced The Shape Of Water
Of course, there are plenty of other works that may have inspired The Shape Of Water.
The real story of Margaret Howe Lovatt and Peter the dolphin
Firstly, the non-fiction story of a NASA science experiment gone tragically wrong. In the 1960s there was a huge amount of interest in the idea of dolphin intelligence. A lab was set up on the Caribbean island of St. Thomas to study this.
A local young woman, Margaret Howe Lovatt, who'd been interested in animals since she was a girl, went down to the lab and asked to see the dolphins. She was invited in and asked to take notes on the animals.
After proving that she was a natural observer, Howe Lovatt was invited to stay.
Eventually, she was invited to help teach one of the dolphins, Peter, how to speak English. She taught him every day, but felt guilty about leaving Peter at night.
Eventually, Howe Lovatt convinced the maverick scientist in charge of the facility to let her stay in the lab six days a week.
She flooded part of the lab, allowing Peter to spend time with her at all times. Even her bed was in the flooded room.
The story eventually got out that Howe Lovatt had to sexually stimulate Peter when his sexual urges distracted him from their lessons.
Unfortunately, the story has quite a sad ending. Peter was shipped to a different facility, away from Howe Lovatt. He is said to have committed suicide by refusing to breathe and drowning himself.
Obviously, the scientific setting, sexual relationship, and language classes here are all somewhat comparable to The Shape Of Water.
Beauty And The Beast
The French fairytale, La Belle et la Bête has been adapted so many times it's difficult to even remember its origins. However, the most famous adaption is Disney's Beauty And The Beast. And while it might seem very different from The Shape Of Water there are several common elements.
Both stories tell of a witty, headstrong young woman from a poor background making contact with a mysterious creature. In both cases, that creature is thought to be brutish and violent, the creatures are both feared by others.
Initially the creatures both rebuff the advances of their respective beauties before slowly forming a romantic relationship.
The heroines have to save the beast from the clutches of an evil force who doesn't understand it. Both stories end with a moment of self-sacrifice which creates a happy ending.
Starman
Unlike The Shape Of Water, Starman features an alien, rather than a fish-man. Still, the two films' plots are remarkably similar. In both cases, an initially reluctant female protagonist begins to communicate with a supernatural creature.
Both women have to get the creature out of its current surroundings to keep it alive. In both cases, government authorities are pursuing them in their quest for freedom, planning to vivisect the supernatural creatures. Both films also have moments of self-sacrifice, and the creatures in both films miraculous healing abilities.
Just like The Shape Of Water, there is a romance between the alien from Starman and his human saviour. In both cases, this romance becomes sexual.
In addition, Guillermo Del Toro has noted his affection for the work of Starman's director John Carpenter before.
Gods And Monsters
With all this talk of monsters and fish-men, it's easy to forget The Shape Of Water's B-plot. That side of the story follows Elisa's friendship with her roommate Giles, played by Richard Jenkins.
Giles is a gay man struggling as advertising artist because of employers who refuse to employ him due to his sexuality.
In an interview with The Playlist, Del Toro admitted that he wrote the part for Sir Ian McKellen after seeing his performance in Gods And Monsters. 
That film sees McKellen playing film director James Whale. While Whale crafted two of the most memorable films of his time, Frankenstein and Bride Of Frankenstein, he grew weary of concealing his sexuality. He eventually struggled to find work, just like Giles from The Shape Of Water.
Ultimately, The Shape Of Water has won so many plaudits because it is tonally unique.
The plot may borrow elements from previously established works, but it recreates and re-imagines these moments to create something totally fresh and new.
The Shape Of Water works on its own merits, whether or not it borrows from other sources.