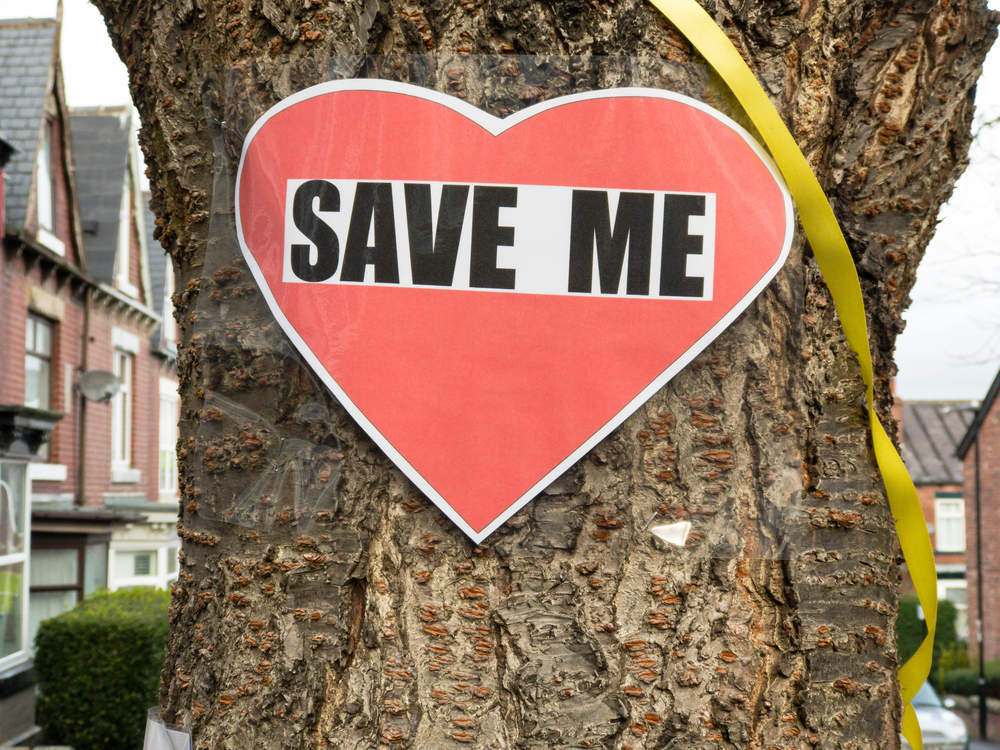 Violence has broken out on the streets of the UK's fourth largest city Sheffield — known as the Steel City for the amount of steel it once produced — as protesters fight to save the city's famous trees.
Sheffield once boasted it had four trees for every human resident and claimed to be Britain's greenest city, though that claim may now be under threat as the city grapples with an environmental civil war.
An attempt to jail an opposition councillor, arrested pensioners in their nightclothes, the use of Margaret Thatcher's strike-breaking laws to arrest citizens, trees felled before dawn, a child hit by falling debris, and the arrival of private security guards.
All have rocked the streets of Sheffield in the past few months as a result of the protests against the felling of Sheffield's trees.
The private security — hired by Amey, the contractors in charge of the work — clashed with protesters last week while trying to keep crowds in check at felling sites across Sheffield.
Amey is working to meet a quota of 6,000 felled trees by the end of 2017 and its tactics have been described as a "blitzkrieg approach" by the Sheffield Trees Action Group (STAG) that wants to save the trees.
With 5,750 of Sheffield's trees already felled, a sixth of the city's trees, its claim to be one of Europe's greenest cities is rapidly slipping away.
The row has erupted between the local council and residents after Amey was contracted in 2012 to manage and maintain the city's streets for 25 years, costing the tax payer £2.2bn.
Sheffield residents who have asked to see the contract are unsatisfied with the redacted version that's been made public.
The city council has said trees would only be felled as a "last resort" and trees that were healthy but damaging pavements could remain.
However, protesters argue that thousands of healthy trees have been cut down.
In response to protests, the council conducted household surveys and established an Independent Tree Panel (ITP).
However, even when the majority of households voted to save their trees, supported by recommendations from the ITP, the council overruled both opinions and in 87.3 percent of cases, continued felling.
University professors, politicians, architects, and engineers have joined the protests.
Peter Townsend, a highway engineer has observed the city's trees which were to be felled and believes many could have been retained.
Ian Dalton, tree officer for the London Borough of Bromley said:
Good arboriculture (the cultivation, management, and study of individual trees) practices are not being followed, standard engineering solutions are not being employed and that many of Sheffield's trees are being felled unnecessarily.
The council has also removed of the so-called Chelsea Elm, a rare tree housing a colony of endangered butterflies — once voted the second best tree in England.
Next year a maintenance period is expected to begin, with 200 trees removed per year as they succumb to disease and the elements, however protesters believe this is higher than necessary.