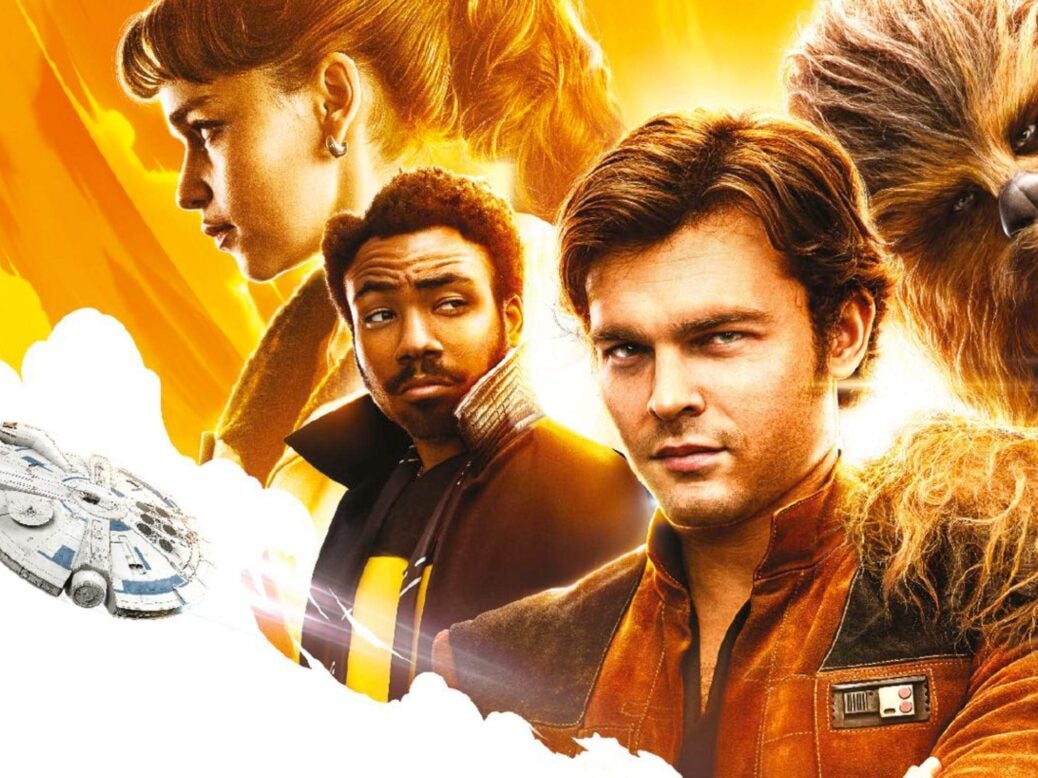 Has Disney got a Solo box office bomb on its hands after bungling the weekend release of its latest Star Wars adventure?
After a turbulent development which saw its directors fired mid-way through filming, Solo: A Star Wars Story finally launched this weekend.
Unfortunately, the film chronicling the origins of fan-favourite character Han Solo has not met expectations for LucasFilm or its parent company, Disney.
Despite its release over the three-day Memorial Day weekend, Solo managed to attract just $83.3 million at the US box office. Since launching on Thursday 24 May, the film has made a grand total of $168.0 million worldwide.
That may sound like nothing to sniff at. Still, its worth remembering that the recent hit, Avengers: Infinity War made $640.5 million worldwide on its first weekend. That's nearly four times as much as Solo managed.
Sure, Infinity War did cost Disney about $100 million more to make, but Solo was still quite costly with a budget of $250 million.
Compared to the opening weekend of other recent Star Wars films, Solo has also proved disappointing.
December 2017's The Last Jedi made $220 million at the US box office and $450.8 worldwide on its opening weekend. In December 2015, The Force Awakens made $248 million in the US, and $281 million worldwide on its first weekend.
Even fellow spin-off, Rogue One: A Star Wars Story, made $155.1 million in the US and $290 million worldwide on its opening weekend.
None of the other Star Wars films have had the benefit of a three day weekend either, underlining Solo's comparative failure.
Disney's reaction to the box office flop
No one will be more surprised at Solo's disastrous opening weekend than Disney.
Original estimates had placed the film's US box office opening weekend at somewhere between $130 million and $150 million.
Speaking to entertainment industry website Deadline, Dave Hollis, president of worldwide theatrical distribution, expressed disappointment in Solo:
"It's disappointing when tracking is unpredictable… and setting up expectations outside of where the film is landing."
Still, Hollis was quick to add that Disney is still expecting some measure of success from Solo:
"Sure, Deadpool 2 jumping in front of the release and how available people turned out this weekend are factors (in Solo's slowdown), but with Solo we have a film that's well-received with great exits, and we have nothing in front of us for two weekends. We'll measure the success of Solo at its finish."
Why was the Solo box office so disappointing?
Prior to its release, Solo seemed a recipe for success. It promised to show the untold story of Han Solo, the break-out character from George Lucas' original trilogy, who'd just found a new generation of fans in The Force Awakens.
Unfortunately though, as with all the best-laid plans, it couldn't quite realise its ambitions.
Average reception from critics
Critically, the film has been met with average reviews. On Rotten Tomatoes it has an average rating of 64% from critics, 61% from fans. That makes it the second-worst performing live-action Star Wars film since 1999's universally hated The Phantom Menace. Currently the latter holds an average rating of 60% from critics and 59% from fans.
Many critics such as those from Entertainment Weekly and The Wrap noted that Solo was focused on 'fan-service' rather than delivering a solid film in its own right.
A troubled production
Elsewhere, Deadline points to the film's troubled production, which saw directors Phil Lord and Chris Miller (21 Jump Street, The Lego Movie) fired during filming. LucasFilm then brought in veteran director Ron Howard to finish filming and deal with post-production.
These behind the scenes changes were widely reported, potentially shaking critics and viewers' confidence in the film.
Box office analysts saw a similar effect in the production of Warner Bros' superhero flop Justice League. In that film, director Zack Snyder stepped aside due to a family tragedy midway through the film's production. Director of The Avengers Joss Whedon stepped in to handle post-production and some reshoots.
Box office tracking had put a low-end estimate of $100 million to $115 million on the film at the US box office for its opening weekend. Ultimately though, Justice League didn't manage even that. Eventually, it made an opening weekend gross of just $93.8 million in the US.
Clearly, public disputes between studios and creatives on a production can have serious negative consequences for a film.
A highly competitive box office
The final and most significant issue for Solo is the amount of competition it's facing at the box office.
Every other Star Wars film released by Disney has launched in December. That's usually a quiet time for the box office with little competition for blockbusters. The month is usually the time when smaller films and awards-contenders tend to be released.
In its release on Memorial Day weekend, Solo faced plenty of serious competition. Box office behemoth Infinity War is still available at many cinemas and Deadpool 2 launched just a week before. Information provided to Verdict from cinema data analytics firm Movio shows that all three films were targeting basically the same white male millennial audience.
In addition, the highly anticipated film Jurassic World: Fallen Kingdom is due to be released in mid-June. As another science-fiction film also trading heavily on fan nostalgia, Fallen Kingdom looks to compete with Solo.
There's also Pixar's The Incredibles 2 out on 15 June, which will also likely take audiences away from Solo.
Given that ticket prices are still climbing, perhaps the biggest reason for Solo's failure is that its audience just doesn't have the funds or inclination to see four or five competing films in the space of two months.
Altogether, these individual problems seem to create to the perfect storm around Solo's disappointing box office.
Either way, Disney and the wider industry will have plenty to learn from the reception to Solo.