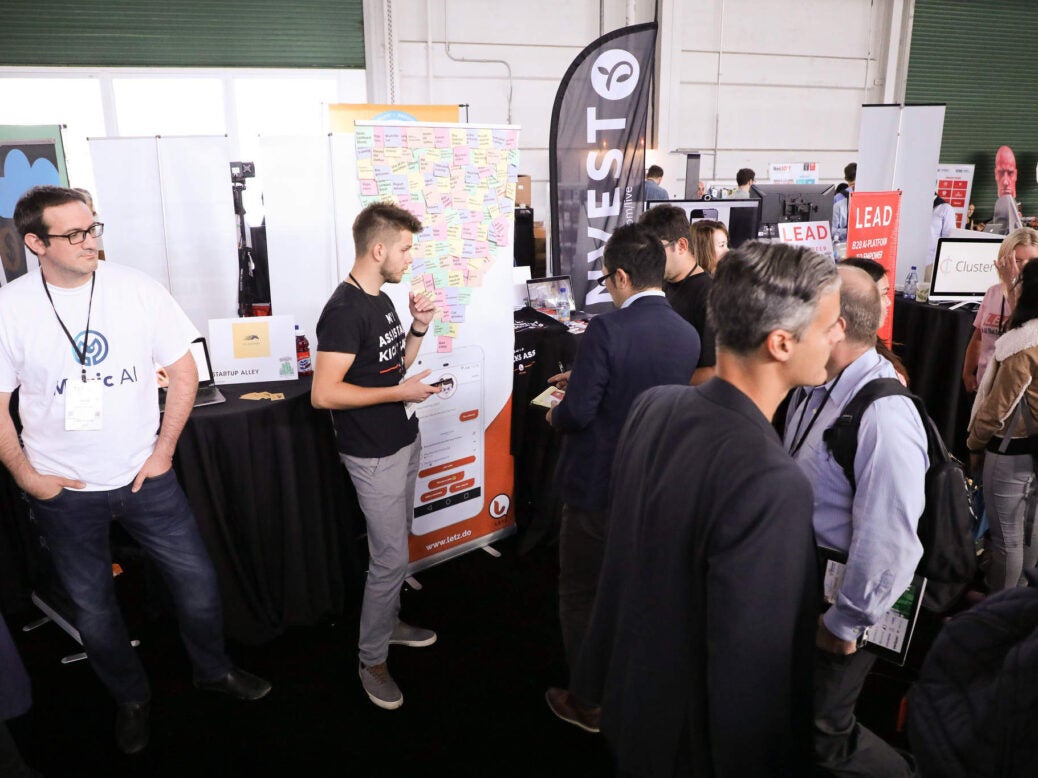 TechCrunch Disrupt 2018 will offer the latest batch of hopeful startups the chance to shine in front of industry experts and investors on the lookout for the next Facebook, Uber or Airbnb this week.
More than 1,200 pre-series A startups will be present in San Francisco, showcasing the latest ideas and innovations in augmented and virtual reality, artificial intelligence, health tech, fintech, blockchain, gaming and security.
They will be hoping to join the likes of Zenefits, CloudFlare and Fitbit, just a few of the successful companies that took part in Disrupt events in past years.
There will be an abundance of talented developers, brilliant ideas and top products on show, but here are a few of Verdict's favourites ahead of TechCrunch Disrupt 2018:
Exiii
If you happened to watch Steven Spielberg's Ready Player One, you will know that companies like Exiii are the future.
This Tokyo-based startup builds EXOS, a wearable device that provides haptic feedback to its user. Designed to work with popular virtual reality systems such as Oculus Rift and HTC Vive, this device simulates touch in virtual environments.
EXOS has been designed to make it easy for VR developers to work with, helping them to assign haptic responses to virtual objects and events. With EXOS, users can feel the door in front of them, or the recoil of a gun, helping to overcome one of VR's most immersion-breaking limitations.
Brate
Brate brings together the best parts of online and physical shopping, helping you to shop for products in local stores from the comfort of your home.
This handy online marketplace serves both buyers and sellers.
Businesses can create online storefronts to list their products, which Brate puts in front of a large pool of potential customers. On the other hand, customers can find out exactly where the item that they're looking for is stocked, helping to cut out lengthy delivery waiting times and avoid the hassle of returning poor-fitting clothes.
CoinGate
Crytocurrency may have peaked at the end of last year, but there are still many businesses banking on the long-term success of blockchain-powered payments.
Currently you would have a hard time spending your cryptocurrencies away from the internet. However, CoinGate hopes to change that by providing businesses with the infrastructure that they need to accept virtual currencies as payment.
CoinGate's technology allows physical stores to accept more than 50 cryptocurrencies, including Bitcoin, Litecoin, Ethereum and Dash. It involves little effort from the seller, who sets their price in a traditional currency and lets CoinGate handle the rest.
Rosey
Meet Rosey, the teacher of the future. This smart machine can manage a classroom and grade assignments, and provides students with detailed feedback on how to improve their work.
Rosey needs the teacher to answer just a few simple questions to get set up, before reducing what would usually be hours of work down to a few minutes. This smart tech isn't limited to multiple choice questions – it's artificial intelligence is fully capable of answering free responses too.
The day doesn't end when the school bell rings for most teachers, but Rosey could help to restore some work/life balance in the education system.
Orby
It is common knowledge that tech will one day take our jobs. Orby is the perfect example of how it is already starting to happen.
Their flying robots are capable of safely navigating around an enclosed environment, offering a number of practical uses in retail stores. Orby's drones are capable of scanning aisles, checking stock and identifying missing or misplaced items. Likewise, these autonomous bots are capable of assisting customers and keeping an eye on the store.
With retail stores increasingly losing out to online shopping, they will be looking for new ways to cut back costs. Could Orby be the answer?
Fortr3ss
We're well aware of the importance of cybersecurity by now, and many are working hard to fight back against data breaches and large scale ransomware attacks. And yet, the biggest threat remains the use of an outdated security mechanism that has been causing internet users problems for years.
Password management systems made passwords a little safer by allowing users to use and store a different password for each of their online accounts. However, this still relies on the user remembering and protecting a master password to gain access to their password management system.
However, Fortr3ss wants to turn your voice into your password. Using voice biometrics, users can use spoken phrases as authentication when signing in to accounts, approving transactions, or confirming their identity.
Herbi
The emerging cannabis market will be a huge area for startups to explore in the coming years as the drug is legalised in more places.
As the first state to legalise marijuana for medical purposes in 1996, before making the drug legal for recreational use in 2016, Californian companies such as Herbi have had a head start on capturing the market.
Herbi uses the same model as companies like Just Eat, GrubHub and UberEATS, where the customer orders food through an app or website, which is delivered to their door soon after. Only in this case, Herbi has replaced food with cannabis.
Coca
Innovative companies like Airbnb and Lyft have helped to bring in the sharing economy, and now Coca wants to take it to the next level by allowing everybody to share their stuff and services.
Coca is a local community marketplace much like eBay or Gumtree. Users can list their items and others can purchase them or make an offer. However, unlike eBay or Gumtree, users aren't bidding to buy the item, but to rent it for a set period of time.
This marketplace (which is still currently under development) allows you to make money from your underused assets and borrow the things that you need.
Verdict deals analysis methodology
This analysis considers only announced and completed deals from the GlobalData financial deals database and excludes all terminated and rumoured deals. Country and industry are defined according to the headquarters and dominant industry of the target firm. The term 'acquisition' refers to both completed deals and those in the bidding stage.
GlobalData tracks real-time data concerning all merger and acquisition, private equity/venture capital and asset transaction activity around the world from thousands of company websites and other reliable sources.
More in-depth reports and analysis on all reported deals are available for subscribers to GlobalData's deals database.