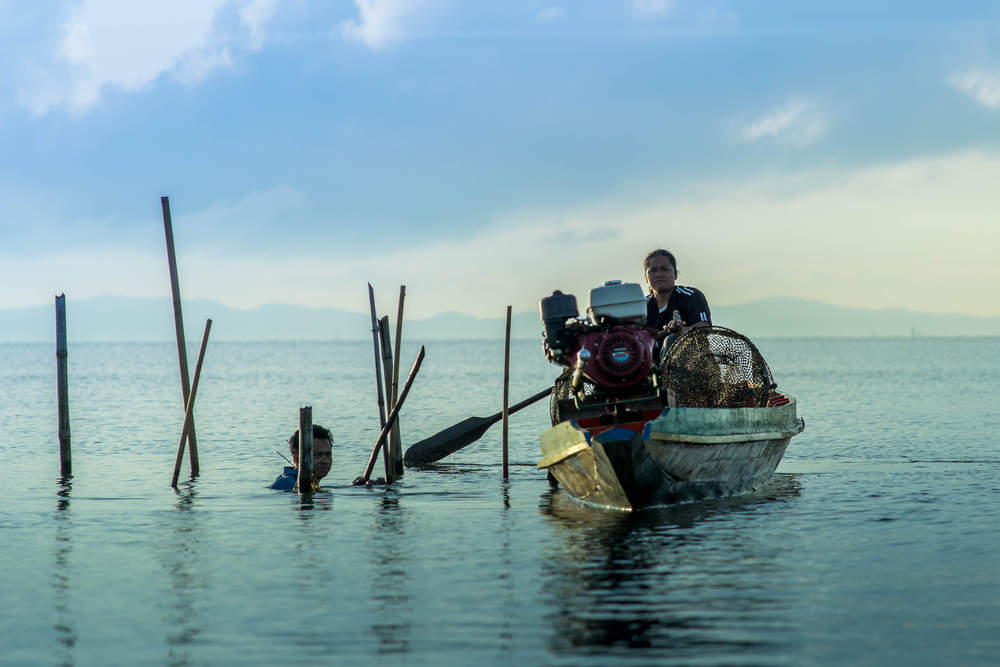 Over the past two years Human Rights Watch (HRW) has interviewed 248 current and former Thai fishing industry workers, revealing the extent it's supported by human trafficking.
Along with human trafficking abuses, HRW uncovered low salaries, long working hours, and a lack of basic health and safety regulations.
Among the interviewees some 95 workers were recognised as victims of trafficking by the Thai government.
Burmese trafficking survivor Zin Met Thet said:
[Working in the Thai fishing industry] was torture. One time I was so tired I fell off the boat, but they pulled me back on-board.
Pattani resident Thet Phyo Lin said:
If I want to quit working here I need to request permission from the employer. Some employers allow us to leave, but some will claim we must pay off debts first. For example, if I can pay 25,000 Thai baht [$762] to an employer…he may allow me to leave, but if he isn't satisfied…I would have to pay whatever he demanded.
Thai government efforts
According to HRW, the Thai government has failed in its attempts to mitigate human rights abuses from the fishing industry.
The National Council for Peace and Order, Thailand's military dictatorship, introduced new human rights guidelines for the fishing industry after taking power in 2014.
The government attempted to overhaul monitoring, control and management regimes and created new interagency inspection frameworks across the country, with official inspectors employed to search fishing boats on departure and arrival to port.
Some workers have obtained official documentation from the government. Penalties for infringing on the rights of fishermen have increased substantially.
While the government has cracked down on illegal, unreported and unregulated fishing, it has failed to protect migrant fishermen from abuses by ship owners, crew members, traders and even members of the police force, according to HRW.
In 2015 the Thai Ministry of Labour reviewed the working conditions of almost 500,000 workers and did not find a single case of forced labour.
A more recent study also failed to find any instances of legal breaches regarding hours of work, salary disputes, treatment on-board, or other criteria violating the Labour Protection Act of 1998 or the 2014 Ministerial Regulation.
HRW Asia director Brad Adams said:
The Thai government's lack of commitment means that regulations and programmes to prevent forced labour in the fishing industry are failing. International producers, buyers, and retailers of Thai seafood have a key role in ensuring that forced labour and other abuses come to an end.
International response
As a result of the Thia fishing industry's human rights abuses, people in Europe, North America, and Japan may unintentionally be eating seafood caught by victims of human trafficking
Adams said:
The European Union should make access to its market for fishing products contingent on the end of forced labour in Thailand's fishing industry.
With a market value of $6.5bn per year, Thailand is the world's largest seafood exporter and sells most of its fish to US and Japanese importers.
The UK is Europe's largest importer of Thai seafood, buying £135m in 2015.
The EU issued Thailand with a so-called yellow card warning over its fishing practices in 2014 and 2015, following media reports into human trafficking.
HRW has presented its findings to the European Parliament and the EU could now vote to ban seafood imports from Thailand.
The group said:
[HRW] are not calling for a ban on imports now, but if the Thai government does not make sufficient progress in the coming year and labour conditions are as bad as they are now, we would start calling for a red card.
If the EU moves to ban seafood from Thailand it could have a serious impact on the Thai fishing industry.
Adams said:
The [Thai fishing association] would look for other markets obviously but the markets will be saturated so it will have a devastating effect on the Thai fishing industry and I think it would lead to concerted action by the Thai fishing association to clean up their act.
Meanwhile, the US has placed Thailand on its tier two watch list — the second-worst rating — in its latest report on human trafficking.
Last year Thailand outlawed forced labour by means of debt bondage and another law set to be brought in could provide better protection of the broader implications of forced labour.
However, HRW found inspectors need better resources and training to help investigate abusive practices and workers who speak out against abuse need to be protected while punishing offenders.
HRW recommended employers be responsible for paying recruitment costs to prevent extortion and employees should be made aware of their rights.
The HRW report — titled Hidden Chains: Forced Labour and Rights Abuses in Thailand's fishing industry — documents specific cases of human rights violations suffered by migrant fishermen trafficked from neighbouring Southeast Asian countries.
A version of this story originally appear on foodprocessing-technology.com. You can read it here