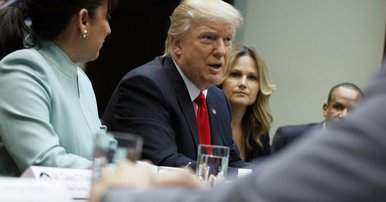 Last night, US president Donald Trump fired his acting attorney-general Sally Yates, after she told government lawyers not to defend legal challenges against his travel ban blocking citizens of seven countries from the US. 
Colin Yeo, a UK asylum barrister, explains Trump's executive order isn't a law and appears to have been formulated with little or no legal oversight.
"The travel ban isn't really a law as such, and it is open to all sorts of interpretations as a result."
On Friday, Trump signed the controversial order, banning citizens from seven Muslim-majority countries — Syria, Iraq, Iran, Sudan, Libya, Somalia and Yemen — from entering the US for 90 days.
The travel ban also prevents refugees from coming into the US for 120 days and prohibits Syrian refugees indefinitely.
In an official statement, the White House said Yates was "weak on borders and very weak on illegal immigration" naming Dana Boente, US attorney for the eastern district of Virginia as her temporary replacement until the Senate confirms the appointment of senator Jeff Sessions.
Yeo tells Verdict that the US president is by no means the first leader to sack his attorney-general for challenging the government line.
"It is certainly very surprising to see a serving US legal adviser fired in that way, but in the UK we saw our own attorney-general [Dominic Grieve] removed from office because he gave advice to the government — advice they didn't want to hear," Yeo tells Verdict.
In 2014, Grieve lost his job as UK attorney-general after four years in the role. The Conservative MP for Beaconsfield was sacked by former British prime minister David Cameron because he disagreed with the government's plans to withdraw from the European Convention on Human Rights (ECHR), an international treaty which came into force in 1953.
Trump defended his travel ban as a national security measure; a vetting process used to guard against terrorists entering the United States.
There is nothing nice about searching for terrorists before they can enter our country. This was a big part of my campaign. Study the world!

— Donald J. Trump (@realDonaldTrump) 30 January 2017
Yeo points to holes in the official explanation, however.
"Trump has singled out seven muslim-majority countries. There is no obvious security justification for that," he says.
The travel ban doesn't extend to other Muslim-majority countries where the terror threat is well-documented such as Saudi Arabia, home to 15 of the 19 hijackers who carried out the 9/11 attacks.
Pakistan, also excluded from the list, is where the al-Qaeda founder Osama bin Laden hid for nine years.
"The former mayor of New York City Rudy Giuliani said it [the travel ban] was basically done as a cover for the Muslim ban that Trump announced he would implement in office during the campaign," Yeo notes.
"Show me the right way to do it legally" – Rudy Giuliani on what #Trump initially labeled #MuslimBan via @FoxNews pic.twitter.com/yJDXzsW2pZ

— Austin Kellerman (@AustinKellerman) 29 January 2017
At a rally in Alabama during the US presidential campaign, Trump claimed he witnessed thousands of Muslims in New Jersey celebrating the collapse of the Twin Towers after 9/11.
Remember when Donald Trump said he saw thousands of New Jersey Muslims celebrating 9/11? https://t.co/YJxJhmQz84

— Scott Bixby (@scottbix) 8 November 2016
"I watched when the World Trade Center came tumbling down," Trump said on 21 November, 2015. "And I watched in Jersey City, NJ, where thousands and thousands of people were cheering as that building was coming down. Thousands of people were cheering."
Months before he was sworn into office, Trump attacked Ghazala Khan, the Gold Star mother of a Muslim American soldier.
"She had nothing to say … Maybe she wasn't allowed to have anything to say. You tell me," Trump said in response to Khan's silence at the Democratic convention in July.
People from Muslim-majority countries already affected by the policy include five Iraqi passengers and a Yemeni national who were prevented from boarding a flight at Cairo airport bound for New York on Saturday.
"The way that it [the travel ban] was enacted in the US was extremely objectionable. Legal supervision was noticeably absent," says Yeo. "There was no notice given. People were literally denied entry when they landed in the US, those who had tickets and were at airports were suddenly told — after months of vetting — that they won't be able to travel to the US."
An estimated 90,000 people are affected by the travel ban, according to The Washington Post.
"The whole principle of singling out nationalities and overtly, explicitly discriminating against them, is also highly objectionable," Yeo adds.