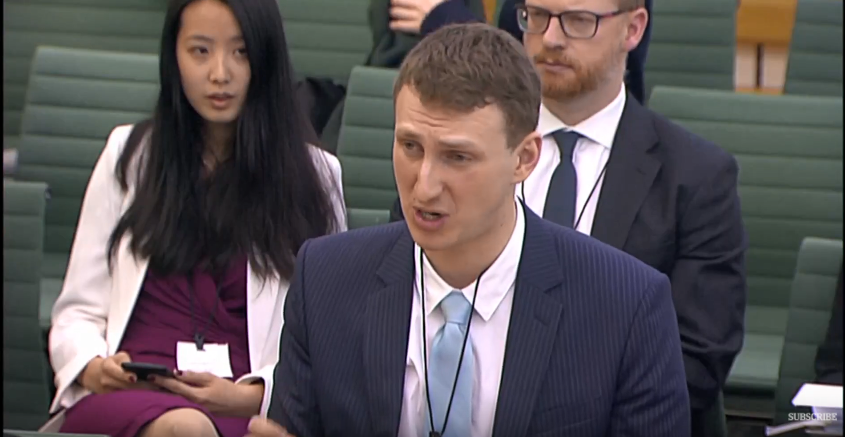 It's unlikely that Facebook user data obtained by political consultancy Cambridge Analytica was used for US President Donald Trump's presidential election campaign, according to Aleksandr Kogan, the data scientist behind the app that harvested information from 87 million Facebook accounts.
Kogan, who appeared before a panel of UK lawmakers today, claimed that his work for SCL — the parent company of Cambridge Analytica — was worthless.
Here's a roundup of what we learnt from Kogan's testimony on fake news and data protection.
Why the hearing was held
Chairman of the Commons culture committee Damian Collins said the line of questioning would focus on three things:
The breach of Facebook data

How Cambridge Analytica used the data

Kogan's broader research
Who is  Aleksandr Kogan?
According to a written statement provided by Kogan for the hearing, he is "a social psychologist whose academic work focuses on well-being, kindness, and compassion".
He has worked as a lecturer at the UK's prestigious Cambridge University, since 2012.
Kogan built apps both for the university to collect and analyse data sets for research and a Facebook app that channelled data to Cambridge Analytica.
You can watch the full hearing here
What was Kogan's relationship with Facebook?
During the hearing, Kogan told MPs that in early 2013, he started collaborating with Facebook on research projects on how people around the world connect and express emotions.
Facebook gave him anonymous data sets on things such as Facebook friend connection networks and emoticon use for his research.
Kogan said:
Facebook just gave us the data. There was no kind of written agreement. They just gave it us.
The information inspired Kogan to develop a personality quiz in the form of a Facebook app called CPW Lab, in 2013.
The app asked users to complete a survey, and requested access to the information on their Facebook account. Around 5,000 to 15,000 survey participants logged into Facebook through the CPW Lab App, he said.
The app also collected information that the participants' Facebook friend networks had shared such as so-called Facebook likes and demographic information.
Kogan told the hearing that the data that he collected was never sold and was strictly used for research purposes.
What is the link between Kogan's app and SCL?
In 2014, Kogan was introduced to Chris Wylie who represented SCL at the time.
SCL Elections, the parent company of Cambridge Analytica, wanted to use Kogan's Facebook app because it worked under outdated terms of service.
Under Facebook's 2014 terms of service, which it operated under, app developers could mine data of both Facebook users and their friends.
Although Kogan had met Cambridge Analytica boss Alexander Nix a few times he said wasn't sure what the difference was between SCL and the data firm.
While Kogan never signed a contract with Cambridge Analytica, a company he set-up called Global Science Research (GSR) did enter an agreement with SCL.
Under the 2014 agreement, SCL wanted Kogan's company to collect demographic and personality data of individuals in 11 US states.
Kogan's company was paid $800,000 for the job, which he told commissioners was mostly used to pay people to take the survey. Only a small part went to the company itself.
SCL Elections later requested more information, this time from all 50 states, and in return paid GSR £230,000. Kogan claimed to be unaware which candidates SCL was working for.
Collins quizzed Kogan about Alexander Nix's testimony on where Cambridge Analytica got their Facebook data from.
I asked him whether any of his data came from GSR and he said no.
Kogan said that was a lie and they had got their Facebook data through the agreement with SCL.
Did the SCL project help sway the US election?
Asked if his findings were used to sway the 2016 US presidential election, he said: "I think it is unlikely".
He added that his predictions were not useful for micro-targeted adverts that would be needed to sway the results of an election.
He told the hearing:
I believe the project we did makes little to no sense if the goal is to run targeted ads on Facebook.
Fallout with Facebook
Collins asked Kogan why Facebook called him a liar and had accused him of misusing their data.
Kogan responded that the company was in "PR crisis mode" at the time and it was "convenient to point the finger at a single entity" for wide-scale data breaches on multiple fronts.
He also suggested that "thousands" of other companies had mined Facebook user data in the same way as his company.
Kogan said:
In my view Facebook's comments are PR crisis mode. I don't believe they actually think these things because I think they realise that their platform has been mined left and right by thousands of others and I was just the unlucky person that ended up somehow linked to the Trump campaign and we are where we are.

I think they realise all this. But PR is PR and they were trying to manage the crisis and it's convenient to point the finger at a single entity and point the finger that this is a rogue agent.
Asked if he had broken Facebook's terms and conditions by leaking the data, Kogan said he couldn't have broken rules that hadn't existed.
Kogan was mostly unable to answer Facebook-related questions, as he had signed a non-disclosure agreement (NDA) with the social network giant.
When asked when he had signed the NDA with Facebook, Kogan's lawyer mouthed "No" to him and Kogan said he "would be sued into oblivion" for answering any questions about his dealings with Facebook.
Who is Dr Spectre?
Asked by committee members why he was listed on Cambridge Alaytica's website as Dr Spectre, he said he and his wife had taken on new names after getting married.
Kogan said:
We decided to change our names when we were married to something that symbolised light — so we chose Spectre, as a spinoff of spectrum as we're both scientists with faith.
He said it was "an unfortunate coincidence" that he shared the same name as a Bond villain.
Cambridge Analytica responds to Kogan's testimony
In a press conference held following Kogan's testimony, a Cambridge Analytica spokesperson said they had deleted all the data collected from Facebook.
They also admitted that data provided by Kogan's company was "virtually useless".
Clarence Mitchel, the company spokesperson said Cambridge Analytica worked for the Trump campaign for five months.
Asked if they worked for the Brexit campaign, Leave.EU, he said they did pitch a project, but were not hired.
He admitted that Cambridge Analytica had made mistakes, and said it has set up a website, cambridgefacts.com, to provide "the facts behind the Facebook story".
Mitchell dismissed claims that Cambridge Analytica CEO  Alexander Nix was refusing to appear before the committee.
He said Nix had requested for his hearing to be postponed while an investigation into his conduct at the helm of the firm was ongoing.