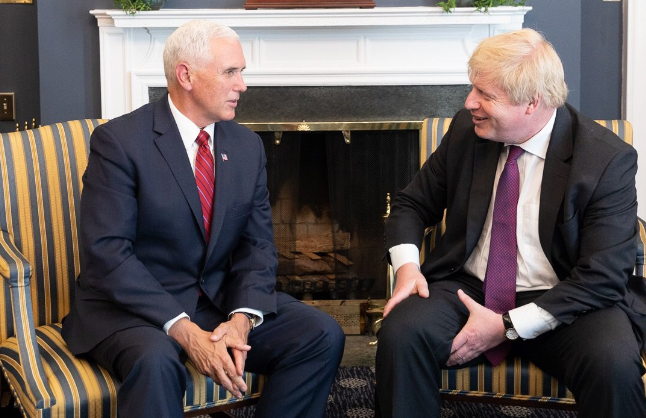 UK Foreign Secretary Boris Johnson has turned up the pressure on president Trump to stay in the Iran nuclear deal amid his arrival for talks in Washington.
Johnson is not scheduled to meet with the president himself, but instead with senior White House officials where he will reportedly attempt to persuade them to extend the pact, which expires on 12 May.
Appearing on the president's favourite morning news show, Johnson urged Trump not to "throw the baby out with the bathwater":
"It's already a very, very dangerous state at the moment, we don't want to go down that road. There doesn't seem to me at the moment to be a viable military solution."
Trump has threatened to withdraw from the deal brokered by his predecessor Barack Obama in 2015, which he calls "insane".
If Trump did scrap the deal, Johnson asked Fox and Friends host Brian Kilmeade what would come next:
"Are we seriously saying that we will bomb those facilities … is that really a realistic possibility?"
The landmark deal — signed by the US, China, Russia, Germany, France, and the UK — lifted crippling economic sanctions on Iran in return for the country limiting its nuclear enrichment programme.
Trump tweeted on Monday that he would announce his decision at 2pm (6pm UK time) today.
https://twitter.com/realDonaldTrump/status/993562242124865536
On Monday, Iranian President Hassan Rouhani suggested his country would stay in the pact if the US dropped out.
Speaking live on state TV, Rouhani said that if the other signatories remained committed to the deal "getting rid of America's mischievous presence will be fine for Iran".
In an op-ed published in the New York Times on Sunday to coincide with his visit, Johnson warned that the deal had helped to contain a nuclear "catastrophe":
"It has weaknesses, certainly, but I am convinced they can be remedied. Indeed at this moment, Britain is working alongside the Trump administration and our French and German allies to ensure that they are.

"Had the leaders of the Islamic Republic decided to go for a nuclear arsenal, they would have needed only a few months to produce enough weapons-grade uranium for their first bomb.

"But under the deal, Iran has placed two-thirds of its centrifuges in storage and relinquished about 95% of its uranium stockpile.

"I believe that keeping the deal's constraints on Iran's nuclear programme will also help counter Tehran's aggressive regional behaviour. I am sure of one thing: every available alternative is worse. The wisest course would be to improve the handcuffs rather than break them."
Trump's Nobel Prize Nomination
In an interview with Sky News, Johnson added:
"If he can fix North Korea and if he can fix the Iran nuclear deal then I don't see why he is any less of a candidate for the Nobel Peace Prize than Barack Obama, who got it before he even did anything."
His endorsement follows that of South Korean President Moon Jae-in who showered similar praise on the US President last month for inducing North Korean dictator Kim Jong Un to relinquish his nuclear weapons. At a meeting of senior secretaries, Mr Moon said:
"President Trump should win the Nobel Peace Prize. What we need is only peace."
On Friday, a group of 18 Republican supporters formally nominated Trump for a Nobel Peace Prize for efforts to solve North Korean nuclear tensions.
The UK Foreign Secretary held talks with the secretary of state Mike Pompeo, and met vice-president Mike Pence on Monday.
Johnson has also scheduled talks with national security adviser John Bolton, who has been an outspoken critic of the Iran deal.
His visit follows in the footsteps of visits by French President Emmanuel Macron and German Chancellor Angela Merkel, both aimed at saving the Iran deal.
Welcomed UK Foreign Sec @BorisJohnson to the @WhiteHouse today. Reaffirmed our strong partnership & steadfast alliance, commended British forces for the swift & successful attack on Syrian chemical weapons facilities & discussed how we ensure Iran never acquires a nuclear weapon. pic.twitter.com/eagaEwaicp

— Vice President Mike Pence Archived (@VP45) May 7, 2018
US-UK Trade Deal
On his visit, Johnson has also pushed for a post-Brexit trade deal with the US, by highlighting the two countries' special relationship in an interview with the Daily Mail on Sunday.
The foreign secretary went on to attack Theresa May's customs partnership, calling plans "crazy" and saying it would open a "whole new web of bureaucracy".
Johnson said:
"It's totally untried and would make it very, very difficult to do free trade deals.

"If you have the new customs partnership, you have a crazy system whereby you end up collecting the tariffs on behalf of the EU at the UK frontier."