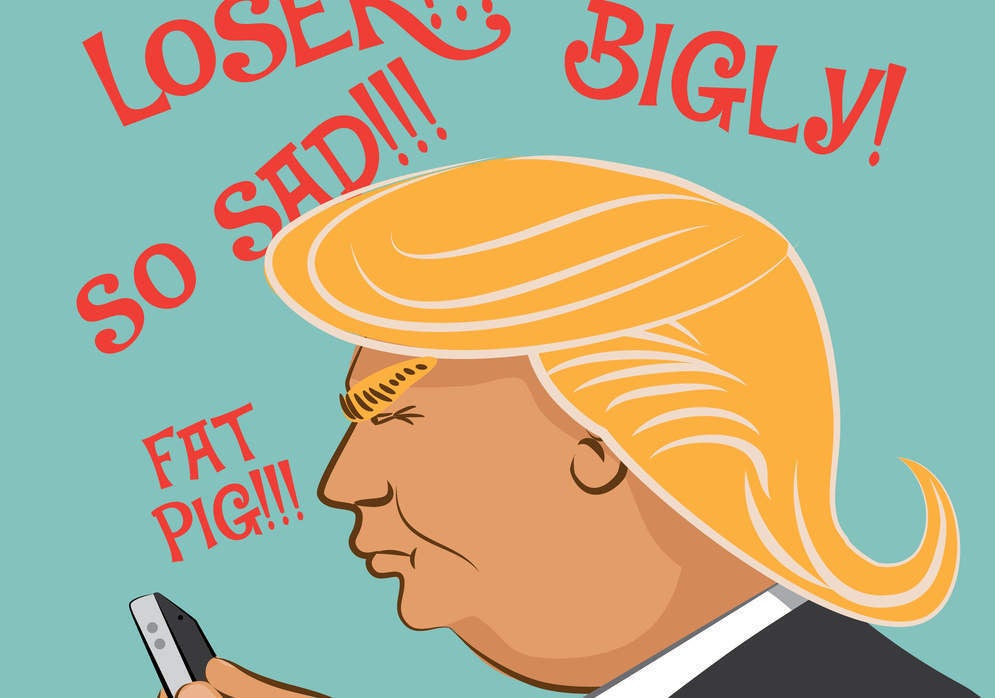 You've got to hand it to Donald Trump he knows how to flog a dead horse.
Since entering the White House on 20 January 2017 almost a year ago the president has mentioned the phrase "fake news" no less than 185 times on Twitter alone.
At the end of November, Trump suggested holding a contest for all the so-called fake news outlets so they could battle it out to be crowned the ultimate purveyor of fake news.
We should have a contest as to which of the Networks, plus CNN and not including Fox, is the most dishonest, corrupt and/or distorted in its political coverage of your favorite President (me). They are all bad. Winner to receive the FAKE NEWS TROPHY!

— Donald J. Trump (@realDonaldTrump) November 27, 2017
How well do you
really

know your competitors?

Access the most comprehensive Company Profiles on the market, powered by GlobalData. Save hours of research. Gain competitive edge.
Company Profile – free sample
Thank you!
Your download email will arrive shortly
Not ready to buy yet? Download a free sample
We are confident about the unique quality of our Company Profiles. However, we want you to make the most beneficial decision for your business, so we offer a free sample that you can download by submitting the below form
By GlobalData
While most people assumed this was merely a flight of fancy, Trump was serious.
So, if you were wondering "when are the fake news awards?" No worries. Your friend Donald has the answer:
The Fake News Awards, those going to the most corrupt & biased of the Mainstream Media, will be presented to the losers on Wednesday, January 17th, rather than this coming Monday. The interest in, and importance of, these awards is far greater than anyone could have anticipated!

— Donald J. Trump (@realDonaldTrump) January 7, 2018
UPDATE: Trump has announced his Fake News Awards —

you can read them here
Since then, Trump has not said (or tweeted) anything about when the inaugural Fake News Awards will be nor what they will entail, or even who is nominated. For those who follow award shows with great interest, this is VERY SAD indeed.
This morning "failing" New York Times reporter Michael Grynbaum tweeted that the Fake News Awards had been downgraded to a "potential event" by White House press secretary Sarah Sanders.
However, fear not Verdict is here to make fake news great again!
We would never presume to know what lies inside the mind of someone who would "qualify as not smart, but genius….and a very stable genius at that!" Only a real LOSER would even try.
As such, we will not waste our time trying to make predictions on who might win big at the Fake News Awards.
Instead, we'll be hosting our own spin on the Fake News Awards! Allow us to introduce The Fake Tweet Awards.
We'll be celebrating and congratulating the best lies, most demonstrably false sentiments, and the most laughably ridiculous tweets of all time. There's one big winner! Can you guess who it is?
The Fake Tweet Awards
The Personal Delusion Award
For the tweeter who displays the most outlandishly incorrect view of their own popularity?
Sen. Jeff Flake(y), who is unelectable in the Great State of Arizona (quit race, anemic polls) was caught (purposely) on "mike" saying bad things about your favorite President. He'll be a NO on tax cuts because his political career anyway is "toast."

— Donald J. Trump (@realDonaldTrump) November 19, 2017
That's right, folks! It's Donald Trump! Unfortunately for the Donald, according to research by the independent polling firm Gallup, not only is he personally unpopular, but he's actually the least popular president of all time. Trump's approval ratings are just 38 percent on average. The average for US presidents is 53 percent. For presidents who've been in the White House as long as Trump, the average is 64 percent.
Unfortunately, for Trump, his personal most-hated president, Barrack Obama, had an average approval rating of 49 percent.
So far, Trump has referred to himself as "your favourite president" twice.
The Death And Taxes Award
One of the most famous quotes from US founding father, Benjamin Franklin is:
In this world nothing can be said to be certain, except death and taxes.
Not much can be done about the former, so we might as well spend our time discussing the latter.
The award for best fake tweet about taxes goes to US president Donald Trump for this tweet.
Today, it was my great honor to sign the largest TAX CUTS and reform in the history of our country. Full remarks: https://t.co/kMxoxEB68G pic.twitter.com/OeAoA0sLfx

— Donald J. Trump (@realDonaldTrump) December 22, 2017
While Trump has tweeted about tax 178 times (fewer times than he's mentioned fake news) this one is the culmination of a score of other laughably incorrect statements about his plans to cut taxes for Americans.
The Committee For A Responsible Federal Budget found that this is not the case. In fact, this tax cut is actually the 8th largest since 1918.
The president with the largest tax cuts in history is Ronald Reagan in 1981, who cut cost 2.9 percent of GDP over four years.
The same source, also refuted Trump's suggestion that tax cuts would pay for themselves. They do not.
The US economy would have to grow between $5 and $6 for every $1 in tax cuts in order for these cuts to be self-financing. Bloomberg report that the tax bill will actually end up costing America between $1trn and $1.5trn.
The Awed By Fraud Award
One of the most pressing issues for someone who already won an election is, of course, finding evidence to prove that the person who didn't win must have cheated. Obviously.
This award must go to the one and only US president Donald Trump for his obsession with voter fraud.
Many mostly Democrat States refused to hand over data from the 2016 Election to the Commission On Voter Fraud. They fought hard that the Commission not see their records or methods because they know that many people are voting illegally. System is rigged, must go to Voter I.D.

— Donald J. Trump (@realDonaldTrump) January 4, 2018
Trump has tweeted about voter fraud three times after winning the election. But off the Twittersphere, he went even further by creating a Commission On Voter Fraud.
This commission recently fell apart because states refused to release voters' personal information to the commission who did not provide any explanation of what they'd be doing with that information.
However, the most important thing to remember is that voter fraud simply doesn't exist. The idea has been debunked by impartial political fact-checkers, Politifact eight times at the time of writing.
They cite Lorraine Minnite who has been tracking voter fraud since 2001. She has served as an expert witness allowing her to gain first-hand insight into election processes in Wisconsin, Texas, North Carolina, Ohio, Virginia and Kansas.
She said:
I am not aware of any evidence of substantial voter fraud ever being offered or presented to state legislatures adopting voter ID laws, or in any of the litigation in which states, as defendants, have brought forth such evidence to defend why they adopted the laws.
The Lotsa' Legislation Award
The presidential record for passing the most legislation in the first 100 days is held by Harry Truman.
He signed 129 bills in his first 100 days. After his first hundred days, Trump boasted that he'd beat Truman's record after signing 28. So, unfortunately, no. That was incorrect.
Trump once again comes away the big winner, taking home the Fake Tweet Award for the Lotsa' Legislation category.
With all my Administration has done on Legislative Approvals (broke Harry Truman's Record), Regulation Cutting, Judicial Appointments, Building Military, VA, TAX CUTS & REFORM, Record Economy/Stock Market and so much more, I am sure great credit will be given by mainstream news?

— Donald J. Trump (@realDonaldTrump) December 22, 2017
A report from nonpartisan website gov.track which collects governmental data on 21 December found that Trump had passed 94 pieces of legislation during his time in office.
The next day, he signed two further pieces. So currently, he's on 96 pieces of legislation in 362 days (at the time of writing.)
That's actually the fewest of any president at this point in their respective tenures. George W Bush had 102, Ronald Reagan had 108, Barack Obama had 118, Bill Clinton had 209, and the numbers just keep going up from there.
The award for most legislation passed at this point in their presidency actually belongs to John F Kennedy who signed 684.
To be fair to Trump, the legislation he has passed is generally longer. The 96 bills he's signed equate to 2,038 pages while Kennedy's 684 filled up only 1,404.
The trouble is, Obama had 3,474 pages at this point, Bill Clinton had 2,556, and George HW Bush had 2,518.
The Lies About Lies Award
There is no one Trump likes to accuse of lying more than Crooked Hillary Clinton. Trump has tweeted about his former presidential opponent Hillary Clinton 56 times since taking office, referring to her as 'crooked' 37 times.
There are many contenders but the Lies About Lies Award has to go to this gem where Trump claimed Clinton lied to the FBI (presumably about her emails.)
So General Flynn lies to the FBI and his life is destroyed, while Crooked Hillary Clinton, on that now famous FBI holiday "interrogation" with no swearing in and no recording, lies many times…and nothing happens to her? Rigged system, or just a double standard?

— Donald J. Trump (@realDonaldTrump) December 3, 2017
At the time, there was an extensive interrogation of Clinton by the FBI, examining her use of a private email server in her home where she allegedly had classified emails from the State Department.
However, the Justice Department did not prosecute Clinton because they found no information that Clinton intentionally mishandled her emails.
Then-director of the FBI, James Comey was explicitly asked by Rep. Gerald Connolly, D-Va whether Clinton had lied. Comey replied:
I have no basis for concluding that she was untruthful with us.
He had to repeat himself in response to a further question on the subject from then-Rep. Mick Mulvaney, R-S.C. and said:
We do not have a basis for concluding she lied to the FBI.
Comey repeated again and again that there was no evidence Clinton ever lied to the FBI. So case closed, she did not.
The Going Nuclear Award
Few issues are more seriously, or more potentially deadly than the threat of nuclear war. The Doomsday Clock is widely expected to move closer to midnight as a result of the ongoing feud between Donald Trump and North Korea's Kim Jong-un.
Of course, nuclear war isn't something that anyone should flippantly tweet about. Much less tweet incorrect information about.
It would take a really SAD LOSER to take such a laissez-faire attitude to such matters. However, this particular tweet stands out as a great example of just such a person. 
North Korean Leader Kim Jong Un just stated that the "Nuclear Button is on his desk at all times." Will someone from his depleted and food starved regime please inform him that I too have a Nuclear Button, but it is a much bigger & more powerful one than his, and my Button works!

— Donald J. Trump (@realDonaldTrump) January 3, 2018
Now, this isn't technically false (as far as we know, because who knows whether either the US or North Korea's nuclear arsenal actually works. Let's hope we never have to find out.) The issue is one of semantics. Trump doesn't have a nuclear button because such a device does not exist.
Nuclear briefcase
In fact, all US presidents are accompanied by the nuclear football. This is a briefcase containing codes which, when given to certain military authorities, would trigger a nuclear attack.
It also wouldn't be placed on Trump's desk like he claims Kim Jong-un's would be. Instead, an aide carries the football. Bill Gulley, the former director of the White House Military Office, wrote in his book Breaking Cover about the contents of the briefcase:
There are four things in the Football. The Black Book containing the retaliatory options, a book listing classified site locations, a manila folder with eight or ten pages stapled together giving a description of procedures for the Emergency Alert System, and a three-by-five inch card with authentication codes.

The Black Book was about 9 by 12 inches and had 75 loose-leaf pages printed in black and red. The book with classified site locations was about the same size as the Black Book, and was black. It contained information on sites around the country where the president could be taken in an emergency.
We know that Trump hasn't changed systems or policies, because an aide carrying the football was photographed with Trump at his Mar-a-Lago resort.
For those who are breathing a sigh of relief at the idea that Trump couldn't start a nuclear war by simply toying with a button, don't rest too easy. There are no safeguards around the use of the codes to verify the commander-in-chief's sanity.
Former US president Richard Nixon actually had an Air Force major discharged after he suggested he would query the receipt of the codes and whether they came from a 'sane' president.
The Alienating Allies Award
Have you guessed who could possibly have won this one?
Yes, that's right, Donald Trump has won the award for fake tweets which alienate allies.
The real question is which tweet could have won. There have, after all, been a lot. Could it be the debunked videos from the time he retweeted far-right British citizen Jayda Franzen? Could it be the time he took London mayor Sadiq Khan's comments wildly out of context? The time he said Canada made business for dairy farmers in Wisconsin very difficult? When he said Mexico had one of the highest crime rates in the world?
All are worthy choices, but the winner of the Alienating Allies Award goes to this pair:
Despite what you have heard from the FAKE NEWS, I had a GREAT meeting with German Chancellor Angela Merkel. Nevertheless, Germany owes…..

— Donald J. Trump (@realDonaldTrump) March 18, 2017
…vast sums of money to NATO & the United States must be paid more for the powerful, and very expensive, defense it provides to Germany!

— Donald J. Trump (@realDonaldTrump) March 18, 2017
Not only is this wrong, but the whole premise is illogical. NATO is an agreement, not a central fund. Thus Germany cannot owe money to it.
The idea that Trump is getting at is in 2014, NATO's collective agreement directed members to spend two percent of their GDP on defence by 2024. Of the 28 NATO allies, so far only five, the US, the UK, Greece, Estonia, and Poland have reached that target so far.
Germany is currently spending 1.2 percent of its GDP on defence.
Sure, the US does spend far more on defence than other countries, but that is it's own choice. Also, this isn't done as a favour to Europe, but because a free and open Europe is vital to peace in the USA and a stable economy.
The Failing Fake News Award
You probably guessed by this award's title, but, yes, it's another win for Donald Trump.
Since coining the phrase in 2012, Trump has consistently referred to the "failing New York Times" in his tweets. He's actually tweeted about the subject 74 times.
Really disgusting that the failing New York Times allows dishonest writers to totally fabricate stories.

— Donald J. Trump (@realDonaldTrump) January 19, 2016
Unfortunately for the commander in chief, this simply isn't the case.
The New York Times actually hit record subscriber numbers in 2017, with 2.2m online-only subscribers. Also, its circulation revenue was up. In 2012 when Trump first coined the phrase, revenue was at $795m and by 2016 it was at $880m.
Times executive editor Dean Baquet said in 2017:
I respect his right to disagree with us, but we're not failing. We're doing quite well. We're doing better financially right now than we have in a long time and his portrait of us is just not accurate.
The Ouroboros Award
An ouroboros is an ancient symbol depicting a snake eating its own tail. It represents an infinite cycle of creation and destruction.
The winner of this award is a tweet which we've already mentioned, but hasn't won an award yet.
Here is that tweet:
The Fake News Awards, those going to the most corrupt & biased of the Mainstream Media, will be presented to the losers on Wednesday, January 17th, rather than this coming Monday. The interest in, and importance of, these awards is far greater than anyone could have anticipated!

— Donald J. Trump (@realDonaldTrump) January 7, 2018
Why did this one win the Ouroboros award?
Well, because of another tweet from a journalist at the (failing) New York Times which came in during the writing of this piece. That journalist was at the White House press conference this morning where Trump's press secretary, Sarah Huckabee-Sanders discussed the Fake News Awards.
Fake News Awards has been downgraded to a "potential event," per Sarah Sanders

— Michael M. Grynbaum (@grynbaum) January 16, 2018
Trump's original is, therefore, a tweet containing fake news about the Fake News Awards. It is fakery on fakery, leading to an infinite regress of fake news. When are the fake news awards? Will Trump tweet about the awards again, leading to further fake news about fake news? Who knows! Anything's possible!
SAD!