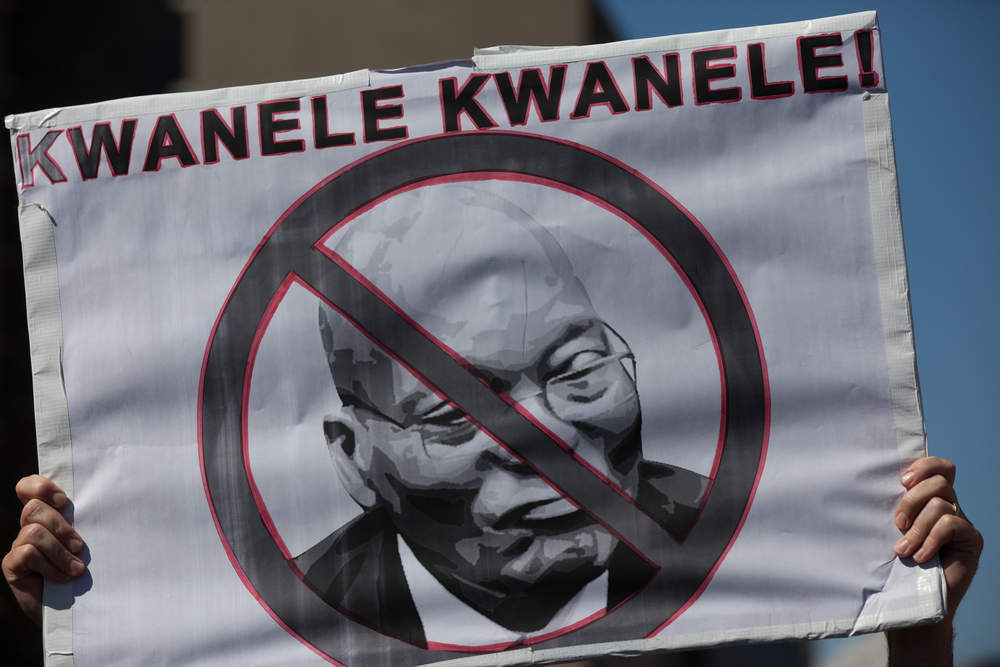 The former president of South Africa Jacob Zuma appeared in a Durban court today for a grand total of 20 minutes after being charged with corruption relating to an arms deal in the 1990s.
The trial has been postponed to 8 June and Zuma will face 16 charges which include corruption, racketeering, money laundering and fraud.
The arms deal up for debate took place when Zuma was deputy president. He allegedly took bribes from Thales, a French arms company, via his then-financial adviser Schabir Shaikh.
Thales faces two charges, making up the rest of the 18-charge indictment.
The deal in question was worth 30 billion rand ($2.5 billion), and also involved the British military equipment company BAE Systems and the Swedish firm Saab, as well two other European firms.
Shaikh was jailed in 2005 over attempts to solicit the bribes, and fraud and corruption related to the deal.
At the time, the Supreme Court of Appeal concluded that "all the accused companies were used at one or another to pay sums of money to Jacob Zuma in contravention of…the Corruption Act".
They also said that the finances of Shaikh and Zuma were entangled in a "mutually beneficial symbiosis".
Prosecutors charged Zuma at the same time, but the case was withdrawn shortly before he was inaugurated as president in 2009. Supporters of Zuma claimed that the charges were untrue and politically motivated.
The charges, which were reinstated in 2016, are over 783 payments connected to the arms deal, which was made when the new democracy of South Africa was attempting to modernise its military.
Investigators from Britain and Germany suspected that over R1 billion in bribes were paid to facilitate the deal.
Media reports from 2007 and 2008 suggest that BAE systems had set up a £100 million slush fund for the purpose of bribing South African politicians in relation to the deal. The Guardian accused the company of developing a "web of influence" to sell their equipment.
In 2010 BAE admitted to false accounting and making misleading statements in relation to corruption allegations, and paid out nearly £300 million in penalties, over dealings they had done in Saudi Arabia, the Czech Republic and Tanzania. The admission came after a long period of investigation by the UK's Serious Fraud Office, but BAE have never admitted to wrong doing in South Africa.
South Africa's problematic arms deal is seen as a catalyst for the creation of divisions within the ANC, with some members trying to curtail investigations. This, as well as allowing the deal to proceed in the first place, badly tarnished the reputation of former president Thabo Mbeki.
Andrew Feinstein, the South African author of the book After the Party which examines corruption in ANC, wrote:
The arms deal and its cover-up were the moment at which the ANC and South African government lost their moral compass.
The Strategic Defence Package purchased by the African National Congress (ANC), South Africa's governing party, included light fighter aircraft, utility helicopters, corvettes and submarines.
Even outside the allegations of bribery and corruption, South Africa's spending of billions of dollars on military equipment was highly controversial given the high rates of poverty in the country, especially outside war time.
Zuma was forced to resign from the presidency in February by the ANC. The party told him that he must step down or face a vote of no-confidence in parliament.
Allegations of corruption have dogged Zuma throughout his time in office, but he has always claimed he was not involved in any wrong-doing.
Zuma was succeeded by Cyril Ramaphosa after his resignation. Ramaphosa was pledged that he would eradicate corruption within the party and quickly to remove several of Zuma's allies from government positions.
The ANC warned members not to turn up in party colours to support Zuma for his court appearance today, in yet another sign that they are trying to distance themselves from him in favour of creating a new, corruption-free image.
However, supporters turned out in droves to watch the old leader enter and leave court. Zuma greeted the crowd with smiles and a thumbs up. A vigil for Zuma was also held last night in a Durban park near the court house.
However, the party remains deeply divided between Zuma supporters and critics. His supporters claim, once again, that the accusations against Zuma are deliberate political targeting by his enemies. There is an ongoing battle over whether the state should continue to pay Zuma's legal bills.
The last time Zuma appeared in court was 2006 on rape charges. He was acquitted and the case was subsequently dropped.
Many view the current court case as a sign that the impunity that Zuma enjoyed during his presidency is coming to an end. If it goes through, this may well be a watershed moment for South Africa's young democracy, which has thus far been marred by corruption scandals.
Zuma has applied for a review of the decision to charge him. A representative of Thales was also present in court today.