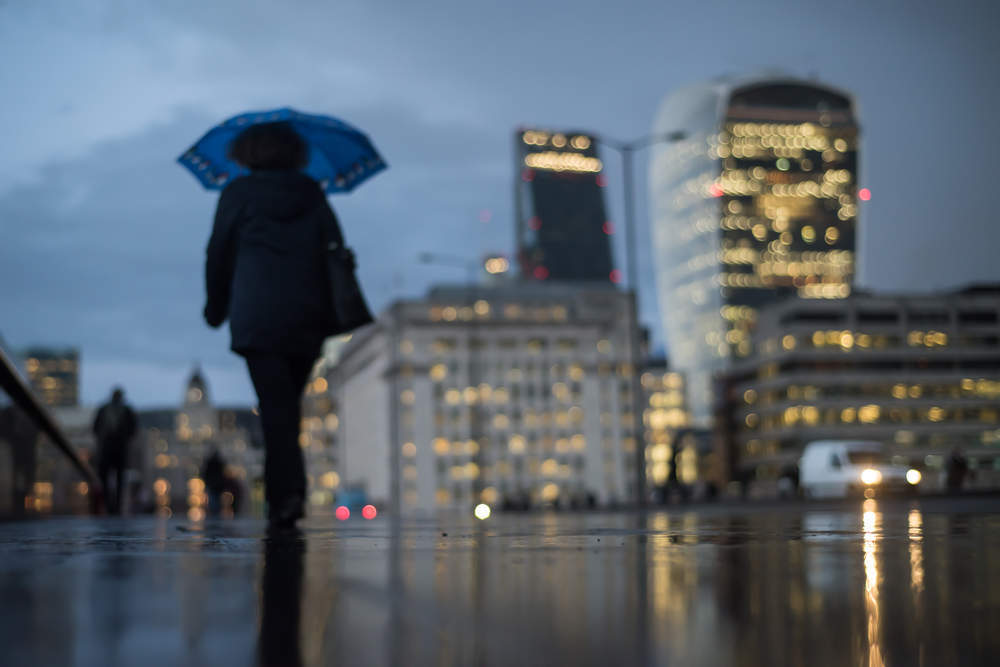 The City of London, home of the UK's financial services industry and the European banking hub, haemorrhaged professional talent in a Brexodus last year.
The first Morgan McKinley London employment monitor of the new year has revealed a 37 percent decrease in jobs available year-on-year while there are 30 percent fewer people seeking jobs in the capital.
Ongoing uncertainty over the UK's future trade position with the EU after it leaves the bloc in March 2019 means many financial firms are putting off job recruitment or are preparing to open offices within the EU.
Month-on-month there was a 52 percent decrease in jobs available, while the number of people seeking jobs in London fell by 40 percent.
Hakan Enver, Morgan McKinley Financial Services operations director, said:
In December, the City is abuzz with holiday parties not hiring, so a drop is to be expected, but for it to be such a seismic drop is alarming. Brexit clobbered the City's workforce in 2017. Anyone sticking it out into 2018 is in it for the long haul.
While December is a slow month for hiring, December 2017 was markedly more depressed than previous Decembers.
In both 2015 and 2016, the December month-on-month decrease in jobs available hovered around the 30 percent mark, figures that are considerably less dramatic than the 2017 month-on-month decrease of 52 percent.
The year-on-year decrease in jobs available dwarfs preceding years' figures.
In 2017 jobs to market were down 37 percent from 2016 while December 2015 saw a 16 percent year-on-year increase.
Read more: Which companies could leave the UK because of Brexit?
The professional Brexodus from the UK capital and the lingering threat of City's biggest banks quitting London for the European mainland or the US has been exasterbated by the disarray of EU divorce talks.
Yesterday it was revealed that the EU had warned British companies they would face a regulatory chill in the event of a so-called no deal Brexit — something that some now see as the most likely scenario.
Enver said:
2017 was the year we were told we'd have an exit strategy and a transition plan. We have neither. As new rounds of talks kick off, let's hope 2018 brings the much needed clarity and stability everyone's waiting for.
Industries warned they should prepare for the worst
British industry from development to aviation and haulage have been warned by EU regulators through a flurry of so-called be prepared memos late last year that they should not rely on UK operating licences after the UK formally leaves the EU.
The documents call on companies to be ready for the UK to become a so-called third country on March 29 2019, with no automatic right to operate in the single market.
However, some have dismissed these warnings as part of the ongoing EU UK public relations war.
Ronan Stafford, lead analyst at GlobalData Consumer, said:
British food, drink and cosmetics companies need to do their homework and have plans ready to go covering different levels of access to the European market. However this was the case before the latest round of the PR war between the British and EU negotiating teams.

Companies should not be making plans based on the latest bluster. Instead they should take note of the recent advances in the actual negotiations, and the indications of leading players on both sides of the Channel that some degree of access to the single market will be negotiated.

While a "no deal" Brexit would be inconvenient for companies, it's not a doomsday scenario either. Plenty of countries successfully export food, drink and cosmetic products to the EU.
Heavily regulation industries, such as construction, have taken the warnings more seriously.
Nathan Hayes, a construction economist with Timetric, said:
If the UK is to become a third country, clarity on future industry regulations is vital. Safety standards, environmental standards, materials standards, and building regulations are currently set by EU and harmonised across the bloc, known as Eurocodes.

Following Brexit, however, standards set by the bloc will no longer apply to UK companies and may make complying with EU regulations, and therefore undertaking work in Member States, problematic.
While the UK's negotiations with the European Union trudge on, British businesses has so far fared remarkably well — setting itself up for a successful 2018.
The UK has topped Forbes' prestigious ranking of best country in the world to do business — thanks to its continued economic growth, record unemployment and technology readiness.
Forbes found that big businesses, including technology giants Facebook and Apple, have bet on London's future post-Brexit by moving or planning to move significant jobs to the city.
Is London's fintech scene immune from Brexodus?
Financial service technology — generally known as fintech — has been booming in London for the past decade, bringing with it the next generation of financial services jobs.
The country's startup friendly regulation and London's world class financial industry made the city a perfect incubator for many of the world's most valuable fintech companies. And investment into the fintech scene is still going strong, despite Brexit concerns.
Enver said:
As the world's leading tech-savvy financial services hub, London is looking at a potential gold rush. That's good news for employers, for professionals, and for government coffers.
UK companies raised $7.7bn last year, more than double that of 2016, according to Dealroom. Fintech companies raked in $2.9bn, the biggest share. TransferWise raised $286m while Funding Circle took in £81.9m according to lobby group London & Partners.
Meanwhile, the government has tried to shield the sector from the effects of Brexit, stepping up overseas trade missions to introduce British startups to customers and investors and building a regulation so-called sandbox has been created to help fintech and finance companies get started.
It's not all good news however, with tech optimism in the UK taking a hit.
Entrepreneurs in France, Belgium, the Netherlands, and Luxembourg are more positive about the future of Europe's tech scene than their peers in Britain, according to a survey by venture capital firm Atomico, with 70 percent of the former more optimistic than they were 12 months ago, compared with 42 percent in the UK and Ireland.