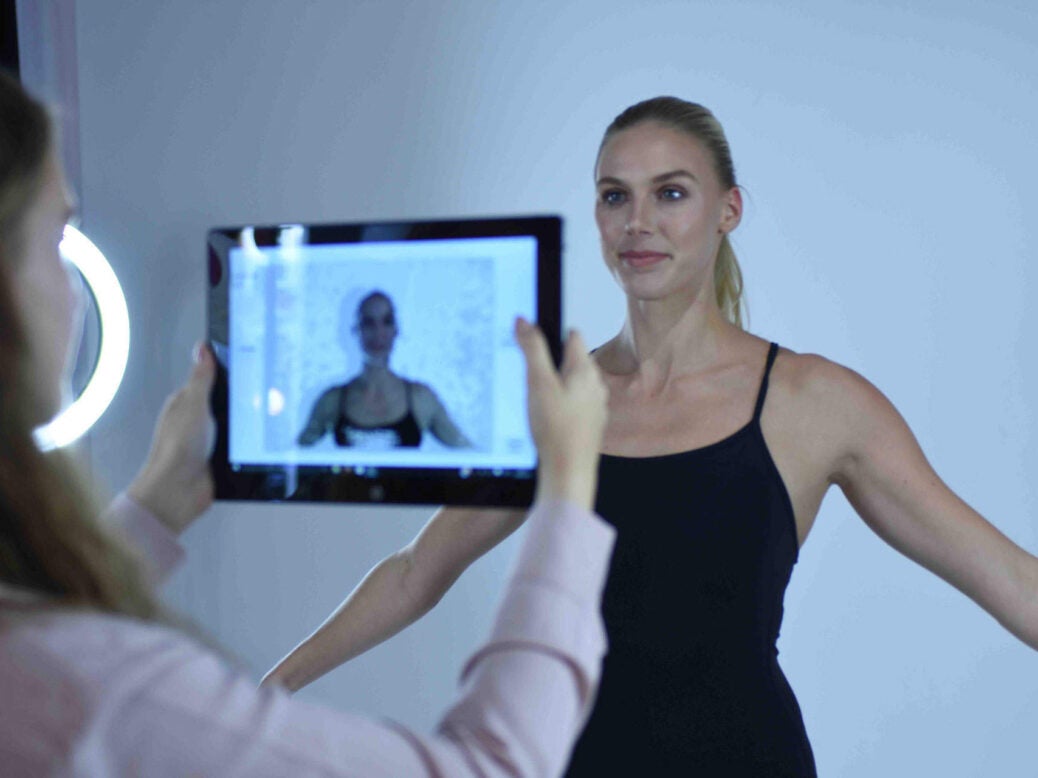 Online clothes buyers have many expectations of their shopping experience, an important one of which is the ability to return ill-fitting garments for free without hassle. This can be a real drawback for retailers, who face the dilemma of either absorbing the cost or haemorrhaging displeased customers. Could 3D body scanning be an answer to both retailers' and customers' problems?
Finding the right fit is one of the toughest parts of online clothes shopping. Sizing problems are also the main reason for returns, but besides being an annoyance to customers they're extremely costly to retailers. This due to the labour, shipping and inventory expenses involved.
Research by Opinium for Barclaycard found that the average British shopper returns almost half the clothes they buy online, frequently because they are the wrong sizes. The problem is only getting worse as online shopping grows in popularity.
Over the past few years, retailers have started partnering with 3D body scanning companies to help customers find the right fit while saving money and reducing wasted time. So is the technology key to the future of retail?
What is 3D body scanning?
Body scanning in a non-contact, 3D measurement system that uses infrared depth sensing and imaging technology to produce a digital copy of the surface geometry of the human body. This generates a silhouette of the shape, and an extensive list of body measurements. The 3D data then can be exported for pattern construction, garment draping simulation and 3D body tracking.
While 3D body scanning has been around for years, the technology for mobile systems is not yet able to reach a satisfactory level of accuracy and reliability. Researchers are aiming to develop a breakthrough systematic method of creating a 3D body mesh—a polygonal representation of a body—from 3D scanned data, regardless of device.
"3D body scanning offers consumers the chance to upload their size metrics, and thus enable them to find clothes that fit them perfectly, every time… ensuring their time is well spent and offering a truly customised online shopping experience," explains RichRelevance CMO Mike Ni.
"3D body scanning also provides a number of size data points that can be further used to automatically recommend accessories – belts, shoes, etcetera – and further increase loyalty and wallet share."
"Right now, 3D body scanning provides accurate measurements of the arms, hips, legs, and more. This technology is revolutionary for so many industries, and as it advances, it will be particularly useful for the fashion industry," adds Cory Sarrett, consultant for New Orleans jewellery store Marion Cage.
"There is potential to help tailors obtain accurate sizing information, obtain sizing information and better measurements for the average American, as well as measure the perfect ring size.
"Although this information is currently not readily available to the entire fashion industry, this would mean women could get more accurate sizing and feel better in the fashion pieces in which they invest."
Fashion retailers implementing 3D body scanning
While Selfridges and Bloomingdales introduced 3D body scanning booths in 2011, 3D body scanning technology is still relatively new and few retailers have implemented the service since, despite industry interest remaining high.
New Look introduced Bodymetrics 3D body scanning booth in its store in Westfield Stratford in London in 2012. Levi's offers a similar service in its flagship store in central London;  the service scans customers' body to help them find a perfect pair of jeans.
However, purely online retailers are the driving force of technology because they provide a solution to the massive problem caused by returns.
Amazon acquired 3D body scanning company Body Labs in 2017 with the aim of improving Amazon's Prime Wardrobe service, which sends customers a box of clothing to try on and return what they do not want. Implementing this technology could help Amazon offer shoppers clothes, shoes and accessories that fit better, helping customers discover more clothes they want and helping the retailer cut down on returns.
3D body scanning company Bodi.me works with brands such as Topshop, Forever 21, Next and some luxury brands like Ralph Lauren, Emporio Armani and Boss. It works by creating a 3D avatar that helps customers find perfectly-fitting garments after customer get scanned in store. The software compares their measurements with the exact dimensions of garments to find the perfect fit.
Other 3D body scanning companies include Styku, Me-Alit and mPort, which has rolled out 3D-scanning pods at shopping malls across Australia.
A case for 3D body scanning in the fashion industry
Commenting on the future of 3D scanning, Ni says: "Every year RichRelevance surveys consumers to gauge what they think is creepy and cool in regard to the latest in retail technology, gaining insight into the tech that consumers want to see as part of their retail experience. This year, 37% of consumers rated in-store interactive mirrors as cool, so it will be interesting to see how consumers react to 3D body scanning when purchasing.
"With Amazon's purchase of Body Labs at the back end of last year, we may soon see them make a more aggressive play into this area of the fashion sector. This tech goes beyond simply trying on clothes, with it potentially allowing consumers to filter reviews by body type, offering consumers a truly unique experience.  In five years, it may well be that we look back and think 'how did I ever buy a piece of clothing from looking at a 2D image?'"
Visualsoft head of digital Gavin Lowther adds: "We could see online retailers creating changing rooms which give shoppers the opportunity to virtually 'try on' outfits through 3D face and body scanning technology in smartphones. When uploaded to a website, the tool will allow users to swipe across to their highly-realistic avatar dressed live on screen in different outfits. Options will be to purchase the whole outfit or just one-off items."
Noibu marketing coordinator Bronte Assadzaheh comments: "In our opinion, 3D technologies are the future of retail. A difficulty that comes with shopping online is that you can't try on the products to make sure they fit right. 3D scanning is a convenient way to solve the sizing issue and give customers a better vision of what the item would look like in person on them."
The critics of body scanning technology
However, not everyone thinks that there is a place for 3D body scanning in fashion's future.
"It is unlikely that 3D body scanners will have a presence in clothing and footwear stores in the future. Technology in stores should be used to either improve the shopping journey, ironing out pain points, for example, self-checkouts being introduced so shoppers do not need to wait in long queues, or should be used to add a fun element to the shopping experience," says Global Data analyst Sofie Willmott.
"Although 3D body scanners might initially be considered as beneficial to identify which size garment would be the correct fit for the consumer, desired fit can be quite subjective.
"For example, some shoppers may prefer a looser, oversized style so may choose to size up from the garment that a 3D body scanner would identify as the right size for them. Therefore, 3D body scanners may not always be a useful tool that will make the shopping process easier."
New nationwide size survey
3D body scanning technology is also being used as part of the ShapeGB survey to capture the measurements of 30,000 UK adults. The project, managed by Select Research and backed by Innovate UK, will be undertaken for the first time in 17 years.
Six major UK retailers including River Island, Tesco, New Look and ASOS  have recently signed up to the new nationwide sizing survey that aims to provide data to help produce better-fitting clothes and tackle the surge in online returns.
Over 100 measurements will be collected from each person taking part, measuring seven areas of the body – both arms, both legs, chest, pelvis and the abdomen in 3D – so it can similarly capture body volumes for retail clothing.
The goal of the project is to collect data from across the nation to help better understand people who have the same clothing size but are different body shapes.
The project aims to generate over three million body shape and sizing measurements, allowing clothing retailers to use the data to improve sizing garment specifications.
The survey is available on iOS devices for users over the age of 18 who have to take two photographs and fill out a short questionnaire to complete the process. The Shape GB app will be available until the 30,000 target is reached, before being released on Android devices.
The results of the survey will be available after the completion of the survey for more general and industry use.
Verdict deals analysis methodology
This analysis considers only announced and completed artificial intelligence deals from the GlobalData financial deals database and excludes all terminated and rumoured deals. Country and industry are defined according to the headquarters and dominant industry of the target firm. The term 'acquisition' refers to both completed deals and those in the bidding stage.
GlobalData tracks real-time data concerning all merger and acquisition, private equity/venture capital and asset transaction activity around the world from thousands of company websites and other reliable sources.
More in-depth reports and analysis on all reported deals are available for subscribers to GlobalData's deals database.