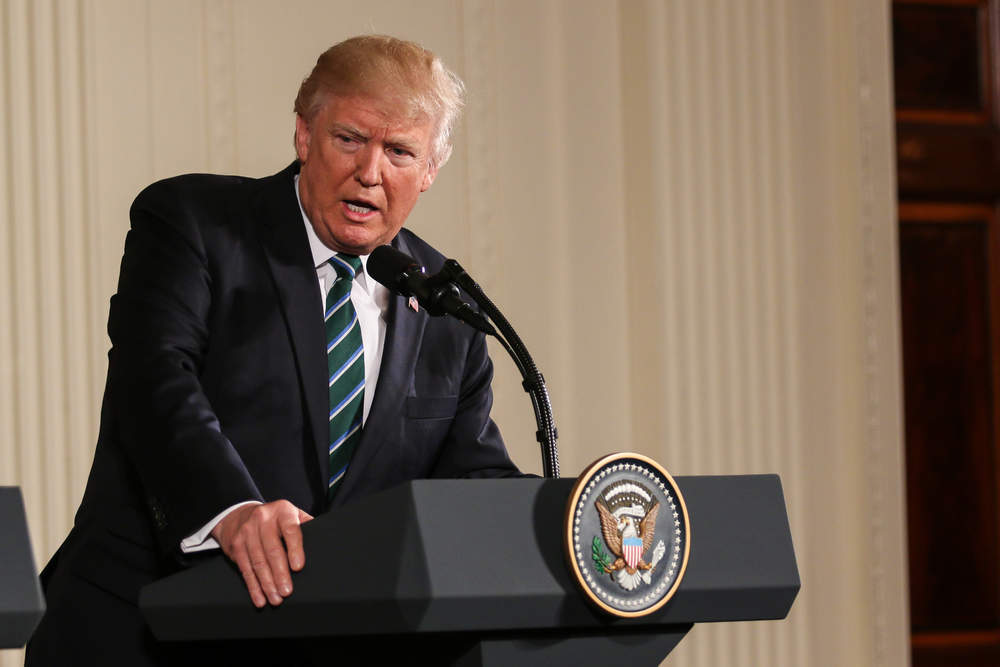 US president Donald Trump last week gave a wide-ranging interview to British journalist Piers Morgan — it was aired on UK TV channel ITV last night.
Morgan sat down with Trump for a 45-minute interview at the Davos World Economic Forum — in it Trump claimed that women voters liked his strong support for the military, that he was popular in the UK despite calls for protests if he takes up an invite for a state visit, and that he did not know if he had been invited to Prince Harry's wedding.
Throughout the interview, Trump repeatedly stated his love for the UK — taken as an indication of his desire to mend fences with the country after he caused an uproar in late 2017 by retweeting far right political party Britain First videos purportedly showing Muslims assaulting people and, in one video, smashing a statue of the Virgin Mary.
Here are some of the things you might have missed.
1) It hasn't been as long since the two last met as Trump seems to think
Morgan: "It's been a while!"

Trump: "It has, since you became my Champion on the Apprentice."

Morgan: "Well that was 10 years ago."
At the beginning of the interview it is suggested by Trump the two hadn't spoken face-to-face since Morgan won the seventh season of the US show The Apprentice. It aired in early 2008.
In fact Trump has been interviewed in person by Morgan a number of times since then — on his US show Piers Morgan Live and on Morgan's UK morning chat show Good Morning Britain ahead of the 2016 US election.
2) Trump would have negotiated Brexit differently
Morgan: "On the issue of trade, you were very encouraging when you met Theresa May. And Barack Obama came over to Britain just before the EU referendum and said if we voted to Leave, we'd go to the back of the queue. What is your position now? Are we at the front of the queue for a new trade deal with America?"

Trump: "So we are going to make a deal with the UK, that will be great. As you know, somewhat restricted. Because of Brexit you have a two year restriction. And when that restriction is up we're going to be your great trading partner. It's a tough restriction to have. You know for a couple of years, you have very strong lack of being able to do things."

Morgan: And now we've seen how it's played out. Do you believe that we're in a good position in Britain? A lot of people are still very nervous, very anxious, but hearing the President of the United States saying 'There's plenty of good trade coming from me' – that's a big deal to people in Britain.

Morgan: Well, would it be the way I negotiate? No, I wouldn't negotiate the way it was negotiated. But I have a lot of respect for your Prime Minister, and I think they're doing a job. I think I would have negotiated it differently. I would have had a different attitude.
Trump would have negotiated Brexit differently, but acknowledged that British prime minister Theresa May is doing a good job.
Many would disagree with this analysis with May's Tory party in turmoil after one pro-European Union minister's attack on "swivel-eyed" Tory Brexiteers.
Member of Parliament Claire Perry exposed the true scale of bitter infighting when she also warned hard Brexit supporters were hell-bent on "wrecking the economy", in a leaked WhatsApp message.
Meanwhile, Brexiteer Tories have demand the sacking of chancellor Philip Hammond over his call for an ultra-soft Brexit – laying bare the extent of the Conservative party civil war.
3) Trump really likes Macron
Morgan: So [is the UK at the] front of the [trade deal] queue? Or are we behind the French? Because we're a bit worried about Emmanuel Macron who's been all over you trying to be your new best friend.

Trump: "No, I like him. He's a friend of mine. Em-man-u-el! He's a great guy, his wife is fantastic. I like him a lot. You know, we had dinner at the top of the Eiffel Tower."
Trump really like French president Emmanuel Macron and wants everyone to know it.
Last week Macron was invited to visit the White House, in the first state visit announced since Trump took office a year ago.
Macron himself hosted Trump, 31 years his senior, with much pomp and circumstance in July last year in Paris.
Trump had expressed admiration for the military parade on Bastille Day, France's national celebration, and spoke of organising a similar display in Washington on 4 July, US Independence Day.
4) Trump's changed his tune on trophy hunting
Morgan: "Quick question on trophy hunting. You seemed to indicate that you've had a change of mind about this, or you'd like the administration to."

Trump: "I changed it. I didn't want elephants killed and stuffed and have the tusks bought back into this. And people can talk all they want about preservation and all of the things that they're saying, where money goes toward – well money in that case was going to a government which was probably taking the money, OK? I do not, I turned that order around. That was an order."
The US currently has a ban on importing elephant trophies from the African nations of Zimbabwe and Zambia though Trump's administation is considering reversing the Obama era ban.
These latest comments suggest the ban isn't going to rolled back however. The move isn't entirely unexpected. In November Trump tweeted the ban review was "on hold".
https://twitter.com/realDonaldTrump/status/931685146415255552
Interview exerpts published by the Spectator