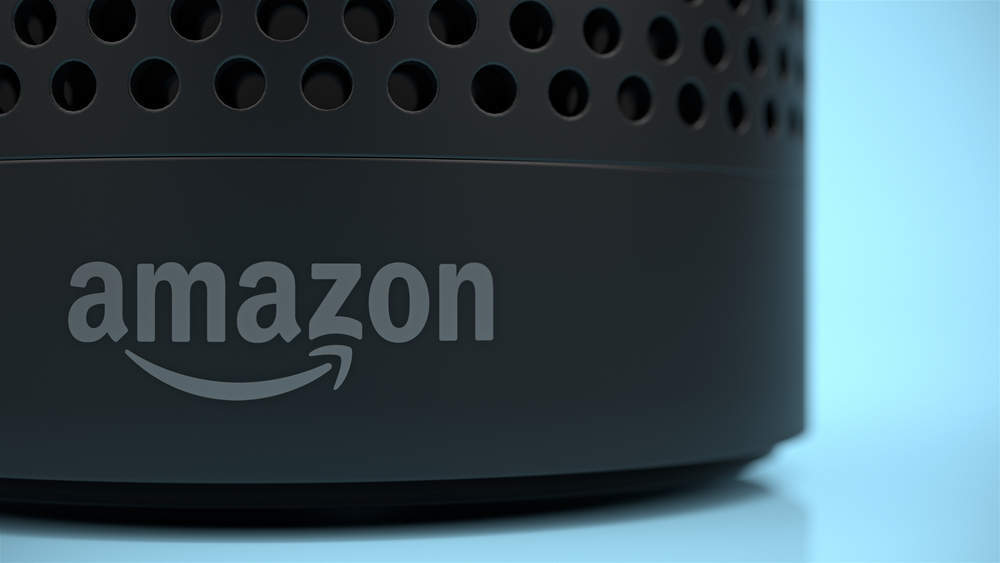 One of the most talked about — and talked to — devices released over the past few years has got to be the Amazon Echo.
The speaker can be synced to your Amazon account, your TV, and your smart home appliances to help you with all kinds of things around the house.
Even more charmingly, the Echo is hosted by Alexa Amazon's chatty little AI.
All one has to say to Alexa is "Alexa, order me some deodorant" and she'll get right on it. Bob's your uncle, a new can of deodorant will be on its way soon!
Of course, like all gadgets and gizmos, Alexa is constantly getting updates.
Recently, she received an update to improve her utility with Amazon Prime Music and Amazon Music Unlimited.
Alexa's new update also has some more unique options as one writer for Mashable discovered.
It seems that Alexa is on hand to help set the mood for your more amorous encounters too.
If you ask her to play 'baby making jazz' or 'hooking up music' she'll happily oblige.
However, one thing that Alexa will not do is talk about sex.
If you ask the poor speaker to play "music for having sex" she will keep schtum. Ask her to play "music for fucking" and she will not do it.
Apparently though, she does have a playlist called "sexy classic rock" which can come up when you use the word "sexy" rather than "sex". However, the playlists are chosen when you ask for activities combined with genres so you may not get that every time. Still, it sounds like fun!
Just remember, Alexa is keen to help you out, but she's no sexy secretary, so no funny business!
Other fun things Alexa says and does
Of course, a bit of saucy mood music is far from the limits of Alexa's power.
The humble speaker has a vast array of cool tricks up her sleeve. Aside from all the in-the-box stuff that comes pre-installed she can use apps or skills.
These are specially downloaded third-party expansions to her operations.
Here's just a few of the most interesting ones we've discovered.
Nerd out over Harry Potter — Alexa is a huge Harry Potter fan. You can ask her about any one of 200 characters and she'll be able to tell you all about them. She'll also sort you into a Hogwarts house if you answer her seven questions.
Never lose your phone again — If you're the type to constantly be leaving your mobile in places you shouldn't, sign up to the TrackR app and download the accompanying Alexa skill. Then say "Alexa, find my phone" and your phone will ring on full volume.
Do some exercise — If you're not a fan of going to the gym the '7 Minute Work Out' skill might be for you. Just ask Alexa to 'start a seven minute work-out' and she'll guide you through a series of exercises for a few minutes. If you want to perfect your form, just glance at the mobile app for video clips showing you what to do.
Order some food — Amazon recently acquired WholeFoods in the US, so their market dominance over the grocery industry surely isn't too far behind. In the UK however, ordering food on Amazon isn't quite so simple. However, with skills from Domino's and Just Eat, Alexa is more than happy to order you that delicious Meateor with stuffed crust that you just need after a big night out.
Learn first aid — The British Red Cross has launched a skill for Alexa and it could literally save a life. If you ask her things like 'how to treat a nosebleed' she can provide you with everything you need to know. Everything from burns to severe bleeding to seizures are explained so this is definitely a good one to have.
Check your fitness — If you're a Fitbit user, you can ask Alexa for all your data. You could ask her to find out how many steps until you hit your goal – motivational!
Plan your outfit — Okay, Alexa might not be a true fashionista, but she can help with outfits. Ask her to tell you today's forcast and you'll never find yourself wearing a thick jumper on a boiling afternoon!
Prepare for a pub quiz — One of Alexa's built-in skills is a series of trivia quizzes about all kinds of subjects. Why not put yourself to the test and see how you fare against the mighty machine?
Learn about Mars — NASA's official skill might be one of the coolest available. With it, Alexa can tell you all kinds of facts about the red planet. She'll also keep you updated about which part of the planet the Curiosity Rover is currently exploring!
Get some deals — Everyone loves a bargain, and if you're an Amazon Prime customer you can say 'Alexa, what are your deals?' Then, quick as a flash, she'll offer you a selection of discounts and offers. These are offers that are only available through Alexa, so it's worth asking every now and then. You might find a bargain!
Enjoy a tipple — With 'the Bartender' skill, Alexa can offer you over 12,000 cocktail recipes. The skill even has a 'surprise me' option if you're feeling like you could be up for anything!
Go on an adventure — There are quite a few fun, 'story' skills that Alexa can learn. She'll describe scenarios and puzzles and you've just got to find your way through them. Remember those 'choose your own adventure' books that you loved as a kid? It's just like those but with less of the constant, annoying page turning!
There's plenty more cool skills that Alexa can learn so explore what's available!
Just remember, for Alexa, sex music is a big no-no!