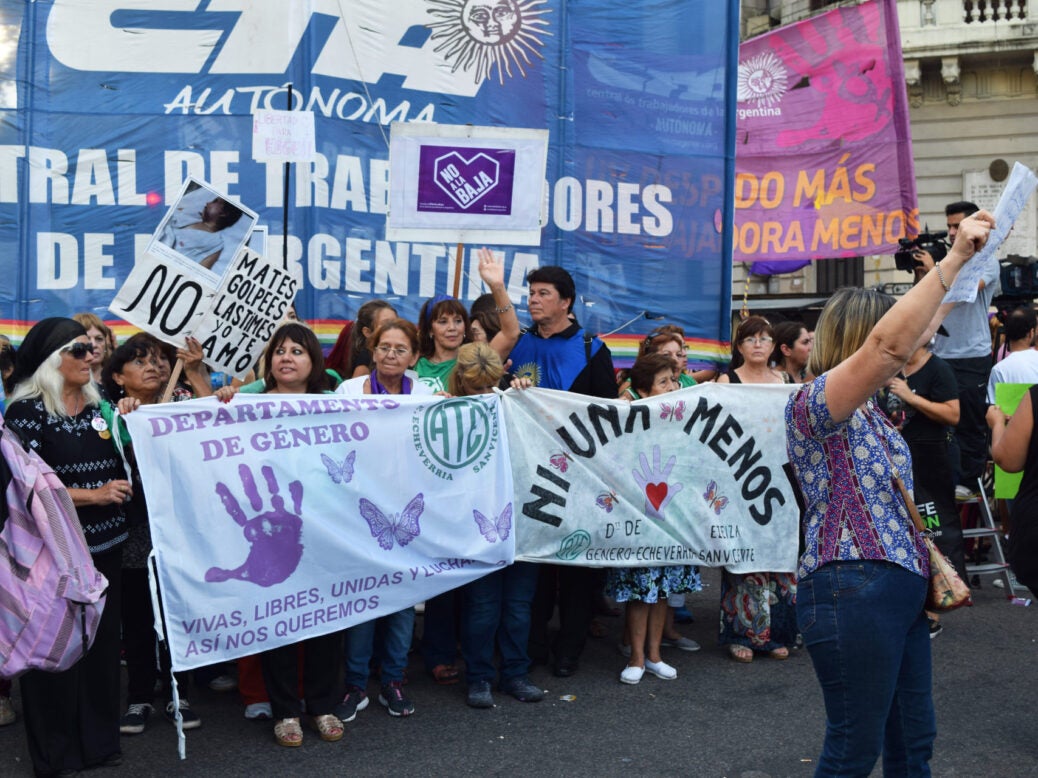 2018 saw the #MeToo movement raise awareness of the prevalence of sexual assault and sexual harassment, following numerous allegations made against film producer Harvey Weinstein.  However, despite women's issues making headlines around the globe this year, Amnesty International has warned that 2018 was in many ways dominated by oppressive and sexist policies.
70 years after the Universal Declaration of Human Rights was formed to address the human rights atrocities that occurred during the Second World War, the international human rights charity has warned that "tough guy" leaders are negatively affecting the rights of women and minority groups through misogynistic, xenophobic homophobic and transphobic policies.
Today it published its annual review of the state of global human rights, analysing the human rights situation in seven regions around the world.
The 56-page review reveals that some of the most disadvantaged women in the world are at risk of being further marginalised due to oppressive and sexist policies.
Reproductive rights
One area highlighted in the review is the state of reproductive rights. 2018 saw a referendum on abortion laws in the Republic of Ireland, in which the country voted overwhelmingly in favour of repealing the eighth amendment, overturning the ban on abortion.
However, around the world, 40% of women of childbearing age are living in countries where abortion remains restricted.
This year saw El Salvador refuse to decriminalise abortion in any circumstances, and the Argentinian senate vote against a bill that would have legalised abortion on demand in the first 14 weeks of pregnancy.
UK austerity measures
Amnesty International found that the impact of austerity measures, pursued by the UK government, have had a disproportionate impact on Black, Asian and minority ethnic (BAME) women. Ten years of austerity policies have meant that by 2020, the income of single mothers will have fallen by 18% since 2010, while Black and Asian households will see average drops in living standards of 19.2% and 20.1%, respectively.
The overturning of the eight amendment in the Republic of Ireland has highlighted the oppressive abortion laws in Northern Ireland, with abortion prohibited under most circumstances and an estimated 23 women forced to travel to seek medical treatment elsewhere.
It was also revealed that the UK has a higher rate of sexual violence against women than the rest of the EU, as one in 10 women in the EU have reported experiencing some form of sexual violence, whereas one in seven have in the UK.
Although technology has many benefits in connecting movements around the world, the internet can often be a hostile environment for women, with many falling victim to trolling. Earlier this year, Amnesty showed how Twitter has become a toxic place for many women, with only 9% of British women believing it is doing enough to stop violence and abuse against women.
Women activists took centre stage
Although there is still a long way to go with regards to women's rights, 2018 saw in increased awareness of the work of women activists around the world.
As well as the well-publicised Me Too movement, which saw thousands take part in marches in the US, Europe and Japan, other women-led movements such as "Ni Una Menos", a campaign against gender-based violence in Latin America, have highlighted women's rights issues on a scale not seen before.
India, which was ranked as the most dangerous country for women by The Thomson Reuters Foundation earlier this year, saw thousands take to the streets to protest sexual violence against women.
In another milestone moment, Saudi Arabia lifted the ban on women driving.
Amnesty International is therefore urging governments to take action to ensure that women's rights are upheld, not only limiting this to the repealing of existing laws, but also proactive measures to empower women.
Kumi Naidoo, Amnesty International Secretary General, said:
"In 2018, we witnessed many of these self-proclaimed 'tough guy' leaders trying to undermine the very principle of equality – the bedrock of human rights law.

"Many of the current crop of leaders in the world have launched fresh attacks on women's rights with their misogynistic and divisive narratives. These leaders try to argue that they are protecting traditional values that represent family interests but, the truth is, they are pushing an agenda that denies women basic equality."

"Women's rights have consistently been placed a rung below other rights and freedoms by governments, who believe they can pay lip service to these issues while doing little in reality to protect the rights of half the population."