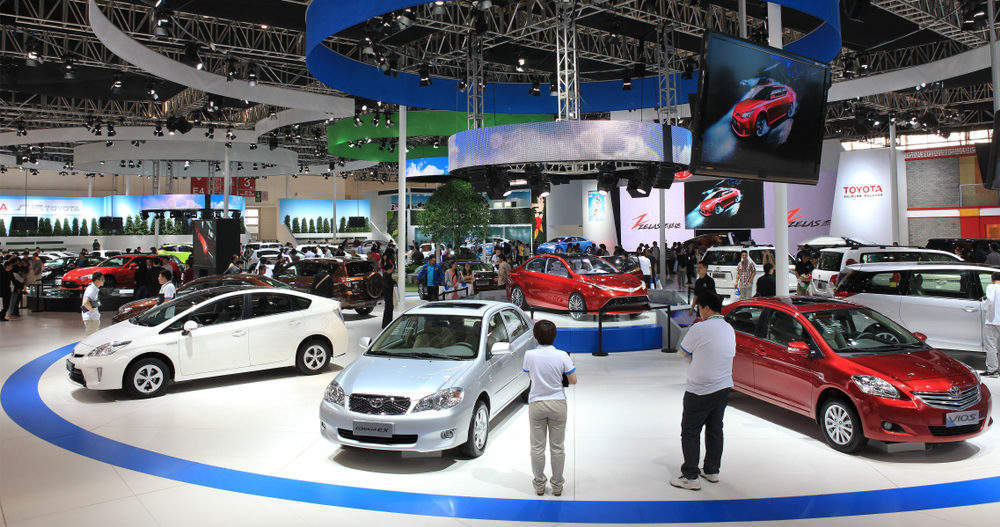 China is the world's biggest car market and continues to outgrow the rest of the world when it comes to new car sales.
With 13.64 million cars sold in China last year, compared to 10.43 million in the US, the East Asian country has plenty to offer manufacturers as the market continues to grow. Few will miss the opportunity to be present in Beijing this month as the Auto China 2018 car show gets underway.
The world's leading car manufacturers will be attending Auto China 2018 to display their latest models and concepts. The likes of Toyota, BMW, Volkswagen and Mercedes-Benz will be present.
The exhibition will be open to the public from Sunday 29 April until Friday 4 May at the China International Exhibition Center.
What to expect from Auto China 2018
Paul Nieuwenhuis, a lecturer at the Centre for Automotive Industry Research, told Verdict:
Manufacturers are currently focused on electrification and automation.

Most of them in reality do not want to do either of these, but feel that they are forced in these directions by forces beyond their control.

Both of them are, of course, strongly supported by governments.
Keen to lower pollution caused by vehicle emissions, governments have been cracking down on car manufacturers in recent years. With huge fines handed to those that break emission targets, electric vehicles are viewed as the future and have dominated car shows in recent years. That will be no different in Beijing, as China begins to crackdown on its out of control pollution problem.
Nieuwenhuis told Verdict:
The Chinese Government is particularly keen on electrification in view of their urban air quality problems, but also because – unlike internal combustion technology – it is a technology area where they feel Chinese industry is competitive and has a ready-made supply chain.
Chinese car brands like Lifan and MG will be focused on electrification, but they won't be the only manufacturers present at Auto China 2018. With China's car market continuing to grow, Western brands are increasingly turning to the Asian market to boost sales.
David Bailey, automotive expert at the Aston Business School, told Verdict:
China is the biggest car market in the world. We'll see a lot of China specific models, but also new models from premium players like BMW and Mercedes, especially in the SUV and crossover segments which are growing very quickly in China.
Auto China 2018 debuts
BMW M2 Competition
BMW's new high-performance sports car will make its first public appearance in Beijing next week. Despite a leaked sales brochure revealing key specifications ahead of its big unveil, the M2 Competition will still get plenty of attention at Auto China.
Set to replace the M2 Coupe, the M2 Competition packs the same twin-turbocharged S55 3-litre engine as the M4 series. However, generating 405 horsepower, 40 horsepower more than its predecessor, the M2 can go from 0-60 miles in four seconds.
Official; new BMW M2 Competition. Available in SA from September 2018. Featuring a new six-cylinder in-line engine with M TwinPower Turbo technology, based on the power unit from BMW M3/M4, three-litre cubic capacity: 302 kW, 550 Nm & 0 to 100 km/h in 4.2s.#BMWM2Competition pic.twitter.com/7zO0rMJhFJ

— Edward Makwana (@EdwardMakwana) April 18, 2018
2019 Lexus ES XV70
Lexus has teased the next generation ES XV70 ahead of the car show, which is set to replace the Lexus GS next year.
The manufacturer has offered little insight into what the ES XV70 will pack under the bonnet. However, it has promised to "radically transform the concept of comfort for luxury consumers". Lexus should reveal more details in Beijing.
Skoda Kamiq
This one won't be much use to those outside of China, given that Skoda won't be releasing the Kamiq globally. However, Skoda has released images of the China-only SUV ahead of its debut at Auto China 2018.
The Kamiq has been designed to be significantly cheaper to produce than other models like the Kodiaq and Karoq, but will feature the same design and detailing as other Skoda vehicles.
Skoda has yet to confirm the car's performance specs.
ŠKODA in China has released first sketches of a new model for China! The new mainstream city SUV will be the third member of the brand's SUV family for the Chinese market. The model is celebrating its debut in the run-up to the 2018 Beijing Motor Show. #Kamiq 🙂 pic.twitter.com/IPDEYDsq87

— SKODA NEWS (@SkodaNEWS) April 18, 2018
Lifan 650EV
Lifan, a brand popular in China, will be using the event to show off the upcoming 650EV, as the company pushes ahead with its attempts to dominate the new-energy car market in the region.
The company hopes that the 650EV, an electric version of the gas-powered Lifan 650, will help to reach a target of 500,000 new energy sales by 2020.
The design won't be much different to the 650, so there isn't actually much to see at Auto China 2018. However, the manufacturer is expected to provide more information on specs and price.
XEV LSEV
Just like PAL-V's flying car stole the headlines at the Geneva Motor Show last month, we would expect XEV's 3D printed vehicle to steal the show in China.
The LSEV is almost entirely created out of 3D printed parts. Only the chassis, seats and glass, due to the material used, aren't. Its creator claim that the LSEV is the first of its kind.
The XEV LSEV will cost $7,500 when it is released in 2019.
@Polymaker_3D & #XEV Launch 3D Printed Electric Car, The #LSEV Thank Only Costs 7K! https://t.co/Us4YPs0xvN pic.twitter.com/KbhaiuZpCT

— CastilvzDSGN (@CastilvzDSGN) March 23, 2018
BMW A-Class sedan
BMW's Maybach concept will lure people to the BMW exhibition in Beijing. However, the A-Class Sedan will provide something a little more real.
BMW's first ever A-Class sedan is the second of eight new compact cars planned for release following the A-Class hatchback reveal earlier this year.
While similar in appearance to the Mercedes-Benz CLA-Class, the A-Class will provide passengers with more room on the inside.
Mercedes says they're bringing an A-Class sedan to the U.S. to undercut BMW's 2 Series and Audi's A3, but will it sell?https://t.co/QplybgiXqY pic.twitter.com/56rmxwYfoR

— Jalopnik (@Jalopnik) December 18, 2017
Auto China 2018 concepts
DS X E-Tense
Citroen-owned brand DS Automobiles has released a short video teasing the DS X E-Tense, a futuristic-looking coupé.
The 25-second clip gives little away. However, we can assume, given that it shares its name with the electric E-Tense concept car revealed at the Geneva Motor Show in 2016, that it will be another electric offering. The concept car will debut at Auto China, so expect more information then.
Hybrid Kinetic Group H500/K350
As has been the case time and time again at motor shows over the last decade, electric will dominate in China.
Hybrid Kinetic Group, a Hong Kong-based automobile developer, will reveal two new electric models developed with Italian design house Pininfarina as part of a £55 million deal between the two companies.
The two companies have designed these cars to appeal to the Chinese market. The H500, for example, will feature a roomier back part that is favoured by Chinese consumers.
HKG has yet to release specs for its two new concept cars.  While unconfirmed, the H500 and K350 will both likely house the same power train that HKG uses in its other vehicles. If correct, this will provide a range of 621 miles per charge.
Styling research and sustainability. #Pininfarina to showcase one more concept at Auto #China Show 2018: the #electric 4 seater SUV K350, that joins the range of environmentally friendly vehicles developed for Hybrid Kinetic Group. Unveiling on April 25, HK booth. Stay tuned! pic.twitter.com/6SDmBKgcJB

— Pininfarina (@PininfarinaSpA) April 12, 2018
Mercedes-Maybach GLS
As demand for luxury SUVs grows, Mercedes-Benz hopes to capture the market through its ultra-luxury Maybach brand. The Maybach GLS concept is viewed as a competitor to the Bentley Bentayga and the Range Rover.
Based on the Mercedes-Benz GLS-Class, the Maybach GLS will feature a similar minimalist, aluminium design and pack a similar punch under the hood.
The vehicle will debut at Auto China in concept form. Mercedes will then unveil a production vehicle at the Los Angeles Motor Show later this year.
MG X-Motion
MG, owned by one of China's biggest car manufacturers, SAIC, has teased what's to come at Auto China 2018 by releasing a series of small images of an upcoming concept car known as the X-Motion, which will debut in Beijing this week.
The car will be based on the RX8 vehicle produced by Roewe, another SAIC-owned brand. It is therefore likely that MG will use the same 2-litre turbocharged petrol engine to power its new vehicle. The RX8 is capable of going from 0-60 in 6.2 seconds and we would expect similar results from the X-Motion.
#ukraine4x4 #offroad #4×4 MG X-motion: предвестник флагманcкого внедорожникаhttps://t.co/HGDoOBZptz pic.twitter.com/YktdVIcVNX

— Ukraine 4×4 (@ukraine4x4) April 13, 2018
Buick Enspire
If a car manufacturer isn't working on electric engines, it's developing something autonomous. Buick, a brand owned by American automotive heavyweight General Motors, is doing both simultaneously.
Buick announced the Enspire, a semi-autonomous, electric SUV that packs all of GM's latest technologies, ahead of Auto China. Given Buick's reputation in the region, the Enspire will likely get plenty of attention at the motor show.
The Enspire brings together many of the features and technologies that have been seen in past GM concepts, such as OLED screen dashboards, voice control and 5G connectivity.
Under the bonnet, the Enspire will pack a 410kW battery power train. This will be capable of reaching 60mph in four seconds and offer a range of 370 miles per charge.
The @Buick Enspire is an all-electric concept SUV with 550 hp and 370 miles of range! https://t.co/WZmjzDfiWh pic.twitter.com/47IGZ1Mnhz

— Car and Driver (@CARandDRIVER) April 18, 2018