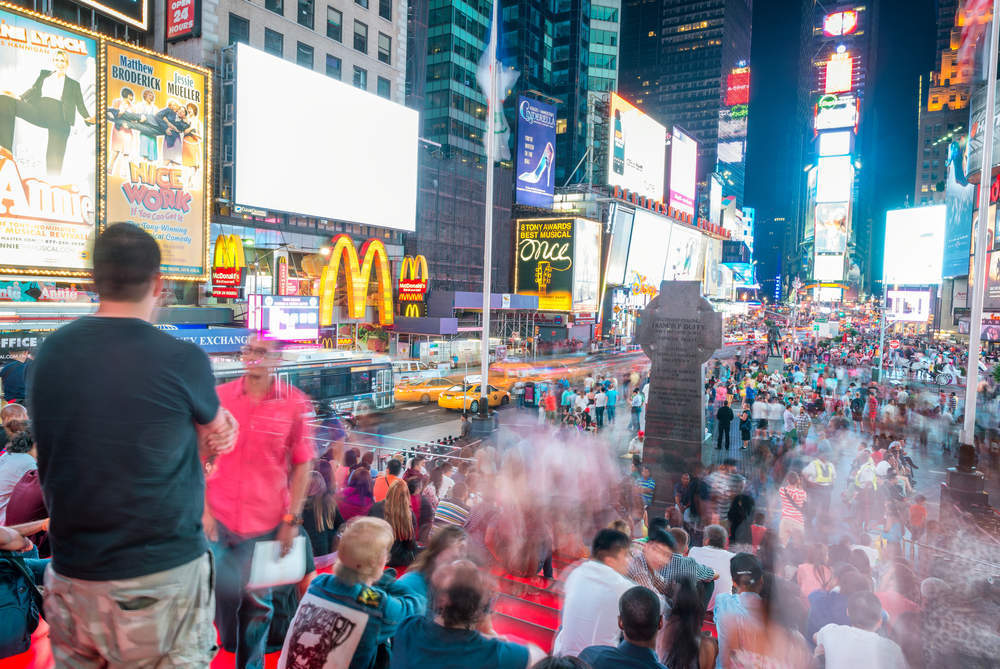 With 12.75m international visitors in 2016, there's no denying that New York City is a popular place to visit.
And a trip to New York really isn't complete without going to the theatre. No where in the world is better known for theatre than the Big Apple's Broadway.
As a result, New York City is often the first port of call for the biggest, most popular productions in the world.
Shows like Wicked, Rent, Hamilton, and The Book Of Mormon all found international acclaim from their Broadway runs. Even to this day, tickets for the aforementioned shows routinely sell-out at every performance.
But that's not to say that Broadway only focuses on old glories. There are plenty of huge, brand new shows already on or coming soon to Broadway.
If you're in New York City in the next few months, here are some of the best things to look out for.
(Do note we're only featuring new plays here, that is, anything written since the year 2010! Revivals and rehashes are off the cards here!)
12 of the best things to see on Broadway
Waitress
Where and when?
Brooks Atkinson Theatre – April 24 2016- ongoing
What's it about?
Jenna is a pie-maker and waitress in an abusive relationship. At the play's outset, she realises she is pregnant. Due to the difficult relationship she has with her boyfriend, Jenna struggles to get excited about this news. Eventually, Jenna seeks comfort in the arms of another man. She plans to enter a pie contest whose grand prize would earn her enough money to split from her boyfriend permanently. As an adaption of a movie, this one is apparently sweet as pie!
Dear Evan Hansen
Where and when?
Music Box Theatre, December 4 2016- ongoing
What's it about?
This year's Tony Award-winning Best Musical is a very modern coming of age story. When a boy in his school dies by suicide, Evan Hansen fakes an entire friendship with the deceased Connor. He begins this as a way to help the grieving family but it becomes clear he enjoys the attention. Eventually, the whole thing begins to unravel despite Evan's attempts to hold it together.
Come From Away
https://www.youtube.com/watch?v=hket1voAngk
Where and when?
Gerald Schoenfeld Theatre – 12 March 2017- ongoing
What's it about?
If this one doesn't end up winning the Tony for Best Musical, be surprised. The musical, that critics have called 'the best Broadway production I've seen in years, possibly ever', deals with the aftermath of 9/11. After the attacks on New York City and Washington D.C, US airspace was closed. This caused 38 planes to be forced to land in the small Newfoundland town of Gander. The musical tells the story of how the townsfolk pulled together to invite the passengers into their homes until they could get back into the air. It's a true story and an incredibly heart-warming one! Not to be missed!
Anastasia
Where and when?
Broadhurst Theatre – Anastasia – April 24 2017
What's it about?
An adaption of the not-Disney musical cartoon film, Anastasia tells the story of the legend of Grand Duchess Anastasia Nikolaevna of Russia, which claims that she, in fact, escaped the execution of her family. Anastasia, who appears in the plot as an amnesiac orphan named Anya, hopes to find some trace of her family, but sides with con men who wish to take advantage of her likeness to the Grand Duchess.
Junk: The Golden Age of Debt
Where and when?
Vivian Beaumont Theater  – November 2 2017 – January 7 2018
What's it about?
It's 1985. Robert Merkin, the resident genius of the upstart investment firm Sacker Lowell has just landed on the cover of Time Magazine. Hailed as "America's Alchemist," his proclamation that "debt is an asset" has propelled him to dizzying heights. Zealously promoting his belief in the near-sacred infallibility of markets, he is trying to re-shape the world.
JUNK is the story of Merkin's assault on American capitalism's holy of holies, the "deal of the decade," his attempt to takeover an iconic American manufacturing company and, in the process, to change all the rules. What Merkin sets in motion is nothing less than a financial civil war, pitting magnates against workers, lawyers against journalists, and ultimately, pitting every one against themselves."
Latin History for Morons
Where and when?
Studio 54  – November 15 2017-February 4 2018
What's it about?
A one-man show starring Emmy award-winning actor John Leguizamo. After his son reveals a school assignment on heroes, John wants to teach him about the great figures of the Latino world. Unfortunately, once he sets out on his crash course across three continents and 3000 years of history he uncovers provocative truths that shock even him.
The Parisian Woman
https://www.youtube.com/watch?v=Ng6_ciMsB80
Where and when?
Hudson Theatre – November 30 2017-March 11 2018
What's it about?
Uma Thurman stars in this new play written by the creator of Netflix's House Of Cards, Beau Willimon. She plays Chloe, a manipulative, scheming politician's wife, determined to push her husband to the position of Attorney General. The interesting gimmick though, is that playwright Willimon promises to update the script each week to reflect current political events. You could go see it tonnes of times and see something subtly different each time!
Farinelli and the King
Where and when?
Belasco Theatre  – December 17 2017
What's it about?
Starring Mark Rylance, this is a musical unlike the big Broadway shows elsewhere on this list. All the music is performed live on traditional baroque instruments and the lighting is all done with candles. Unsurprisingly, this is a piece from Shakespeare's Globe in London. The subject of the musical is the true story of Philippe V, a Spanish monarch on the brink of madness. He finds unexpected solace in the voice of world-renowned castrato Farinelli.
Frozen
Where and when?
St. James Theatre  – March 26 2018
What's it about?
If you've ever run into a child under the age of ten in the past four years, you've heard something from Frozen's soundtrack. But just because you're an adult doesn't mean you should write off Frozen out of hand. Other Disney musicals including Aladdin and The Lion King have become outrageously massive Broadway hits. And it certainly looks like Frozen is going to follow in their footsteps. Expanding on the film's original premise, reviews of preview performances have highlighted the shows incredible special effects.
Harry Potter and the Cursed Child
Where and when?
Lyric Theatre – April 22 2018
What's it about?
J.K Rowling and her gang continue to milk the cash cow of the Harry Potter franchise. They've been especially sneaky with their play which is needlessly divided into two halves, both charging full price. Essentially, you have to pay twice to see one long story. Still, the play is reasonably competently put together, with the magical effects being truly jaw-dropping in places. If nothing else, the play serves as a reminder of how good theatre can be if money is no object!
The story takes place nineteen years after the books ended. An older, shoutier Harry Potter finds his relationship with his son, Albus, breaking down as the latter tries to step out of his dad's shadow. What unfolds is a convoluted, time-travelling story which delves deep into the Harry Potter books' lore. It's not always perfect, but it's a best-seller none the less, ensuring that tickets are a real status symbol for those who get them.
Mean Girls
Where and when?
August Wilson Theatre – April 8 2018
What's it about?
An adaption of the cult-classic 2004 comedy, written by the original creator Tina Fey. Home-schooled Cady Heron arrives at high school for the first time where she learns that high school is more like the jungle that she ever thought. Cady makes new friends and enemies and becomes embroiled in a plan to take down the most popular girls in school, the 'Plastics'.
With original music from Jeff Richmond, Fey's husband, composer for 30 Rock and Unbreakable Kimmy Schmidt this looks like it'll be a real treat.
Straight White Men
Where and when?
Helen Hayes Theatre – July 2018
What's it about?
We hear a lot about the place of straight, white men in society on both sides of the political divide. Should straight, white men shut up and all minorities to step up, or are they 'the most oppressed group in America'? This play tackles that exact issue. However, it's not quite as condemnatory to its subjects as you might guess from that title. A thought-provoking, engaged look at identity politics, privilege and men.