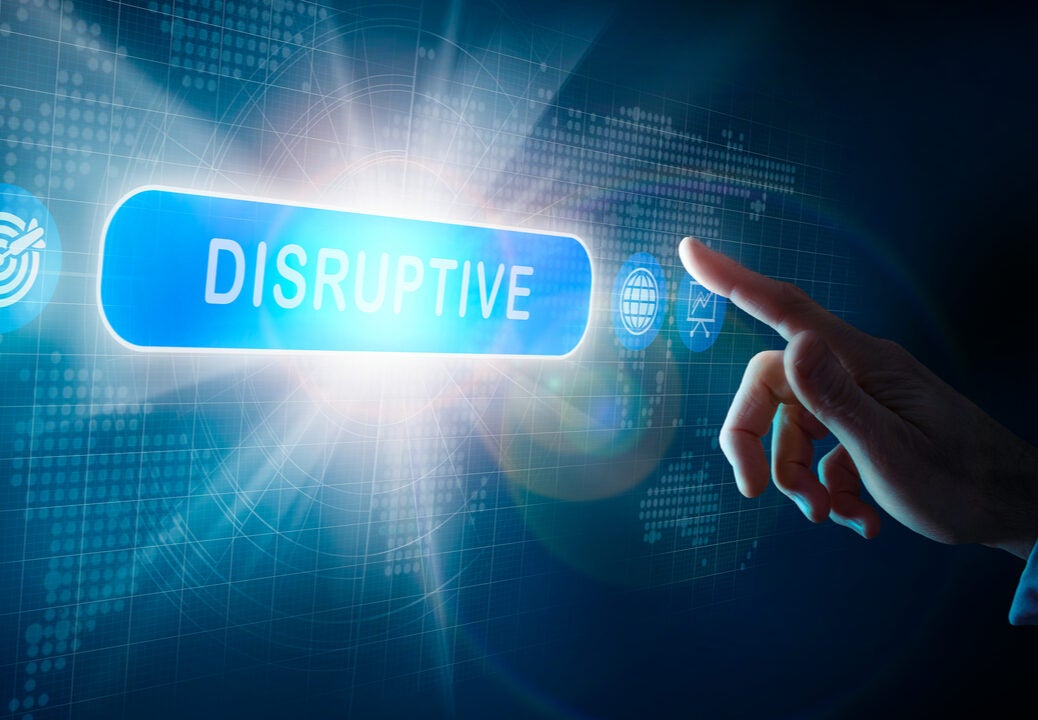 GlobalData research has found the top companies trending in disruptive tech based on their performance and engagement online.
Using research from GlobalData's Influencer platform, Verdict has named five of the top companies trending on disruptive tech in Q2 2021.
Companies trending in disruptive tech: The top five
1. Facebook – 2,623 mentions
A de-identification system developed by the Facebook artificial intelligence (AI) research team to trick facial recognition systems, the company's approach to identify and stop deepfake images and videos, and a new Business Suite feature in Facebook that enables the users to schedule stories in both Facebook and Instagram were some of the popular discussions that took place on Twitter over disruptive technologies by Facebook in Q2 2021.
Robert van Loon, advisory board member and course advisor at Simplilearn, a certification training company, shared an article on a de-identification system developed by Facebook AI Research team (FAIR) that can trick facial recognition systems to identify a subject's facial features incorrectly. The system works on both live and offline videos by altering prominent facial features of a subject in a video using machine learning. It is expected to help Facebook combat deepfakes and stop the creation of unauthorised, misleading videos generated through facial recognition technology.
Headquartered in Menlo Park, California, US, Facebook is a technology company that provides social networking services. The company aims to improve communication and connectivity among people across the globe and minimise the physical barriers of communication. Facebook also owns social networking giants WhatsApp and Instagram.
Facebook Trained #AI To Fool Facial Recognition Systems, And It Works On Live Video
by @nickstatt @verge

Go to https://t.co/xj0zgHINw6#BigData #MachineLearning #ArtificialIntelligence #ML #MI #Digital #DataScience

Cc: @spirosmargaris @wesmckinn @rudyagovic pic.twitter.com/qdhlJNvPeK

— Ronald van Loon (@Ronald_vanLoon) April 30, 2021
2. Amazon – 1,858 mentions
Discussions surrounding Amazon during the quarter included Amazon Web Services' (AWS) decision to allocate $12m towards cloud-based disease-fighting tools, Amazon, Google, and Apple partnering to launch an initiative that can identify smart home devices that complement each other, and innovative AI-powered smart carts that can help grocery stores compete with e-commerce giants.
Evan Kirstel, a B2B tech influencer, shared an article on AWS' plans to provide $12m for cloud-powered detection, prognosis, and diagnosis of various diseases under its Diagnostic Development Initiative. The financial aid will be provided in the form of computing credits and expertise and will prioritise research on various diseases including Covid-19, which will help in fighting future outbreaks.
Amazon is a technology company headquartered in Seattle, Washington, US. It is prominently known for its e-commerce services apart from digital streaming, music streaming and cloud services. The company has been at the forefront of launching innovative and disruptive services such as Amazon Go stores, which allow shoppers to have a cashier-less experience.
Amazon Web Services to distribute $12M toward cloud-powered disease-fighting tools https://t.co/zFbQClmFnL #digitalhealth #aws #cloud @IrmaRaste pic.twitter.com/cheXT6FUVJ

— Evan Kirstel #TechFluencer (@EvanKirstel) April 12, 2021
3. International Business Machines (IBM) – 1,617 mentions
The introduction of Qiskit machine learning modules, International Business Machines' (IBM) Project CodeNet to develop machine learning models, and the company's research on the reasons behind the failure of cancer therapies were some of the discussions that made IBM trend on Twitter in Q2.
Spiros Margaris, the founder and owner of Margaris Ventures, a venture capital firm, shared an article on IBM's Qiskit machine learning, which comprises new application modules that use quantum computers to improve machine learning. The modules are available as part of the company's open-source quantum software. They are aimed at enhancing participation from developers to use quantum computers, which can boost the power of machine learning models.
Headquartered in Armonk, New York, US, IBM is a multi-national computer technology company offering IT and software consultation services. It provides services such as technical support, business automation, cloud computing, business continuity, and advanced analytics.
IBM releases #Qiskit modules

that use #QuantumComputers to improve #MachineLearninghttps://t.co/1G5qxhZBdt #fintech #AI #ArtificialIntelligence #DeepLearning @IBM @obrien @VentureBeat @Thomas_Harrer @HaroldSinnott @Ronald_vanLoon @pierrepinna @YuHelenYu @terence_mills pic.twitter.com/0WEoXICnf2

— Spiros Margaris (@SpirosMargaris) April 10, 2021
4. Intel – 530 mentions
of AI in the healthcare sector, the new Windows 10 update that can prevent crypto-jacking malware from accessing data from central processing units (CPUs) equipped with Intel processors, and a combined venture by Intel and John Deere to launch a computer programme to identify manufacturing defects in the latter's products were some of the major discussions around potential disruptors that made Intel trend on Twitter.
Antonio Grasso, the founder and CEO of Digital Business Innovation, a consulting firm focused on digital transformation, shared an infographic on how AI is impacting the  healthcare sector. AI can process the large amount of data stored by healthcare organisations to identify patients who may be at risk of serious complications, while alerting the patient via smartphones and smartwatches. The technology can also help speed up the drug discovery process, analyse X-rays and ultrasounds to detect anomalies and review genomics data to develop personalised treatment.
Intel is a technology company headquartered in Santa Clara, California, US. The company manufactures, develops and sells semiconductor chips and microprocessors. Its services are categorised into two divisions including data-centric businesses and PC-centric businesses, which range from processors to AI-based services.
How is Artificial Intelligence changing healthcare? Studying complex data will help doctors in prevention and save human lives.#Infographic source @intel @WSJ via @antgrasso #Healthcare #HealthTech pic.twitter.com/6rA3St3zl1

— Antonio Grasso (@antgrasso) April 15, 2021
5. Nvidia Corp – 506 mentions
Deep learning perception for self-driving cars, introduction of Grace ARM-based CPU for high-performance computing applications, and a new AI system that can transform single images into 3D models were some of the discussions that mentioned Nvidia Corp in Q2 2021.
Marcus Borba, founder of Borba Consulting, a digital transformation company, shared a video showing Nvidia's deep learning perception technology for self-driving cars. The technology uses built-in complex AI systems that enable cars to detect, perceive and navigate on the road. The users can pre-set the path and select the degree of automation they want from the vehicle.
Nvidia Corp is a computer systems company headquartered in Santa Clara, California, US. It manufactures graphic processing units (GPU) that redefine the gaming experience by providing life-like graphics and incorporate virtual reality.
Deep Learning Perception#SelfDrivingCars #ArtificialIntelligence #DeepLearning #MachineLearning #BigData #Analytics #DataScience #serverless #100DaysofCode #RPA #IoT #AR #VR #Robotics #Robots #NeuralNetworks #ComputerVision #AutonomousCars #AI #AutonomousVehicles via @nvidia pic.twitter.com/JLhc1VMxDU

— Marcus Borba (@marcusborba) June 6, 2021