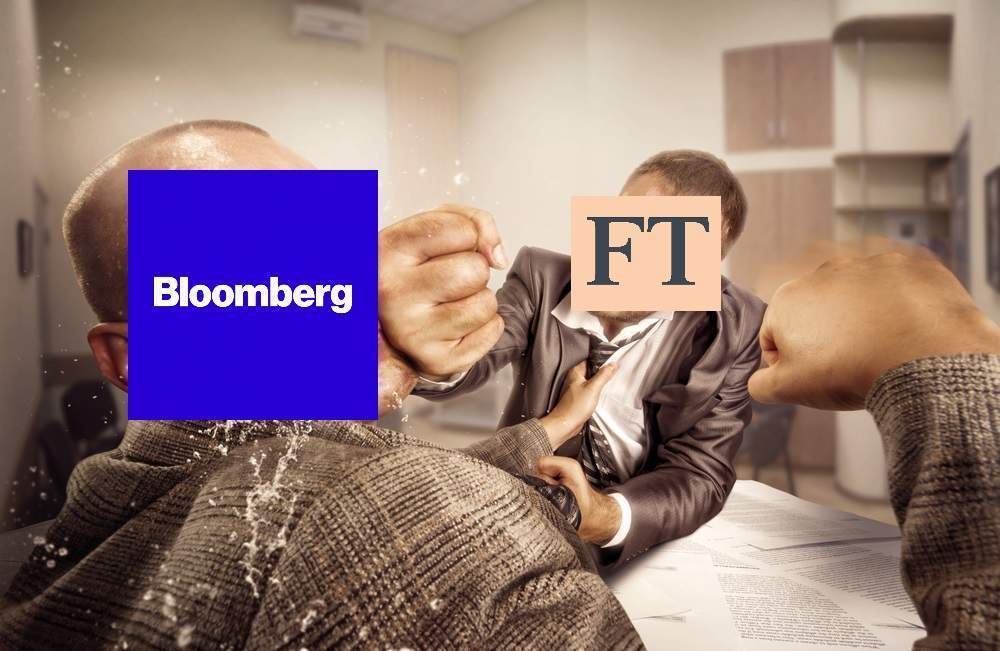 The Financial Times has called out Bloomberg over what it sees as a clickbaity non-story about how stock market fluctuations affect the world's richest people.
The row began when TicToc; a live streaming news channel off-shoot of Bloomberg posted the following tweet:
The world's richest people lost $114 billion today https://t.co/Uun3CDaq17 pic.twitter.com/bca1qRf7ou

— Bloomberg Quicktake (@Quicktake) February 5, 2018
Financial Times Alphaville journalist, Dan McCrum was not happy and posted his own article about the issue, complete with a shady subtweet.
No Bloomberg, the world's richest people did not lose $114bn… https://t.co/cRlzAuvl4T

— FT Alphaville (@FTAlphaville) March 9, 2018
And what was the issue here? Well, essentially, McCrum believes that Bloomberg's headline was misleading.
In essence, Bloomberg's article suggests that Warren Buffett, Jeff Bezos, Larry Page, Sergey Brin, and Mark Zuckerberg all lost money because of stock market fluctuations. These fluctuations caused their companies' valuations to fall and therefore their stock was worth less. So far, so good.
Except, McCrum argues, none of the people mentioned in Bloomberg's article did lose any money because they didn't actually sell any stock in their companies when the valuations were low. Stock prices fluctuate all the time, but it doesn't really affect anything much until the people involved in those companies come to sell their stock.
Not only that, but this $114 billion loss that Bloomberg's headline suggests means basically nothing to the people involved:
"The terminal doesn't offer a total for their collective net worth, but it looks to be in the region of $5.5tn. With that context, $107bn is a 2 per cent variation in the wealth of these very rich people, probably less than the margin of error for the estimates which make up the index."
McCrum goes on to offer an alternative suggestion for why Bloomberg posted the article in the first place:
"Regular stories are an advert for its ranking of 500 billionaires."
Zing.
Expect more of this sort of thing from the FT as part of its "Someone is wrong on the internet" series on its Alphaville blog.