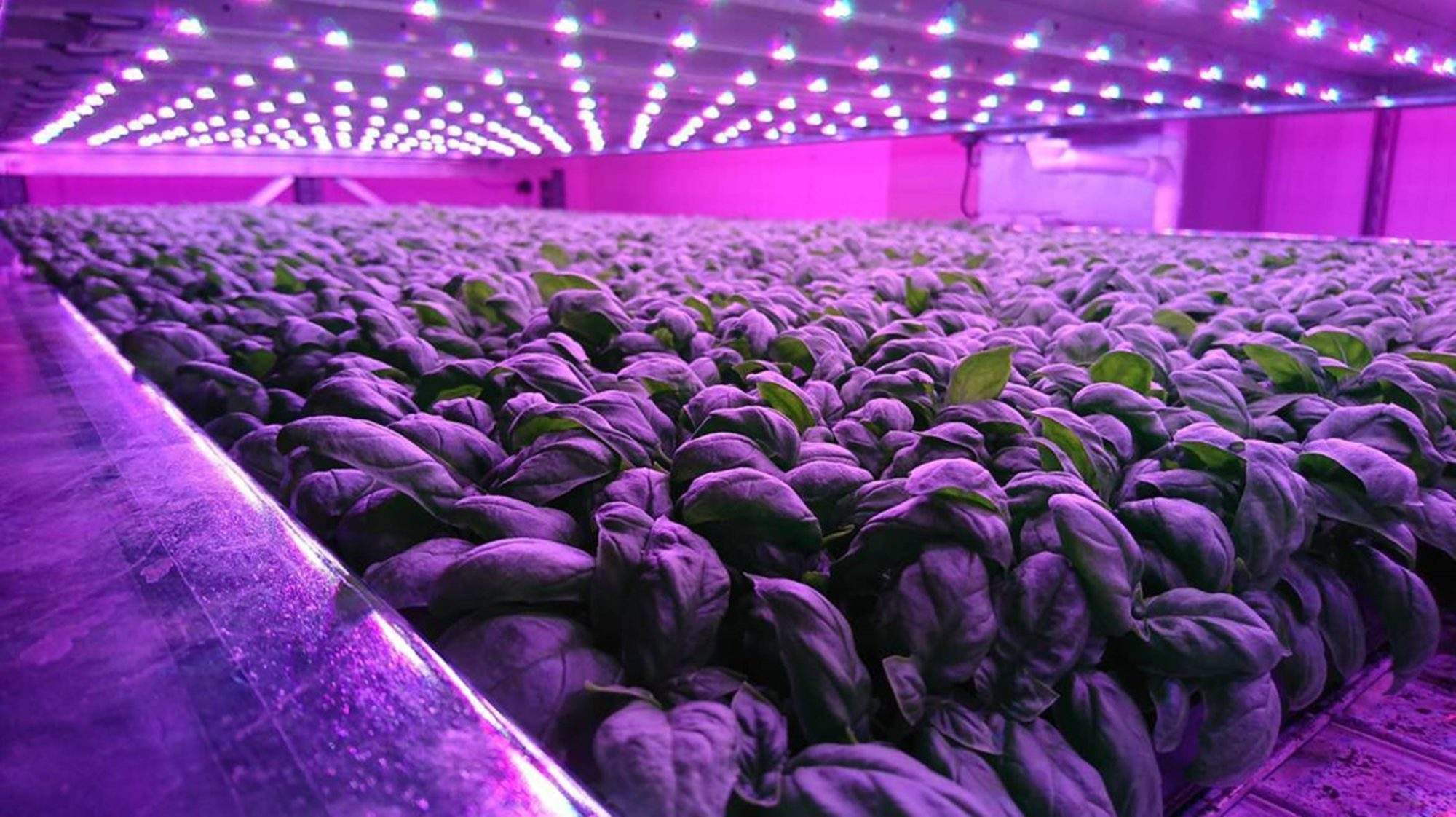 Farming in the UK is facing an uncertain time. The UK government recently announced that it intends to phase out farming subsidies, and a no deal Brexit has prompted food shortage scares. The UK has limited land to grow more produce, but could vertical farming improve the UK's food security after Brexit?
Vertical farming is the growing of produce in vertically stacked layers. There are many variations, but what most of them share in common is an enclosed structure in which farmers can control the climate.
"The way to think about it is, we've cut a field up into six and a half meter trays, stacked them about six inches apart on top of each other and put them in a box in which we can make the weather," vertical farming company Intelligent Growth Solutions CEO David Farquhar told Verdict.

"We are giving the farmer complete control of the weather."
This includes the light, the heat, humidity, ventilation, air movement, nutrients and the rain. All of this means that UK farmers could grow crops that traditionally have only been possible to grow in overseas climates.
Farquhar gives the example of basil, which makes up 40% of the world's production of herbs but cannot be grown outdoors in the UK. However, at their recently opened farm in Scotland, it can be grown throughout the year.
How well do you
really

know your competitors?

Access the most comprehensive Company Profiles on the market, powered by GlobalData. Save hours of research. Gain competitive edge.
Company Profile – free sample
Thank you!
Your download email will arrive shortly
Not ready to buy yet? Download a free sample
We are confident about the unique quality of our Company Profiles. However, we want you to make the most beneficial decision for your business, so we offer a free sample that you can download by submitting the below form
By GlobalData
The UK relies heavily on EU imports
The prospect of a no deal Brexit disrupting supply chains has created fears that the UK will need to stockpile food and pharmaceuticals.
While Brexit secretary Dominic Raab has assured consumers that they will still be able to enjoy a BLT when the UK leaves the EU, it has highlighted the UK's dependency on imports.
According to government statistics, more than half of food is sourced from overseas. With 30% of those imports coming from the EU, any disruption to trade will further expose Britain's low food security.
Jon Woolven, Strategy and Innovation Director at food and grocery research charity IGD told Verdict that the UK's level of food self-sufficiency has "varied considerably" over the years. It has gone through a series of cycles, but is currently at "a low point, determined by several factors".
The EU's Single Market, for example, makes it "easier and cheaper to source food from markets outside the UK".
Part of this dependency lies in the consumer demand for foods that can't be grown in the UK, as well as food that isn't in season, says Woolven.
Brexit food security: a problem fuelled by land scarcity
But at its heart, land scarcity is the biggest factor. The UK currently uses 72% of its landmass for agricultural practices to provide just 50% of our food.
Britain's housing, which requires an extra 240,000 houses per year to match demand, means that there is increasingly less land available for farming.
"There is intense competition for land use in a densely populated country," says Woolven.
In addition to this, planning regulations, access to capital and business uncertainty are all barriers for new farms.
Vertical farms can be on a large scale, such as the planned 130,000 square foot vertical farm to be built in Dubai, a country that imports 85% of its food.
While there are no plans to build a vertical farm of that scale in the UK, it shows how vertical farms offer a potential solution to a lack of arible land.
"You can put them in cities, you can put them next to transport hubs to make it really efficient for the supermarkets," says Farquhar.

"So absolutely we can create not necessarily more land, but we can create the area in which it's possible to grow."
Vertical farming is free from labour shortages
Since the UK voted to leave the EU, the number of seasonal workers has been in decline. In 2017, there was a 12.5% shortfall of workers required to work on horticulture farms, leading to some fruit turning rotten in the fields.
And with 99% of seasonal workers on British farms coming from Eastern Europe, the UK farming industry is particularly exposed to any limits on immigration.
"Brexit may well cause a further shortage of agricultural labour, whether you regard that as an opportunity or an issue, but it's almost certainly going to do it and it's already happening," says Farquhar.
Vertical farming has the advantage of being free from the effects of labour shortages because many of the processes are automated.
"If you can reduce the requirement for labour, then clearly that's something that specifically a vertical farm (as opposed to other indoor ones) can certainly do because we are using robotics for pretty much every stage of what we do here," says Farquhar.
In fact, Farquhar estimates that compared to a traditional greenhouse operation, vertical farming takes out 80% of the headcount. In Intelligent Growth Solutions' recently opened vertical farm, the only human that enters the farm is the maintenance man once every few months.
Instead, robots plant the seeds, harvest and package the produce.
"We're not going to take away the crop scientists and those kind of guys, but actual labourers? You can remove most of them," he says.
Not yet ripe
One analysis predicts that the vertical farming market will be worth nearly $10bn by 2025. However, others warn that the technology is overhyped, with many aspects that still need to be refined.
Critics also point to the large amounts of capital needed to set up a vertical farm and the large amounts of energy required to operate them.
However, in a closed loop vertical farm, resources such as light and air are recycled. Their increased efficiency means that while power consumption is high, farmers can produce a greater yield per watt of power.
"Will we ever see fields of wheat grown in this way? I think that's a fair way off," says Farquhar.
However, technology moves quickly, and Farquhar points to the differences between a mobile phone 25 years ago compared to the high tech pocket computers of today.
Notably, vertical farming does not provide a solution to livestock , which would still feel the effects of any supply chain disruption in the event of a no deal Brexit.
A government approach to Brexit food security
The UK government has published several blogs about vertical farming and farming innovation. However, environment minister Michael Gove's recent announcement focused on phasing out EU farming subsidies.
Instead, government policy will focus on protecting the environment.
"The bill will allow us to reward farmers who protect our environment, leaving the countryside in a cleaner, greener and healthier state for future generations," he said.
Some have praised this move, scrapping a system which typically benefited rich landowners. However, others warned that many farmers will struggle to stay afloat without EU funding.
According to the Times, UK farmers made an average profit of £39,000 in 2015. One study warned that 25% of English farms could go bankrupt when they lose the subsidy, which could force traditional farmers to rethink their approach.
Leaving the EU could also make it easier for the UK to create its own set of standards when it comes to vertical farming.
A spokesperson from the Association for Vertical Farming told Verdict that "with full sovereignty over decision-making in the agricultural sector, the UK has a massive opportunity to develop a clear and over-arching policy regarding vertical farming; this policy could then become a model for other countries to follow.
While there are currently no government plans or incentives, there are plenty of older buildings and factories that could be converted into vertical farms.
"I think what's going to happen in the UK is I think most of the vertical stuff is going to go urban or suburban next to transport hubs," says Farquhar.
All of this would require a completely new approach to the economic model of farming, from supply chains to price, meaning it is unlikely to happen any time soon.
But Farquhar believes that the pace the technology is improving at means vertical farming will become mainstream within the next ten years.
"The simple fact is we're going to want to be less reliant on our neighbours," he says.

"Whether Brexit in and of itself necessarily creates the opportunity – frankly the opportunity is already there."