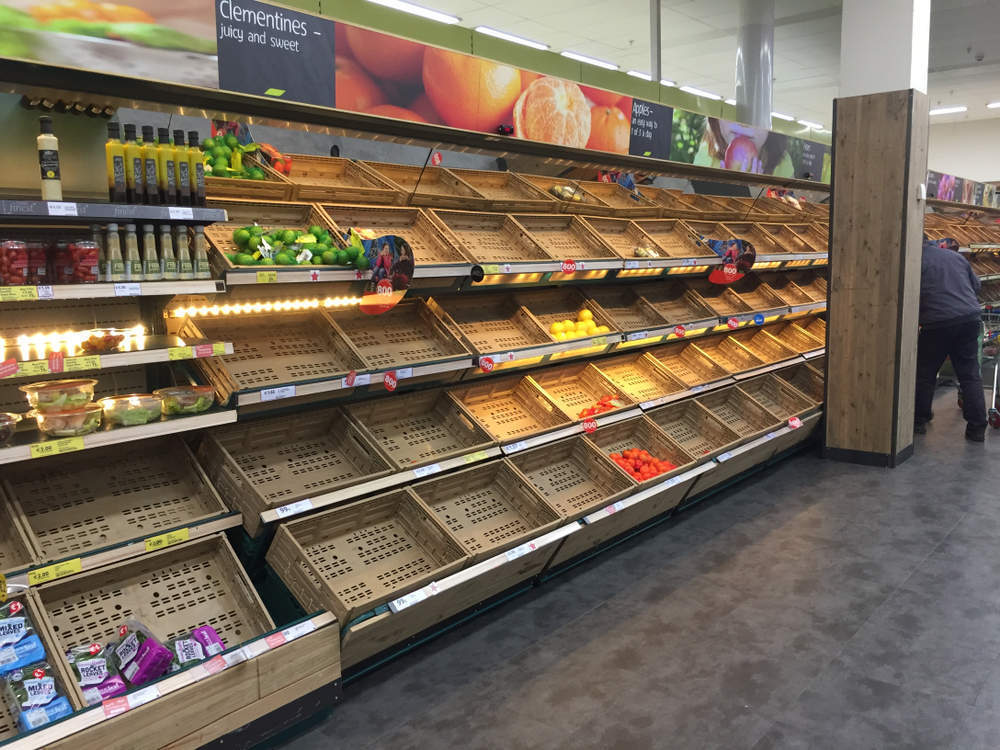 With the 29 March 2019 Brexit deadline edging closer and the United Kingdom and European Union yet to agree on key issues such as trade, it is looking increasingly likely that Britain is heading for a no-deal Brexit.
"The size of the economic disruption of no-deal means it is still unlikely that Parliament would be willing to go off the metaphorical cliff," Matthew Oxenford, research associate at Chatham House's global economy and finance department, told Verdict. "But the level of dysfunction that's being shown right now means that fewer observers can conclude it's an inconceivable outcome."
With the government in no rush to strike a deal and businesses seemingly unwilling to consider the possibility, should they inconceivable happen, it would have an impact on "most sectors" of the economy.
Oxenford told Verdict:
"From the public statements by Dominic Raab, Theresa May, and businesses, it's still not clear who's expecting whom to do what in the event of a no-deal – it's more of a microcosm of the political and economic that would be felt across the economy if no-deal did take place."
A guide to prepping for a no-deal Brexit
Pockets of remainers are already planning for the worst case scenario on online forums like Mumsnet and Money Saving Expert. There they are discussing everything from what to eat in a tradeless Britain, how to save money before the pound crashes in value and how to stay warm once the energy supplies reach zero.
How well do you
really

know your competitors?

Access the most comprehensive Company Profiles on the market, powered by GlobalData. Save hours of research. Gain competitive edge.
Company Profile – free sample
Thank you!
Your download email will arrive shortly
Not ready to buy yet? Download a free sample
We are confident about the unique quality of our Company Profiles. However, we want you to make the most beneficial decision for your business, so we offer a free sample that you can download by submitting the below form
By GlobalData
Brexiteers will call it the consequence of unfounded scaremongering, but given the uncertainty surrounding Brexit, it does bear thinking about.
So should Britain descend into post-apocalyptic turmoil in March, what do you need to stockpile ahead of deadline day in order to maintain your existence post-Brexit?
Short supplies
Less than half of the food consumed in the UK is supplied by UK producers.
Some 51% of all of the UK's food supplies are imported from overseas. Much of that comes from the EU, with produce totalling 4% or more also shipped in from Africa, North America, South America and Asia.
When Brexit hits, particularly in the case of a no-deal scenario, Britain could lose access to a large amount of its current food supplies.
One Brexit prepper, part of the Money Saving Expert community, told Verdict:
"All I am doing is adding extra cans, tea bags, et cetera, to my shop every week until my cupboards are full,

"Different people will stock up on different things. It depends on your priorities really. The problem is that we don't really know what problems there are going to be,"
So what should British households be stocking up on in anticipation of this happening?
From the EU
According to the Department for Environment, Food & Rural Affairs (DEFRA), some 30% of all food consumed in the UK has been imported from another EU country.
Even in the best case scenario, Brexit will still impact food prices in the UK, an inquiry by the House of Lords committee found. Should the UK secure a free trade agreement with the EU prior to Brexit, the nation would likely still face an increase in border checks and clogged up ports.
Fruit and vegetables would be at risk of price increases, given 40% of vegetables consumed in the UK come from the EU, as well as 37% of all fruit.
Animal products could also see prices rocket too, particularly pig meat. Bacon may be a staple of the Great British fry-up, but with 55% of pig meat coming from the EU, it may become too expensive or too scarce for the average British family to consume.
From elsewhere
Britain will be free to negotiate trade deals with other nations once it parts ways with the EU. However, it will lose the bargaining power of being part of such a large market, which could prove to be a stumbling block in negotiations.
Whether due to lack of trade deals or higher tariffs on imported products, the food industry will undoubtedly face disruption.
At the very least, the increase in border checks will cause delays and slow down supplies entering Britain.
Some pharmaceutical companies have announced this week that they will stockpile vital drugs ahead of Brexit. However, many companies – particularly those in the food industry – don't have the capacity to follow suit.
Oxenford told Verdict:
"The way that global supply chains, particularly around food, are constructed is around a 'just in time' delivery model that means industries often don't have logistical capacity, including available space, to stockpile food,"
Increasing that capacity in such a short space of time, Oxenford explains, would be difficult and costly, so it seems unlikely that the industry will be adequately prepared to deal with any shortages.
So what should you stock up on?
Whisky, chocolate and beer are safe. The UK has ample supplies and, according to the Food and Drink Federation, exported more of those three products than anything else in 2016.
Likewise, we should be good for cereal products, as well as anything made from wheat, barley or oats.  The UK exports more of those commodities than it imports from anywhere else around the world. That means that the UK should have enough carbohydrates, including rice, bread and muesli, to avoid a total disaster.
A large number of cows also means that there will be uninterrupted access to milk. This is great news for the tea-drinking public. PG Tips are made in the UK too, so there's nothing to worry about there.
However, there is a chance that there will be a shortage of sugar.  The UK only produces around 900,000 tonnes of refined sugar a year according to DEFRA's Agriculture in the United Kingdom 2016 report. An additional 1m tonnes is imported to cover demand.
The UK could also lose access to more than 28% of its potato supplies, so that's worth thinking about too if you can't go without your Sunday roast.
Keeping it edible
The solution sounds simple: freeze it. However, what do you do if the energy supplies run short and the power goes out? You will have an extremely wet floor and an abundance of rotting food.
The UK's reliance on energy imported from elsewhere has been climbing in recent years. Not since the early 2000s has the UK relied entirely on its own energy supplies to power the nation. The percentage of imported energy used climbed close to 50% in 2014. That has since fallen, but we still largely rely on imports. In the latest figures published by the government, 36% of Britain's energy came from overseas.
Brexit will likely see Britain leave Europe's internal energy market, which allows energy to "flow freely" across the EU. According to Green Peace, leaving this will likely see electricity bills rise. It also threatens to lead to a reduction in power capacity.
A backup generator would be of use to keep food cool during short-term outages. However, alternative energy sources, such as solar panels, would be incredibly useful if the UK was to run out of energy.
If that isn't an option, you could buy tinned food, which will keep well so long as it remains sealed.
Staying healthy
Maintaining a balanced diet is all well and good, but what about those that need access to vital medicines? Type one diabetics, who need a constant supply of insulin, are a good example.
There is every chance that prescription drugs will face problems getting through the ports, much like other vital supplies.
Thankfully, unlike the food industry, pharmaceutical companies have responded to the increasing threat of a no-deal Brexit.
French drugmaker Sanofi announced that it has a 14-week stock of medicine on hand should they face trouble getting their products into a post-Brexit Britain. Novartis is another major pharma manufacturer to have stockpiled supplies ahead of Brexit. AstraZeneca has also increased its supplies in Europe by 20%.
Prescriptions generally only provide patients with the amount of medication that they need. Cutting back on what you take in order to save up supplies for Brexit is dangerous and should not be done under any circumstances.
The government appears to be working hard to ensure that Brexit doesn't compromise the health of citizens. It is working with pharmaceutical companies to ensure that supplies are plentiful. It will likely be pharmacies that feel the strain here, rather than citizens.
Other (probably less vital) Brexit supplies
You will need some way to cook or heat up your food too, so make sure your barbecue is in good nick. Given 46% of the UK's coal is imported (that has been as high as 87% in recent years) it's probably worth stocking up on that too.
A log burner and a plentiful amount of wood logs might also come in handy. You will need something to heat your home during what is bound to be a long, cold March.
Likewise, the Department for Exiting the EU is reportedly planning for fuel shortages within a fortnight of Brexit occurring, so it might be worth investing in a horse as your new mode of transport. Running shoes, rollerblades or a skateboard will serve you equally well on shorter journeys.
The pre-Brexit shopping list
Pig meat (bacon, loins)
Vegetables (and seeds)
Fruit
Sugar
Potatoes (if you have the space)
A generator
Emergency fuel supply
A barbecue
An ample supply of coal
A log burger
An ample supply of wood
A horse (or another suitable form of transport)
Read more: Nicola Sturgeon outlines plans to turn Scotland into post-Brexit innovation hub