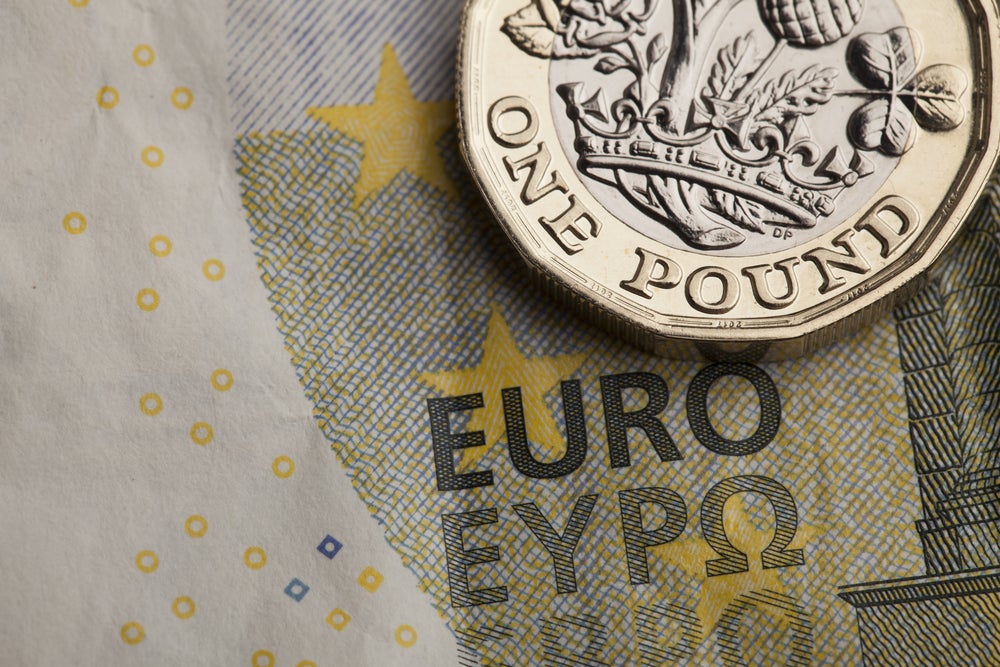 The uncertainty surrounding Brexit has "shackled" the pound, which has struggled to return to pre-referendum levels since the United Kingdom voted to leave the European Union.
"It [the pound] has responded to each drama being played out on the political stage," said Nigel Green, founder and CEO of deVere Group. "But as the pressure ramps up, with tensions increasing ahead of the crucial vote on 11 December, in which parliament is likely to  reject the Prime Minister's withdrawal agreement, sterling has become less, not more, turbulent.
"It has been shackled by the Brexit uncertainty. It is locked in holding pattern, hovering for the last few weeks at about $1.27."
Given the backlash from both Labour and Conservative politicians following the publication of the Brexit Withdrawal Agreement, agreed between UK and EU negotiators last month, it seems likely that Parliament will veto the deal, forcing the government to negotiate a new deal or leave the EU in March without one.
In total, Green sees four potential outcomes following next week's vote, but what impact would each one have on the pound?
Brexit Withdrawal Agreement passes
"First, should Theresa May's deal go through, sterling will initially rally," Green said.
However, whether it can maintain that increase will depend largely on how May's opposition respond to this development.
With the Democratic Unionist Party, the Norther Irish party that helped to keep the Conservatives in power in last year's snap election, refusing to back May due to concerns over the proposed Irish border backstop, it won't be as simple as passing the agreement and getting on with Brexit.
"If the DUP hold firm on their refusal to back the government on future legislation, the government will be paralysed and an election must be held and sterling's rally would cease."
Brexit Withdrawal Agreement voted down
This seems the most likely scenario, and should it occur it increases the possibility of a second referendum being held.
May has continued to dismiss the idea of a second referendum, but MPs have backed a plan that would give Commons power to dictate proceedings should May's agreement be rejected.
"This would, arguably, get Mrs May 'off the hook', but she would be regarded as a traitor by Brexiteers if she announced one," Green said.
However, regardless of May's fate, the calling of a second referendum would undoubtedly be a good thing as businesses rejoice over the prospect of Brexit being cancelled.
"Sterling can be expected to rally in this scenario."
EFTA-style membership agreed
Should May cling on to power and avoid angering the Vote Leave campaign by calling a second referendum, she would have to go back to the drawing board and come up with a new way to appease the EU's negotiators.
There have been some suggestions that the UK could remain in the European Free Trade Association or the European Economic Area in a deal similar to the one currently in place between Norway and the EU, which would likely fare better when put to Parliament.
Under this agreement, the UK would be free to trade with other EU members while also agreeing its own trade policies with other nations.
According to Green, this would also likely trigger a sterling rally, while appeasing both sides of the Brexit debate.
No-deal Brexit
"A 'No Deal' scenario would happen if Parliament fails to vote through any deal by end of March 2019, and the UK is unable to extend Article 50, and there no formal abandonment of Brexit," said Green.
Despite the uncertainty surrounding Brexit, it is widely agreed that a no-deal Brexit would have a damaging economic impact on Britain. Previous reports have suggested that a no-deal Brexit would reduce the UK's GDP by as much as 10%, costing the UK £80bn annually by 2033.
Unsurprisingly, Green's prediction is equally as grim: "This would cause a sharp fall in the pound," he said.
A no deal appears to be a bad deal for both sides. However, with May adamant that her deal is the best one, she has refused to rule out the prospect of a no-deal Brexit should Parliament vote against her next week.