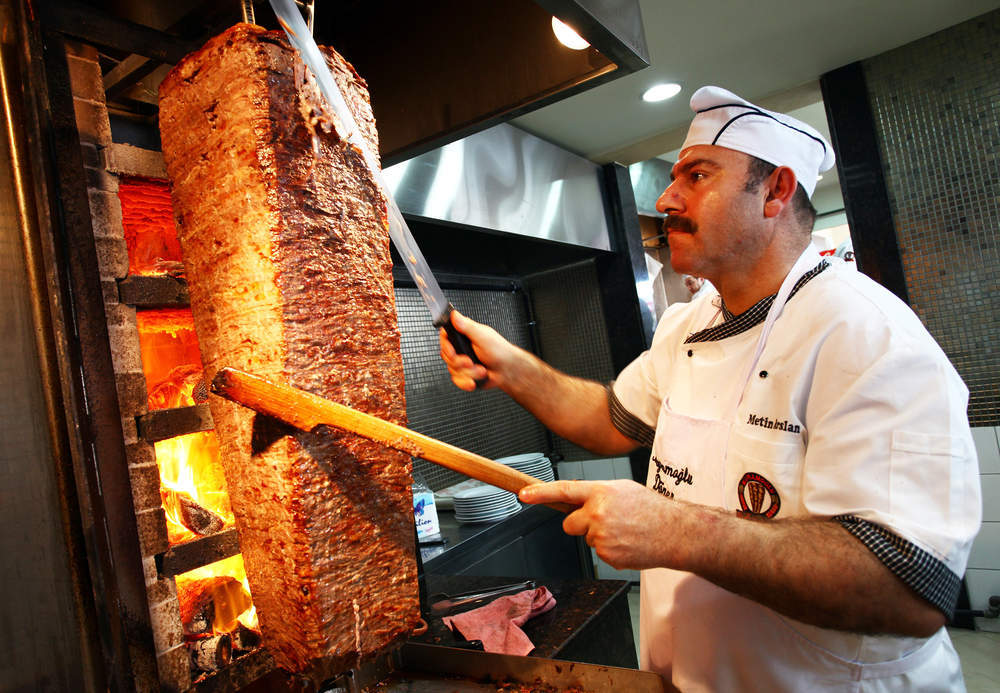 Buying a doner kebab in European cities almost became a thing of the past.
The European parliament in Strasbourg, France, voted today by a narrow majority not to ban phosphates from meat cooked on spits.
The Christian Democrat EPP group, which supported keeping the phosphates said:
We saved your kebab. You're welcome.
Phosphate additives ensure that doner meat doesn't disintegrate on the spit, but there are concerns that phosphates contribute to cardiovascular and kidney problems.
The Socialists and Greens led the arguments for the ban on health grounds.
The Greens EU legislator Bart Staes said after the vote against the ban was announced:
This is sad day for consumer rights, which have been trampled on.
Phosphates can also be found in fish, cheese, fizzy drinks.
While their use in meat preparation is banned under EU law for products including breakfast sausages and Finnish grey salted Christmas ham, there are some exceptions.
The EU's European Food Safety Authority (Efsa) is currently reviewing the health risks associated with phosphate additives, and will publish its findings before the end of next year.
At present the evidence remains inconclusive, however, some argue that action must still be taken now.
Christel Schaldemose, a Danish Socialist MEP told the BBC:
We're not saying we would ban doner meat forever, but let's wait until the Efsa review.
Others disagree, insisting that without phosphate additives, the kebab industry would suffer.
In Germany, 2m doner kebabs are eaten every day and Kenan Koyuncu of the German association of doner kebab producers strongly opposes a potential ban on phosphate additives.
Germany produces about 80 percent of doner meat consumed in the EU and about 110,000 German jobs depend on it.
"If the European parliament gets its way, this would be the death sentence for the entire doner kebab industry in the EU," Koyuncu said before today's vote.
Renate Sommer, a member of the German chancellor, Angela Merkel's Christian Democrat party in the European parliament, wrote on Facebook that "a ban of the phosphate addition would be the end of doner production and would lead to the loss of thousands of jobs".
In the UK, an estimated 1.3m doner kebabs are sold every day from more than 20,000 outlets.
Ibrahim Dogus, chair of the British Takeaway Campaign, an umbrella organisation that represents fast food groups including the Kebab Association, said:
An EU ban on the doner would damage the takeaway industry – a sector which generates £4.5bn in economic growth to the UK and supports 231,000 jobs. Doner kebabs are a much loved staple in takeaways up and down the country and have been enjoyed since the 8th century BC.
Earlier this month, the European parliament's health committee  voted down a proposal from the European commission that would have allowed the use of phosphoric acid, phosphates and polyphosphates in kebab meat made of mutton, lamb, veal, beef or poultry.