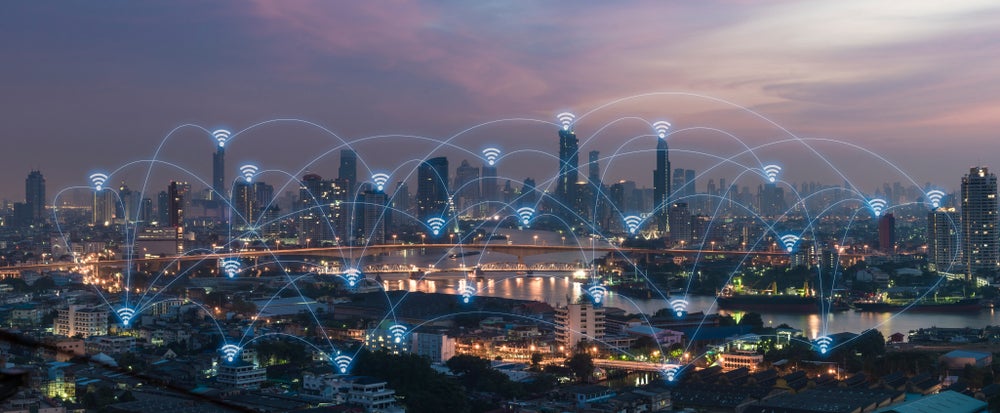 A new study pegs the global economic value of Wi-Fi at nearly $2 trillion, on par with tech giants Apple and Amazon. Wi-Fi stakeholders have clearly read the tea leaves and are positioning the latest technology to tap into a projected value of $3.6 trillion for the global economy by 2023, but a new branding scheme may fall short.
For years, Wi-Fi has gotten little respect, despite its vital role underpinning mobile broadband connectivity globally.
Why such high economic value of Wi-Fi?
According to the Wi-Fi Alliance, there are more than nine billion Wi-Fi devices in use. Now, as it faces the possibility of increasing competition from 5G cellular operators, Wi-Fi proponents are aggressively pushing back, positioning Wi-Fi as a crucial driver of economic value and making the technology more "sexy" with a less wonky naming scheme.
A recent study conducted by the Telecom Advisory Services for the Wi-Fi Alliance, using a highly complex set of criteria, indicates that Wi-Fi will contribute $2 trillion in economic value in 2018, and that amount is forecast to reach $3.4 trillion dollars by 2023.
The value of the consumer and producer surplus and GDP contribution is defined by multiple inputs, including the impact that Wi-Fi contributes to the economy in public, residential, and enterprise networks, device manufacturing, cellular network offload, and carrier revenue, among other factors.
The following chart provides the global as well as six country specific forecasts. The study takes a comprehensive approach to calculating the economic contributions based on the six economies noted, and then extrapolates to arrive at a global value.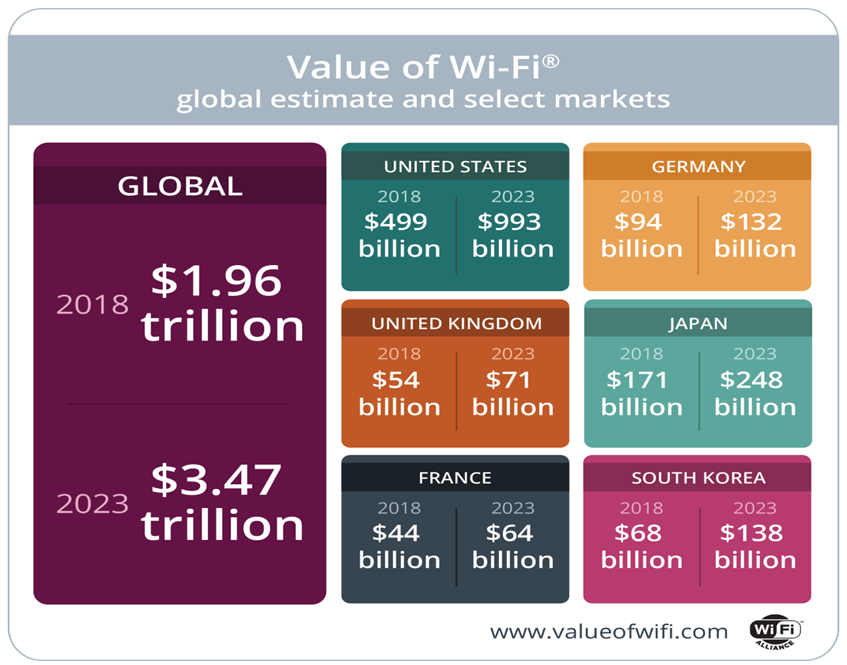 Defining Wi-Fi moving forward
Despite its clear importance in driving broadband capacity and coverage, Wi-Fi vendors realize they have an image problem: Wi-Fi is formally defined by a series of IEEE 802.xx standards, and is now in its sixth generation. In a bid to become more marketing savvy, the Wi-Fi Alliance has coined a new naming convention, to help users correlate functionality by a generational name.
The most recent version, IEEE 802.ax, is also called Wi-Fi 6.
The Alliance believes that users should be able to relate to the generational name to equate functionality rather than the often confusing and non-intuitive IEEE 802.xx names of the past.  This new naming convention reaches back to generation 4 to cover the most widely deployed technologies.
However, it's not clear that the new convention – i.e., Wi-Fi 4, Wi-Fi 5, and Wi-Fi 6 – is all that better than the 802.11.xx names it is replacing. So while Wi-Fi vendors have done a good job defining the growing importance of Wi-Fi, they may still have some work to do on branding and marketing.