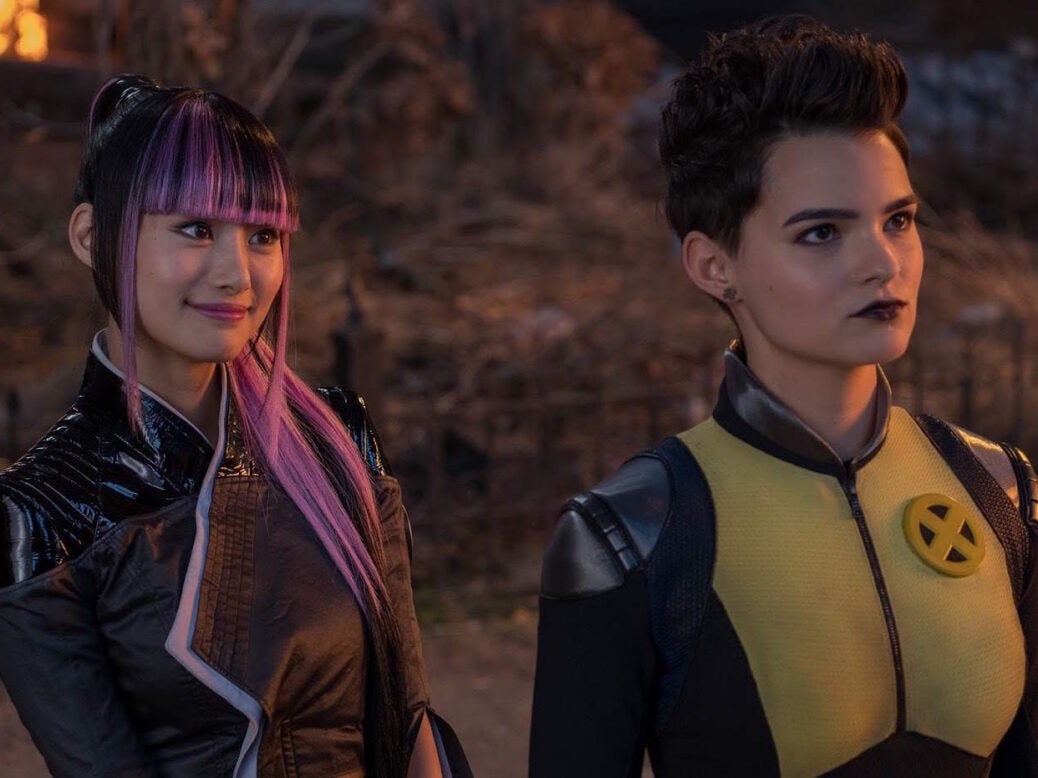 Every year, the Gay and Lesbian Alliance Against Defamation (Glaad) takes Hollywood to task over the amount of LGBT representation in mainstream movies.
Each year since 2012, GLAAD has published their Studio Responsibility Index. In it, the group measures the amount of LGBT characters appearing in films from the six major Hollywood studios, plus mini-major Lionsgate.
The publication of the results for films released in the 2017 box office period shows only 12.8% of the 109 films released by major studios in 2017 featured LGBT characters. That happens to be the lowest percentage since GLAAD began reviewing this figure in 2012. It's also a significant drop on 2016's results where 18.4% of the 125 films released featured LGBT characters.
Of the LGBT characters who did appear, 50% had five minutes or less of screen time.
As always, none of the studios in question were given a passing grade. 20th Century Fox and Universal Pictures both received an 'Insufficient' rating; Paramount Pictures, Sony Entertainment, and Walt Disney received 'Poor' ratings; and Lionsgate Entertainment and Warner Brothers received 'Failing' ratings.
GLAAD also shared its disappointment that many LGBT characters in films are not openly so in the films themselves. It argues that films don't count as having LGBT representation unless it is immediately obvious from the film itself.
The organisation also directly lambasted superhero movies from Marvel and DC such as Thor: Ragnarok and Wonder Woman for failing to openly acknowledge LGBT characters who are present in the source material.
To help combat the lack of representation of LGBT characters in mainstream films, GLAAD launched the Vito Russo test. This is an LGBT take on the Bechdel test.
What is the Bechdel test?
The Bechdel test is a tool used in feminist criticism as an indicator for the active presence of women in fiction.
The test asks three simple questions of the work it is assessing:
Are there two named female characters?
Do they talk to one another?
Is their conversation about something other than a man?
According to Bechdeltest.com, of the 7678 in its database, as few as 57.88% pass the test. Still, around 90% pass at least one of the questions.
What is the Vito Russo test?
Similarly, GLAAD's Vito Russo test is designed to be used as an indicator of how well films represent LGBT characters.
Like the Bechdel Test it is composed of three questions:
Is there at least one identifiable LGBT character?
Do they have other character traits than just their sexuality?
Would the plot be radically different if they were removed?
In 2017, just 8.3% of films passed the test.
The business case for diversity on screen?
At the launch of the index, Sarah Kate Ellis, GLAAD President and CEO noted:
"With wildly successful films like Wonder Woman and Black Panther proving that audiences want to see diverse stories… there is simply no reason for major studios to have such low scores on the Studio Responsibility Index. At a time when the entertainment industry is holding much needed discussions about inclusion, now is the time to ensure the industry takes meaningful action and incorporates LGBTQ stories and creators as among priorities areas for growing diversity."
While there haven't been any specific studies on whether passing the Vito Russo test helps films make a profit, a study of 2013 movie releases found that films which passed the Bechdel test made a total of $4.22 billion at the box office. On the other hand, films which failed to pass the Bechdel test made a total of $2.66 billion.
It's also worth noting that many recent LGBT films have succeeded at the box office. Here are just a few examples:
Love, Simon made $57.2 million on a $17 million budget.
Call Me By Your Name made $41.1 million on a $3.5 million budget.
The Imitation Game made $233.5 million on a $14 million budget.
The Danish Girl made $64.2 million on a $15 million budget.
Carol made $40.3 million on a $11.8 million budget.
Each of these films has at least trebled its budget at the box office. That's better than some major studio films achieved. Batman Vs. Superman: Dawn Of Justice made $873.6 million on its $300 million gross budget, for example.
LGBT characters and stories aren't a barrier to winning awards either. At the 2018 Oscars, a third of the Best Picture nominees featured identifiable gay characters. That includes the eventual winner, The Shape Of Water.
How many 2018 films pass the Vito Russo test?
Still, despite the good reasons to include a diverse cast of characters, few films do. Verdict has examined the top 50 films at the US box office so far in 2018 to assess how many of them pass GLAAD's test. The results will no doubt disappoint GLAAD.
1. Black Panther – FAIL
2. Avengers: Infinity War – FAIL
3. A Quiet Place – FAIL
4. Deadpool 2 – PASS
5. Ready Player One – FAIL
6. Peter Rabbit – FAIL
7. Fifty Shades Freed – FAIL
8. A Wrinkle in Time – FAIL
9. Rampage (2018) – FAIL
10. I Can Only Imagine – FAIL
11. Game Night – FAIL
12. Insidious: The Last Key – FAIL
13. Pacific Rim Uprising – FAIL
14. Blockers – PASS
15. Maze Runner: The Death Cure – FAIL
16. Tomb Raider – FAIL
17. Red Sparrow – FAIL (But passes two out of three points on the test.)
18. I Feel Pretty – FAIL
19. 12 Strong – FAIL
20. Den of Thieves – FAIL
21. Tyler Perry's Acrimony – FAIL
22. Sherlock Gnomes – FAIL
23. Love, Simon – PASS
24. Paddington 2 – FAIL
25. Truth or Dare – FAIL (Passes on having a gay character, fails at giving him a personality or a key role in the plot.)
26. Overboard (2018) – FAIL
27. The Commuter – FAIL
28. The 15:17 to Paris – FAIL
29. Death Wish (2018) – FAIL
30. Annihilation – PASS
31. Life of the Party – FAIL
32. Isle Of Dogs – FAIL
33. Breaking In (2018) – FAIL
34. Super Troopers 2 – FAIL
35. Winchester – FAIL
36. Strangers: Prey at Night – FAIL
37. Proud Mary – FAIL
38. Paul, Apostle of Christ – FAIL
39. Chappaquiddick – FAIL
40. Forever My Girl – FAIL
41. Book Club – FAIL
42. Padmaavat – PASS
43. The Miracle Season – FAIL
44. Midnight Sun – FAIL
45. Traffik – FAIL
46. Tully (2018) – PASS
47. Early Man – FAIL
48. The Death of Stalin – FAIL
49. Unsane – FAIL
50. Show Dogs – FAIL