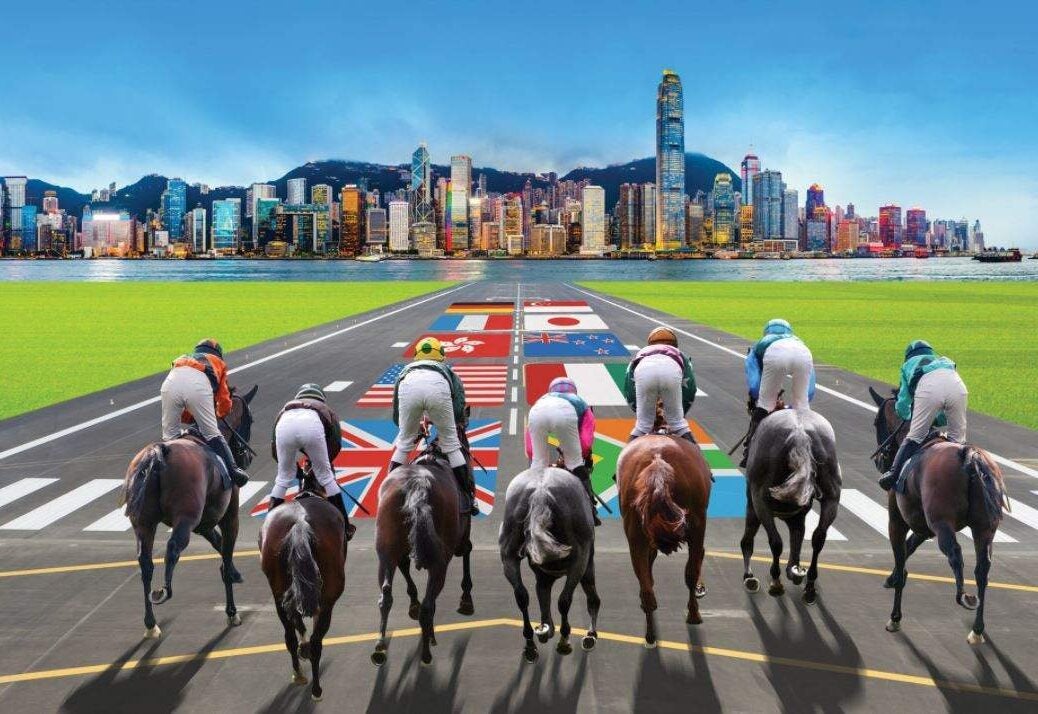 This weekend will see horseracing's finest descend on Asia for the Longines Hong Kong International Races.
The prestigious races – the Hong Kong Cup, Hong Kong Mile, Hong Kong Spring and Hong Kong Vase – have grown in stature over the last three decades. What was once one race featuring Asian-trained horses has transformed into a four-race event featuring some of the best talents in horseracing that the world has to offer.
As Hong Kong's horseracing scene grew in stature, so too has the prize money on offer. The 2017/18 Hong Kong Jockey Club season will break the record for prize money handed out in a single year.
A total of HKD 1.16bn ($149m) is up for grabs. HKD 84.5m ($10m) of that will be won on Sunday at the Hong Kong International Races, offering competitors the chance to boost their earnings heading into the new year.
Some need it more than others – the Hong Kong Mile's low-earning Contentment, for example – but, in reality, the biggest cuts are likely to go to the Hong Kong International Races' seasoned stars.
Ahead of the Hong Kong International Races on Sunday, 10 December, here are the highest-earning stars set to take part:
Hong Kong Cup
After winning the Hong Kong Horse of the Year award last season after claiming wins in the Hong Kong Derby and Queen Elizabeth II Cup, Werther is being tipped to claim another trophy at Sha Tin this weekend. With total earnings of £4.3m in 16 runs so far, a Hong Kong Cup victory would push that figure above £6.5m and cement the ageing Werther's status as a star of Hong Kong racing.
Werther – £4.3m
Smart Layer – £2.5m
Staphanos – £2.3m
Neorealism – 2.2m
Deauville – £1.7m
Secret Weapon – £1.1m
Blond Me – £721,000
Time Warp – £649,000
Poet's Word – £637,000
Garlingari – £520,000
Robin of Navan – £422,000
War Decree – £207,000
Hong Kong Mile
It has been 13 long years since a horse trained outside of Asia claimed victory in the Hong Kong Mile, putting current champion Beauty Only in good standing to become only the second horse in history to win the tournament twice. Likewise, with £3.2m in winnings so far, much of which was claimed at last year's Hong Kong Mile, it would put Beauty Only well ahead of the competitor for career earnings, too.
Beauty Only – £3.2m
Helene Paragon – £2.2m
Satono Aladdin –£2.2m
Beauty Generation – £1.2m
Seasons Bloom – £1.2m
Joyful Trinity – £895,000
Lancaster Bomber – £825,000
Roly Poly – £710,000
Lightning Spear –£620,000
Horse of Fortune – £598,000
Western Express – £568,000
Sichuan Dar – £283,000
Karar – £233,000
Contentment – £9,600
Hong Kong Sprint
Veteran racehorse Peniaphobia leads the earnings chart heading into the 2017 Hong Kong Sprint, having earned £3.3m throughout his 33-race career. However, the five-year-old male might lose his crown this weekend, with the likes of Mr Stunning, Lucky Bubbles and Amazing Kids tipped to win the lion's share of the £1.7m prize pool.
Peniaphobia – £3.3m
Lucky Bubbles – £2.2m
Let's Go Donki – £2.1m
Not Listenin'tome – £1.6m
Mr Stunning – £1.4m
Amazing Kids – £1m
Blizzard – £794,000
The Right Man – £672,000
Stormy Liberal – £592,000
D B Pin – £567,000
Once in a Moon – £564,000
Signs of Blessing – £554,000
Thewizardofoz – £380,000
Hong Kong Vase
Leading trainer Aidan O'Brien will be hopeful of his horse, Highland Reel, entering the history books by producing a record-matching total of two Hong Kong Vase victories. As one of the more experienced runners in the race, that is a real possibility. Of the 26 races that Highland Reel has run, the Irish Thoroughbred has produced nine victories and finished in the top three on 18 occasions, handing his owners earnings of over £6.4m.
Highland Reel – £6.4m
Talismanic – £2.1m
Kiseki – £1.3m
Max Dynamite – £953,000
Eagle Way – £693,000
Tosen Basil – £552,000
Helene Charisma – £523,000
Gold Mount – £386,000
Tiberian – £368,000
Smart Call – £204,000
Chemical Charge – £159,000
Danehill Kodiac – £143,000