The technology industry continues to be a hotbed of patent innovation. Activity is driven by the increasing demand for instant insights in sectors like finance, healthcare, and e-commerce, along with advancements in hardware capabilities and memory technologies, and growing importance of technologies such as specialized databases, high-speed processors, and optimized algorithms tailored for rapid in-memory operations. In the last three years alone, there have been over 4.1 million patents filed and granted in the technology industry, according to GlobalData's report on Innovation in technology: in-memory computing. Buy the report here.
However, not all innovations are equal and nor do they follow a constant upward trend. Instead, their evolution takes the form of an S-shaped curve that reflects their typical lifecycle from early emergence to accelerating adoption, before finally stabilizing and reaching maturity.
Identifying where a particular innovation is on this journey, especially those that are in the emerging and accelerating stages, is essential for understanding their current level of adoption and the likely future trajectory and impact they will have.
190+ innovations will shape the technology industry
According to GlobalData's Technology Foresights, which plots the S-curve for the technology industry using innovation intensity models built on over 1.5 million patents, there are 190+ innovation areas that will shape the future of the industry.
Within the emerging innovation stage, network-on-a-chip, in-memory computing, and aural exciters are disruptive technologies that are in the early stages of application and should be tracked closely. Electron beam lithography, OLED pixel compensation circuits, and PCI power management are some of the accelerating innovation areas, where adoption has been steadily increasing. Among maturing innovation areas are capacitive touch panels and emergency communications network, which are now well established in the industry.
Innovation S-curve for the technology industry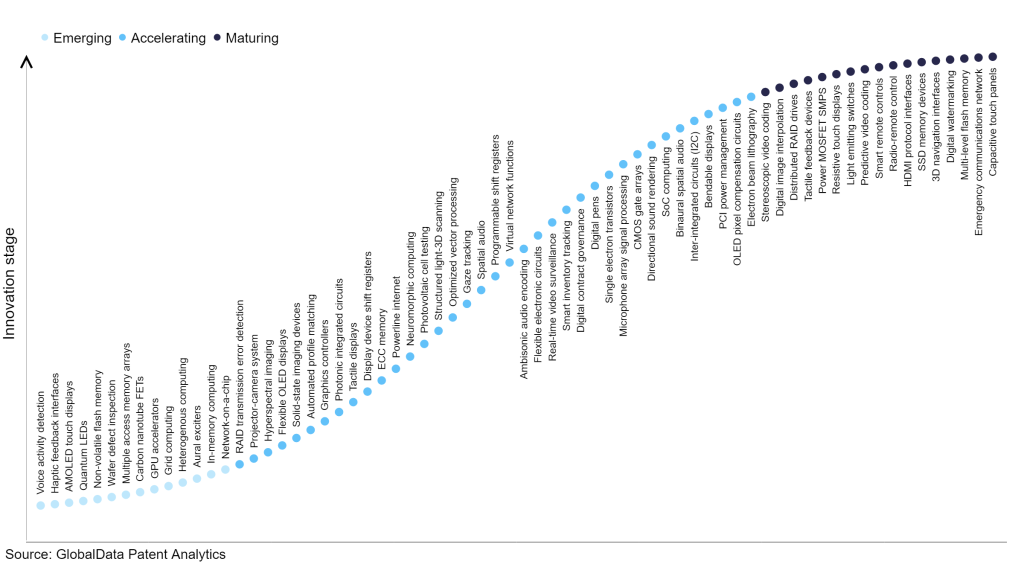 In-memory computing is a key innovation area in technology
In-memory computing employs a computing architecture that utilizes random-access memory (RAM) for data storage, as opposed to traditional disk-based storage systems. This shift enables swifter access and manipulation of data, leading to substantial enhancements in the speed and efficiency of data processing.
GlobalData's analysis also uncovers the companies at the forefront of each innovation area and assesses the potential reach and impact of their patenting activity across different applications and geographies. According to GlobalData, there are 280+ companies, spanning technology vendors, established technology companies, and up-and-coming start-ups engaged in the development and application of in-memory computing.
Key players in in-memory computing – a disruptive innovation in the technology industry
'Application diversity' measures the number of applications identified for each patent. It broadly splits companies into either 'niche' or 'diversified' innovators.  
'Geographic reach' refers to the number of countries each patent is registered in. It reflects the breadth of geographic application intended, ranging from 'global' to 'local'.
Patent volumes related to in-memory computing
Source: GlobalData Patent Analytics
Among the companies innovating in in-memory computing, Samsung Electronics is one of the leading patents filers. The company's patent is aimed at a neural network processor designed for neural network operations comprising of a memory containing computer-readable instructions and kernel intermediate data. The kernel intermediate data encompasses multiple calculated values derived from weight values within kernel data. The processor executes the instructions to conduct a convolution operation, selecting specific kernel intermediate values from the array based on an input feature map. Other prominent patent filers in the space include IBM and Qualcomm.
In terms of application diversity, Semiconductor Energy Laboratory leads the pack, while TDK and Infineon Technologies stood in second and third positions, respectively. By means of geographic reach, Shanghai Cambricon Information Technology held the top position, followed by Mythic and Google.

In-memory computing revolutionizes data processing by storing information directly in RAM, enabling lightning-fast access speeds compared to traditional disk-based systems. This technology is pivotal for real-time analytics, complex computations, and applications demanding rapid response times, driving advancements across various industries.
To further understand the key themes and technologies disrupting the technology industry, access GlobalData's latest thematic research report on Technology.
Premium Insights
From
The gold standard of business intelligence.
Blending expert knowledge with cutting-edge technology, GlobalData's unrivalled proprietary data will enable you to decode what's happening in your market. You can make better informed decisions and gain a future-proof advantage over your competitors.