The technology industry continues to be a hotbed of innovation, with activity driven by the progress in robotics, machine learning, artificial intelligence, and sensor technologies, and growing importance of technologies such as robotic arms, end effectors/grippers, and machine vision to enable pick and place robots that are capable of performing repetitive tasks with precision, speed, and reliability. In the last three years alone, there have been over 3.6 million patents filed and granted in the technology industry, according to GlobalData's report on Innovation in Robotics: Pick and place robots. Buy the report here.
However, not all innovations are equal and nor do they follow a constant upward trend. Instead, their evolution takes the form of an S-shaped curve that reflects their typical lifecycle from early emergence to accelerating adoption, before finally stabilising and reaching maturity.
Identifying where a particular innovation is on this journey, especially those that are in the emerging and accelerating stages, is essential for understanding their current level of adoption and the likely future trajectory and impact they will have.
300+ innovations will shape the technology industry
According to GlobalData's Technology Foresights, which plots the S-curve for the technology industry using innovation intensity models built on over 2.5 million patents, there are 300+ innovation areas that will shape the future of the industry.
Within the emerging innovation stage, AI-assisted inspection, anti-collision LiDAR, and 3d object sensing are disruptive technologies that are in the early stages of application and should be tracked closely. Autonomous harvesters, cleaning robots, and line follower robots are some of the accelerating innovation areas, where adoption has been steadily increasing. Among maturing innovation areas are, welding robot and robotic vision, which are now well established in the industry.
Innovation S-curve for robotics in the technology industry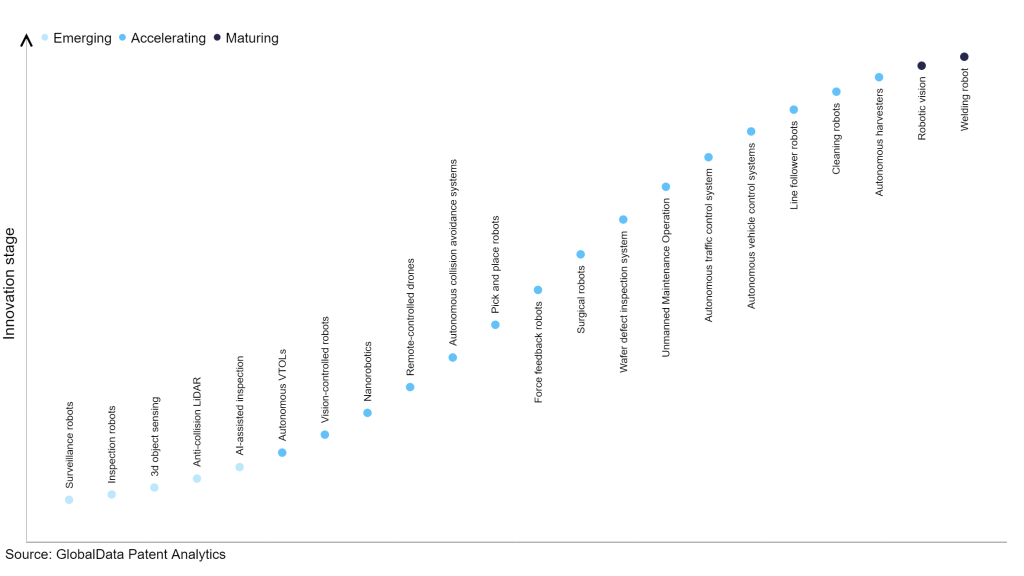 Pick and place robots is a key innovation area in robotics
Pick and place robots refer to robots specifically created for swift transportation of materials between different locations. They are commonly deployed in manufacturing and industrial applications. Their primary purpose is automating assembly processes within factories and production lines. They are also used in settings like warehouses and hospitals. These robots are programmed to efficiently handle objects with predetermined shapes and sizes, and their programming can encompass multiple tasks.
GlobalData's analysis also uncovers the companies at the forefront of each innovation area and assesses the potential reach and impact of their patenting activity across different applications and geographies. According to GlobalData, there are 290+ companies, spanning technology vendors, established technology companies, and up-and-coming start-ups engaged in the development and application of pick and place robots.
Key players in pick and place robots – a disruptive innovation in the technology industry
'Application diversity' measures the number of different applications identified for each relevant patent and broadly splits companies into either 'niche' or 'diversified' innovators.
'Geographic reach' refers to the number of different countries each relevant patent is registered in and reflects the breadth of geographic application intended, ranging from 'global' to 'local'.
Patent volumes related to pick and place robots
Source: GlobalData Patent Analytics
Kawasaki Heavy Industries is one of the leading patent filers in pick and place robots. The company's patents are aimed at production system including a rail extending horizontally, and an articulated robot that is self-travelable along the rail parallel to an extending direction of the rail.
The robot includes a carriage having at least one operating shaft configured to be driven by a servomotor to facilitate self-travel along the rail, a slider projecting toward the rail from the carriage and configured to releasably engage with the rail, a robotic arm supported by the carriage and having at least one operating shaft driven by a servomotor, an end effector provided to a tip-end of the robotic arm, and a control unit inside the carriage configured to control the operating shafts of the robotic arm and the carriage.
A control point defined in the robotic arm or the end effector reaches a target position by a collaboration of the operating shafts of the robotic arm and the carriage.
Other prominent patent filers in the space include Yaskawa Electric and Fanuc.
By geographic reach, BAE Systems leads the pack, followed by Maekawa Seisakusho and Formax. In terms of application diversity, Johnson Matthey holds the top position, followed by ZMP and Spectris.
The significance of pick and place robots lies in its ability to enhance productivity, improve safety, ensure precision, and provide scalability in manufacturing and industrial operations. Its integration into workflows brings numerous benefits, ultimately driving operational efficiency, cost savings, and quality improvements for businesses.
To further understand how robotics is disrupting the technology industry, access GlobalData's latest thematic research report on Robotics – Thematic Research Report.
Premium Insights
From
The gold standard of business intelligence.
Blending expert knowledge with cutting-edge technology, GlobalData's unrivalled proprietary data will enable you to decode what's happening in your market. You can make better informed decisions and gain a future-proof advantage over your competitors.