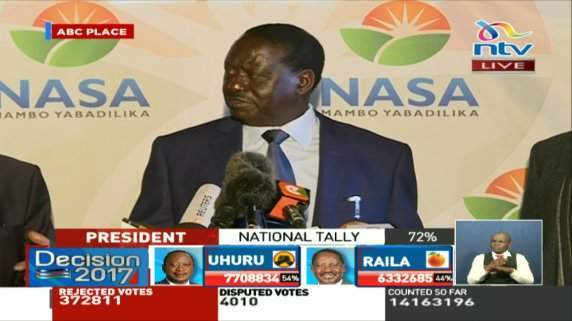 Raila Odinga, Kenya's opposition presidential candidate has accused hackers of breaking into the electoral commission's IT system to manipulate the election results.
He rejected early results indicating his 55-year-old rival, president Uhuru Kenyatta, is set to clinch his second five-year term.
Electoral officials said that 91 percent of results have been collected — Kenyatta is leading with about 54.5 percent of the vote compared to Odinga with 44.6 percent.
Odinga tweeted this morning that Kenya's Independent Electoral and Boundaries Commission (IEBC), a regulatory agency responsible for overseeing elections in the African country, had been hacked.
Addressing Kenyans on the hacking of the IEBC systems using the identity of the late Chris Musando to manipulate 2017 Results.

— Raila Odinga (@RailaOdinga) 9 August 2017
Odinga cast doubt on the electoral process, complaining that the results were not accompanied by original result forms 34A and 34B from the polling stations.
"We have our projections from our agents which show we are ahead by far," Odinga said.
The IEBC has urged people to wait calmly until all the results of Tuesday's vote have been counted and verified.
Many are concerned that Kenya will see a repeat of the violence that erupted in the country after a disputed election 10 years ago. More than 1,100 Kenyans died and 600,000 were displaced following the vote in 2007.
In the last days of the campaign, a top election official in charge of the electronic voting system was murdered as violence spiralled out of control amid opposition claims of a plot to rig the vote.
Former US president Barack Obama, whose father was born in Kenya, called for calm in the lead up to the vote.
"The choices you make in the coming days can either set Kenya back or bring it together," he said in a statement.