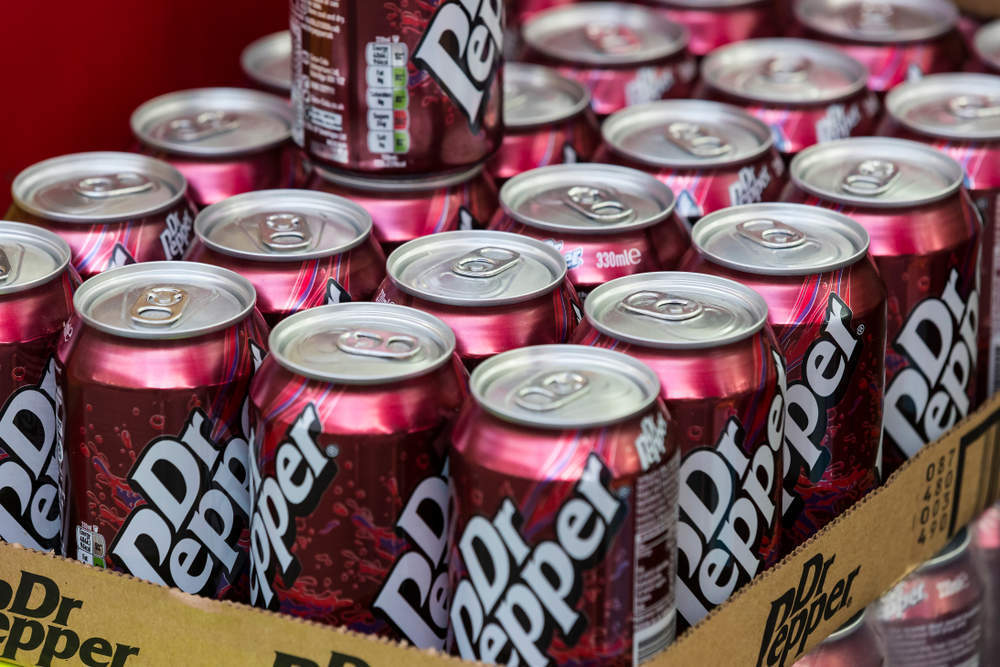 JAB Holding Company, a leading Luxembourg-based investment conglomerate, has agreed to purchase American soft drink company Dr Pepper Snapple.
JAB will become the leading shareholder of a drinks portfolio containing popular brands such as Dr Pepper, 7UP and Shwepppes.
According to a statement released by JAB, Dr Pepper Snapple will be merged with Keurig Green Mountain, a coffee company that it acquired in 2015.
The two companies will form Keurig Dr Pepper, a new listed company with estimated combined revenues of $11bn.
The estimated cost of the deal could be as much as $21bn. However, $18.7bn in cash will swap hands, the FT reports.
JAB's purchase of Dr Pepper is the largest deal in the soft drink industry's history. It tops the previous record of $13.9bn that JAB set with its purchase of Keurig Green Mountain.
How well do you
really

know your competitors?

Access the most comprehensive Company Profiles on the market, powered by GlobalData. Save hours of research. Gain competitive edge.
Company Profile – free sample
Thank you!
Your download email will arrive shortly
Not ready to buy yet? Download a free sample
We are confident about the unique quality of our Company Profiles. However, we want you to make the most beneficial decision for your business, so we offer a free sample that you can download by submitting the below form
By GlobalData
In total, JAB has spent $32.6bn to create its Keurig Dr Pepper empire.
What you need to know about JAB Holding Company
JAB Holding Company might not be a household name, but you will likely find more than a few of its products in your closet, cupboards and medicine cabinet.
JAB came about following Dutch chemist Johann Adam Benckiser's purchase of chemicals company Pforzheim in 1823.
However, the company eventually found its way into the hands of Ludwig Reimann, a fellow chemist who married Benckiser's daughter after joining the company.
JAB Holding has been expanding ever since. With almost 200 years of history, JAB Holding has built up a strong business portfolio spread across a number of industries.
Ludwig Reimann's great grandson, Albert Reimann Jr., who took over the business in 1952, repositioned JAB. The business moved away from chemicals and moved into the consumer markets.
This helped to turn the Reimanns into one of Germany's richest families. Wolfgang Reimann, Matthias Reimann-Andersen, Stefan Reimann-Andersen and Renate Reimann-Haas, the four descendants that currently own the JAB empire, each have an estimated wealth of $3.7bn according to Forbes' annual Billionaires list.
JAB is now well placed in the beauty, coffee, cleaning products and medicine markets.
Brands owned by JAB Holding Company
It is the majority stakeholder of COTY, a leader in the beauty industry that holds stakes in top brands such as Calvin Klein, Marc Jacobs and Rimmel.
Likewise, its JAB Beech division holds big names such as Panera and Krispy Kreme Doughnuts. It is also rumoured to be considering a takeover bid for leading doughnut chain Dunkin' Donuts. However, the Dr Pepper purchase likely leaves that deal dead in the water for now at least.
It is also the majority owner of luxury fashion brand Bally.
While JAB isn't the majority shareholder, it is also invested in Reckit Benckiser, the household product company behind brands such as Vanish, Finish, Dettol, Durex, Cillit Bang and Veet. Likewise, they also hold stakes in healthcare brands such as Strepsils, Nurofen, Gaviscon and Clearasil.
However, its coffee empire is by far the company's biggest investment.
The JAB Coffee Holding division currently holds large Nordic coffee chains Espresso House and Baresso, as well as Canadian chain Balzac's Coffee.
The Acorn Holdings division holds nine major coffee brands, including Tassimo, Kenco and Senseo. Likewise, the Keurig Green Mountain brand, which will merge with Dr Pepper, also holds smaller brands such as Diedrich Coffee, Tully's Coffee and Van Houtte.
Why would JAB want to acquire Dr Pepper Snapple?
Speaking to the Financial Times following JAB's announcement of the takeover plans, Barclays analyst Lauren Lieberman said:
"I'm still a little bit scratching my head for each of the companies."
Given that JAB has aligned itself as a leader in the hot drinks market, purchasing the world's fifth largest soft drink maker does seem unusual.
However, judging by its past acquisitions, Dr Pepper Snapple fits the bill for JAB.
The company is "focused on long term investments in companies with premium brands, attractive growth and strong margin dynamics". Dr Pepper Snapple offered exactly that.
While Coca-Cola and PepsiCo Dominate the soft drinks market, Dr Pepper is a close third. The group holds globally-popular brands such as Dr Pepper, 7UP and Schweppes. Likewise, it also owns A&W, Canada Dry and Crush, which are popular in North America.
Dr Pepper Snapple owns over 50 drinks brands in total, spanning the soft drink, juice, tea, mixers and water markets.
Likewise, the company has recorded steady revenues above the $6bn mark every year since 2012. Revenue has grown by more than two percent each year since 2014.
While growth isn't drastic, it suits JAB's model of long-term investing.
Did Dr Pepper Snapple get a good deal?
JAB agreed to pay a special dividend of $103.75 per share to Dr Pepper Snapple shareholders in order to close the deal. That was a premium of $8.10 on the company's $95.65 final closing price ahead of the deal's confirmation.
Following the announcement, Dr Pepper Snapple saw its market cap climb from $17.35bn to a peak of $21.8bn on 1 February. The company is currently valued at around $21.2bn.
However, Dr Pepper Snapple will surely be happy with the agreed sale price following a disappointing attempt to diversify its portfolio in recent years.
Thomas Vierhile, innovation insights director at GlobalData Consumer, told Verdict:
"Dr Pepper Snapple Group really hasn't solved its heavy reliance on soft drinks. According to a report in The Wall Street Journal, about 80 percent of the company's annual revenue as recently as 2016 came from soft drinks."

"Dr Pepper Snapple is working to remedy this by diversifying into bottled water with its $1.7bn purchase of Bai Brands, which closed in January 2017, but it doesn't look like that is working out as planned."

"Marketing spend for Bai is turning out to be higher than expected, and the dilutive effect on earnings is turning out to be about three times higher than expected."
Agreeing to sell up now could be an attempt to cut its losses before the costs of its recent decisions mount up.
What are Keurig Dr Pepper's plans?
Dr Pepper Snapple is best known for its soft drink brands, but data shows that this purchase could be of more use to JAB in other drink markets.
Vierhile told Verdict:
Carbonates consumption continues to bleed in the United States. According to per capita consumption data from GlobalData's USA Beverage Forecasts, the compound annual growth rate for carbonates is expected to decline by 2.3 percent from 2015 to 2018. Over the same period, the CAGR for packaged water is expected to climb 4.7 percent.
According to Vierhile, iced and ready-to-drink coffee drinks are also showing promise. However, they have some way to go before they reach the size of the water or carbonates markets.
With JAB well placed in the healthcare market, it could also help to establish Dr Pepper in the emerging health-drinks market.
Likewise, Reuters reports that Keurig Dr Pepper is planning to expand into new markets such as bottled coffee and coffee vending machines.
According to Bloomberg Intelligence Analyst Ken Shea, bringing the best of both companies together could push the Dr Pepper brand level with Coca-Cola and Pepsi:
"It's a deal that makes a lot of strategic sense. Once it gets going and they can deliver on some of the bold things they're talking about here, this will be a really important benchmark that investors will use to compare Coke and Pepsi against."
What does the Keurig Dr Pepper merger mean for consumers?
Commenting in a statement released today, Keurig CEO Bob Gamgort said:
"The combination of Dr Pepper Snapple and Keurig will create a new scale beverage company which addresses today's consumer needs, with a powerful platform of consumer brands and an unparalleled distribution capability to reach virtually every consumer, everywhere."
It is this additional distribution power than likely interested JAB, according to The Motley Fool. Acquiring Dr Pepper's distribution network will essentially allow them to get more of their products on shelves in more places.
Likewise, according to US News, Keurig also has strong relationships with Amazon and Best Buy in the e-commerce sphere, which could present new opportunities to grow the drink brand's potential customer base online.
For the consumer, combining the two should mean easier access to JAB's ever-growing portfolio of products.
However, there are concerns over the future of Dr Pepper Snapple's distribution process under JAB Holding Company.
Vierhile told Verdict:
JAB Holding Company seems to be paying a high price primarily for Dr pepper Snapple Group's distribution network. Since much of that network goes through bottler systems affiliated with Coca-Cola or PepsiCo, it would be wishful thinking to believe that all of these distribution deals would remain intact over time. JAB may be paying for a mirage.
How does this compare to JAB's previous purchases?
JAB has started 2018 much the same way as it ended 2017. The holding company has been buying up numerous big-name brands in the food and drink industry over the past few years.
JAB's purchase of Dr pepper Snapple tops the lot, but how does this deal compare to its previous purchases?
Dr Pepper Snapple –
Cost: $18.7bn
Market cap: $17.35bn
Revenue: $6.44bn (2016)
Deal value:  +11.4 percent
Keurig Green Mountain –
Cost: $13.9bn
Market cap: $7.8bn
Revenue: $4.71bn (2014)
Deal value: -44 percent
Krispy Kreme Doughnuts –
Cost: $1.35bn
Market cap: $1.28bn
Revenue: $519m (2015)
Deal value: -5.2 percent
Panera –
Cost:  $7.5bn
Market cap: $5.6bn
Revenue:  $2.8bn (2016)
Deal value:  -25.3 percent
Market caps recorded are as close to the date of each deal's confirmation as possible. Revenues are from the last publicly available full year results prior to confirmation. Deal value refers to the premium or discount that JAB paid on each deal.
Some figures are based on unconfirmed media reports – when figures can be verified they have been.