National Christmas Jumper Day (or National Ugly Christmas Sweater Day in the US) is coming up soon.
The event, celebrated on a specific Friday in December, usually the third Friday of the month, has become incredibly popular.
National Christmas Jumper Day 2017 will take place on Friday 15 December.
But what is National Christmas Jumper Day and where did the trend come from?
Christmas Jumpers — a short history
Christmas jumpers first became popular in the UK in the 1980s. This was due to the influence of television presenters such as Timmy Mallett from Saturday morning children's show Wide Awake Club and Gyles Brandeth from Countdown.
In addition, American singers often wore the festive garb in special holiday broadcasts.
However, their popularity was fleeting and they were often seen as very unfashionable. Christmas jumpers came to be known as a gift given by elderly relatives.
Christmas jumpers in popular culture
By the end of the 1990s and the early 2000s there came to seismic shifts in Christmas jumper fortunes.
In 1997 saw the publication of Harry Potter And The Philosopher's Stone. The children's novel became a runaway success almost overnight. But what does that have to do with Christmas jumpers? Well the novel introduces the notion of the 'Weasley jumper'. These are personally knitted by the mother of Ron Weasley, one of the book's central characters for her sons each Christmas.
While Mrs. Weasley's own sons are embarrassed by the gift, another character is delighted. The book's main character, Harry Potter, receives a jumper from Ron's mother, a woman he has met only fleetingly.
This is the first display of maternal affection Harry has received since his own parents died when he was a baby. Harry is in awe of Mrs. Weasley's kindness and treasures the gift (one of his first ever meaningful Christmas presents.)
This cemented the idea of a Christmas jumper being a thoughtful, affectionate gift in popular culture.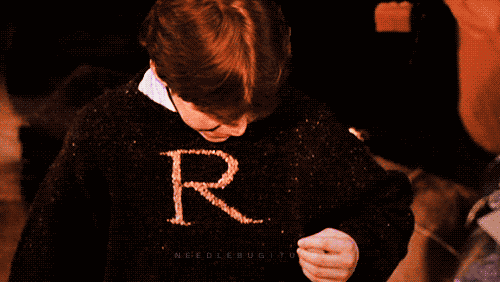 2001 saw the release of Bridget Jones' Diary, another huge success story, which also featured a prominent Christmas jumper scene. Jones' love-interest, Mr. Darcy was spotted wearing a Christmas jumper at a party.
While Darcy's jumper is portrayed as embarrassing, it also serves another narrative purpose. Darcy concedes at one point that the jumper was made for him by his mother.
While the jumper is unfashionable, Darcy remains the hero of the piece because he is shown to be place protecting his mother's feelings above his own shame at the gift.
It's no wonder that Darcy is the man who gets the girl at the film's end.
https://www.instagram.com/p/Bcj7kGtA2d2/?tagged=christmasjumperday
A modern resurgence
While these references in popular culture began the battle for the normalisation of the Christmas jumper, they were far from its conclusion.
It took several years of battling in the fashion industry (or perhaps for Harry Potter readers to grow into adults with their own spending power) for Christmas jumpers to become mainstream.
The trend gained a camp or ironic appeal in the late 2000s and early 2010s. In 2011, for example, Amazon reported a 600% increase in the number of Christmas jumpers purchased compared to 2010.
By 2012, British retailer Topman had 34 different varieties of Christmas jumper on their shelves. That one retailer noted a 54% uptick in sales of the jumpers.
Christmas jumpers' popularity hit its zenith in 2012 when well-known charity, Save The Children celebrated their inaugural National Christmas Jumper Day in the UK.
National Christmas Jumper Day
Save The Children's National Christmas Jumper Day was first held on Friday, 14 December. A bevvy of well-known figures including human singer Cheryl Cole and businessman Richard Branson celebrated the event.
The success of National Christmas Jumper Day thanks to assistance from its catchy slogan: "Make the world better with a sweater".
https://www.instagram.com/p/BcjwZ6Tgpav/?tagged=christmasjumperday
The idea of the celebration is for schools, businesses and other groups of people to collectively make the decision to wear Christmas jumpers.
While wearing these jumpers, people perform activities to raise money for Save The Children. Popular activities include bake sales and sponsored walks.
In 2016, over 5m people took part according to Save The Children.
At the time of writing, the 2017 appeal has already raised £11,185. And that's four days before the event itself!
How to get involved in National Christmas Jumper Day
It couldn't be easier to get involved in all the fun couldn't be easier.
Those interested can sign-up to the event here. Once registered, those taking part will receive a fundraising pack including some ideas about how to raise money. The packs also contain a GIRO slip which banks can accept to donate any money.
Donating money can also be done at the designated Save The Children online portal. Alternatively, those taking part can donate by texting a code. Teams can choose their own code.
Teams can donate money together and there is an online leaderboard to track which teams have raised the most money. Thus, this charity event can become a competition for those who want to make it one.
The money raised can go towards a variety of projects. It can pay for something as simple as food or medicine, or go into bigger projects such as providing education to young people in underdeveloped countries.
The official hashtag for the event is #ChristmasJumperDay.
National Ugly Christmas Sweater Day
While it does contain a link to (a now-defunct) Save The Children website, the National Ugly Christmas Sweater Day in America is a separate event. It just happens to be on the same day.
Judging by the official website, the event looks like a promotion for Tipsy Elves, a manufacturer of Christmas sweaters. Aside from the expired link to Save The Children, it does not put charity at the heart of its mission.
Instead, National Ugly Christmas Sweater Day is about dressing for fun and frivolity.
Still, if one is wearing a Christmas sweater anyone, one might as well donate to charity, eh?