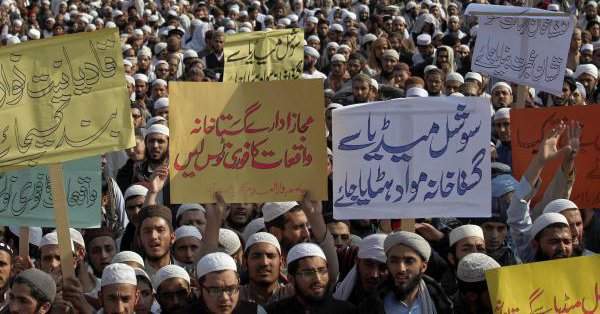 Pakistan's prime minister Nawaz Sharif has demanded that Facebook and other social media giants remove blasphemous content earlier this week and threatened to punish those responsible for posting it.
California-based social media giant Facebook is the first online platform to send a team to the country, where discussions with the Pakistani government will address calls to censor so-called blasphemous content.
"Effective steps must be taken immediately to remove and block such content," Sharif said in a statement. "All relevant institutions must unite to hunt those who spread such material and to award them strict punishment under the law."
Pakistan's blasphemy laws carry a potential death sentence for anyone who insults Islam or the prophet Muhammad.
In 2010, a Pakistani court banned Facebook from operating in the country for weeks, after a competition to draw Muhammad on the social media website sparked outrage from conservative Muslims.
Accusations of blasphemy are simply a way for the Pakistani government to silence dissent, exert greater control and stifle freedom of speech, according to human rights campaigners.
"Once an accusation of blasphemy is made, the police can arrest the accused, without even checking to see if the charges make sense," according to Amnesty, a leading non-governmental human rights organisation. "Pakistan's blasphemy laws enable abuse and violate the country's international legal obligations to respect and protect a range of human rights, including freedom of religion or belief and of opinion and expression."
Nineteen people are currently serving life sentences in Pakistan for charges of blasphemy against Islam and many others have already lost their lives for speaking out against the country's blasphemy laws.
In 2011, the governor of Punjab province, Salman Taseer, was assassinated by one of his bodyguards after he called for reform of the legislation. The killer subsequently said he was "proud" that he murdered a "blasphemer."
Pakistan's interior minister, Chaudhry Nisar Ali Khan, declared this week that authorities had already identified 11 people for questioning over alleged blasphemy.
Benjamin Jones, a spokesman from the National Secular Society told Verdict it is "shocking" that Facebook is even willing to engage in discussion with Pakistani authorities.
We are contacted regularly by ex-Muslims, atheists and secularists in Pakistan who live every day in fear of their lives simply because they have left Islam, or because they think the religion should be separate from the state. Many of these people use anonymous social media accounts as an outlet to try and connect with likeminded people, as often it is far too dangerous for them to meet in person," said Jones.
"It would be a callous betrayal if Facebook or Twitter did anything that would endanger the safety of these people or close off the few channels of communication they have with the outside world where they can be open about their beliefs," he added.
In a statement, Facebook said it handled all government requests with "the goal of protecting the privacy and rights" of its users.
Twitter declined to comment.