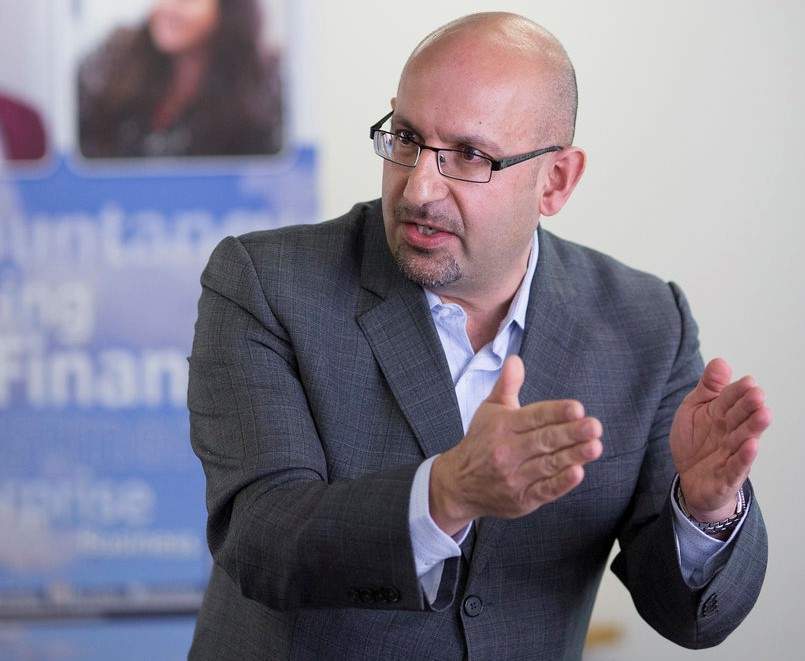 The world's first professor of blockchain teaches at Birmingham City University and he has a new theory for using the technology to further social values like love and hope. Verdict speaks to Professor Olinga Taeed on his vision for the technology.
The ledger technology behind blockchain is mainly known for its link to cryptocurrencies, however its wider application has been linked to many other advances that would makes and has more recently been applied to modernising any business or other ledger, from voting systems and telecommunications.
But Professor Olinga Taeed says it can help society invest in social change.
Why is it important to use blockchain?
"They say in business if you can't measure it, you can't bill it," Taeed explains, "So hence we focus on systems to measure financial value as it matters to us.
"But of course most of our lives are determined on non-financial or social values – our relationships, our feelings, our goodwill, but if we can't measure that then it's very hard to do anything with those feelings with a system that depends on it. For example there are many laws around the world that attempt to re-balance society by giving procurement contracts based not only on price, but also on the social good the supplier will do during the construction of the railway, building, bridge, and so on.

"But if you can't measure that social good, you can't make it a deciding factor on who gets the contract."
He adds that there are laws globally and in the UK, such as the Social Value Act 2012 and Modern Slavery Act 2015, which depend on being able to measure social good.
"But of course measurement is just the start and by itself it's not enough. You need to transact value to make it part of everyday life. If you measure your love for someone in your heart but fail to tell them, then you've failed to transact it. So transaction gives the ability to make those social values that drive our society to be part of everyday decision-making and thus more embedded in our lives."
How can blockchain drive social change?
Taeed says, "Blockchain was intended as the movement of a digital asset of value from A to B. In the case of Bitcoin it is a financial value, but love has value, hope has value, kindness has value, generosity has value, so why not use blockchain to move those non-financial values from A to B also?
"Of course whilst financial value is usually already digital and certainly so in cryptocurrencies, that is not true of non-financial values as it is hard to put a number against such things. We all know the currency of financial value is the dollar, but what is the currency of non-financial value?

"We found a way of finding the currency of non-financial value, capturing it digitally, turning sentiment into financial value, and doing it very fast, in seconds not months."
Professor Taeed suggests using the social earnings ratio (S/E), a single number metric used to measure the social impact of an organisation.
It is similar to the price earnings ratio used in finance, but looks at valuation against social impact rather than against projected earnings.
Smart contracts in blockchain
"Now that social value can be digitally expressed and financial value the same," says Taeed, "It means we can put in place smart contracts in blockchain to govern the behaviour of one to the other.
"For example, if social good is not achieved, then do not make the financial transaction happen. This dependency can be written in digital code in smart contract on the blockchain. Equally, we can stipulate that financial transactions can become contingent on social good being achieved, thus putting meaning into financial movement of money – we call it cryptocurrencies with values."
Taeed gives an example of making, "purchases dependent on the green provenance of products, shopping at places that are aligned to our values, dealing with people who hold similar values to our own".
"It is something that at last is happening now, allowing blockchain to become part of everyday life, not just something crypto-speculators do from their bedrooms."
The future of cryptocurrency
Despite Taeed's new outlook on the use of blockchain, he is not a crypto-sceptic.
"Cryptocurrency is part of [the future of blockchain]," says Taeed.
"It's very immature right now, but ten years from now you'll have many cryptocurrencies in your wallet. If I was to bet on any currency it would be bitcoin, because it's been around a long time. I think bitcoin is here to stay. There's still debate over ETH [Ethereum]. After that, every other currency – it's much more questionable if they will continue to exist. The market is shaking out right now. More mature players are coming to the fore. Regrettably most of the industry is run by experts who have been in crypto for a month.

"The market is very immature, but it is shaking out, I think 2019 will see a different place."
Low public trust in blockchain
Recent research by OnePulse and IP Expo Europe found that 46% of the public say they would not trust an organisation using blockchain.
Taeed explains the low levels of trust, saying "I don't think there's low public trust in blockchain, but in cryptocurrency. Blockchain is the technology of cryptocurrency and public trust is right to be low because 90% of Initial coin offerings (ICO) are scams. 20% of moneys raised in ICOs are hacked, and so you've got to be very, very careful. It is quite right for people to be worried about it."
What does blockchain mean for banks?
"The big ticket for blockchain has always been coined to be a non-financial system change," says Taeed,
"But unfortunately the next sentence always happens to be: here is what we do for banking. We can make it faster and cheaper. The reality is banking is actually going to be the most reticent in adopting blockchain because it has legacy products and there's really very few things it needs to change. It's more resistant in terms of the concept, because banks are all centralised systems and blockchains are decentralised, so the ethos is completely different.

"I asked a colleague who works for a bank in blockchain at a very senior level, if it will ever change banking, and he said never, they're never going to touch it."
Verdict deals analysis methodology
This analysis considers only announced and completed artificial intelligence deals from the GlobalData financial deals database and excludes all terminated and rumoured deals. Country and industry are defined according to the headquarters and dominant industry of the target firm. The term 'acquisition' refers to both completed deals and those in the bidding stage.
GlobalData tracks real-time data concerning all merger and acquisition, private equity/venture capital and asset transaction activity around the world from thousands of company websites and other reliable sources.
More in-depth reports and analysis on all reported deals are available for subscribers to GlobalData's deals database.