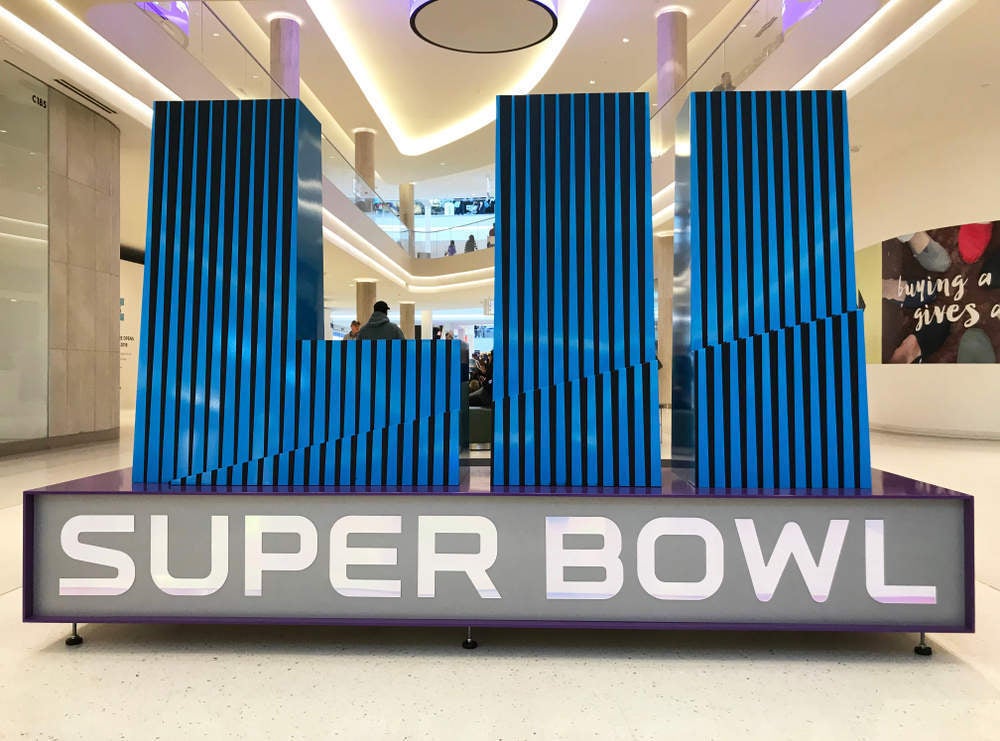 As the New England Patriots and Philadelphia Eagles prepare to make more history at Sunday's Super Bowl LII, American football fans will have the opportunity to get their hands on a few pieces of the past.
Hunt Auctions will be holding a Super Bowl memorabilia auction in Minneapolis, the host city of Super Bowl LII, ahead of the Big Game. Fans will be able to bid on a catalogue of over 400 rare items ranging from game used shirts to old commemorative rings and trophies.
The sale will take place on Saturday, 3 February at the NFL Experience, an American football-themed theme park set up ahead of the event, with bidding beginning at 5pm London time.
Ahead of the Big Game's big sale, here are our pick of the items up for grabs:
Super Bowl LI Game used football
Guide price: $40,000-$60,000
Hunt Auctions will have a number of footballs used during Super Bowl matches up for auction this weekend. There are three from last year's New England Patriots vs Atlanta Falcons match alone, including the ball used to kick off Super Bowl LI. However, the auction house expects this match ball, handled by star quarterback Tom Brady as the Patriots mounted their comeback, to fetch the highest price.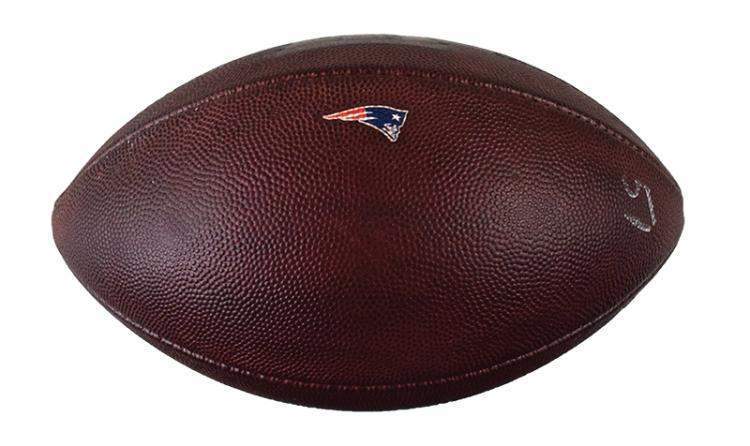 Carson Wentz game used jersey
Guide price: $15,000-$25,000
All eyes are on the New England Patriots' Tom Brady ahead of the Super Bowl, but the Philadelphia Eagles has a star quarterback of its own. A torn anterior cruciate ligament may have ruled Carson Wentz out of the finale. However, he still played a big role in getting the Eagles to the Super Bowl. This game used jersey, worn by Wentz in the Eagles' 28-23 victory over the Carolina Panthers on their way to the NFC Championship title, serves as a reminder of his contribution to their surprising run.
Signed Super Bowl 50 helmet
Guide price: $15,000-$20,000
This signed Super Bowl 50 helmet holds the signatures of each of the 43 living receivers of the prestigious Super Bowl Most Valuable Player award. Names include Super Bowl icons such as Tom Brady, Joe Montana and Bart Starr. Procured from an official NFL auction, the authenticity of all 43 signatures is guaranteed.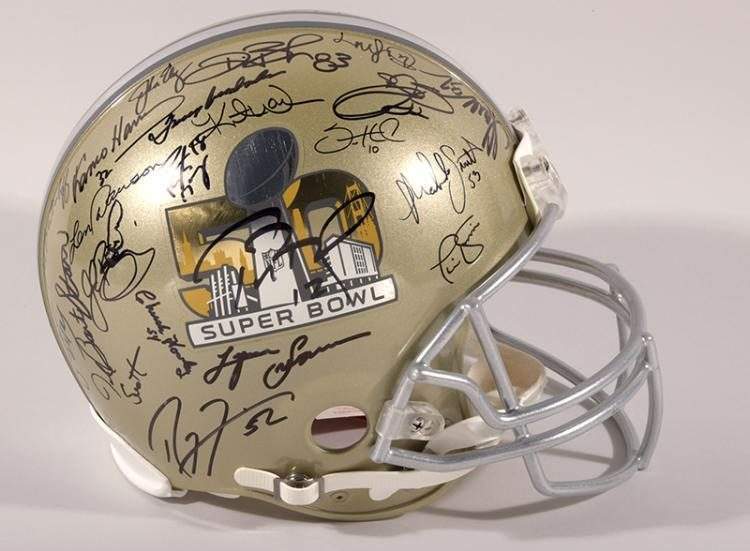 1993 Super Bowl XXVII Championship trophy
Guide price: $10,000-$15,000
This Super Bowl Championship trophy isn't quite the Vince Lombardi trophy. Yet, it is about as close as you can get to owning the NFL's biggest prize. This 16-inch prize was awarded to three-time Super Bowl winner Robert Jones following his first victory in 1993. At the time, Jones had only recently broken into the NFL but was selected in a total of 15 games throughout the 1992 season, which saw him named as the NFL's Rookie of the Year.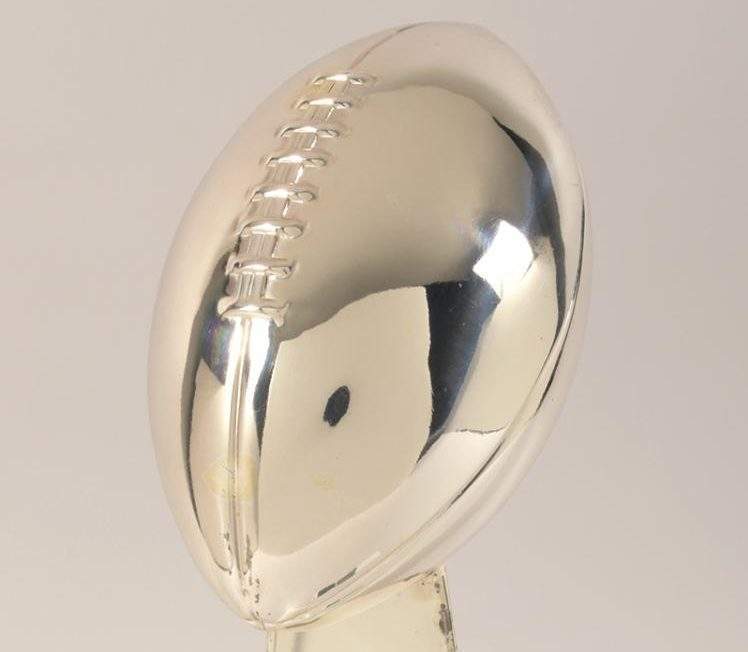 1969 Minnesota Vikings NFL Championship ring
Guide price: $4,000-$6,000
The Vikings fell just short of making it to the Super Bowl, which is set to be played at their home ground, the US Bank Stadium, on Sunday. Philadelphia Eagles outdid Minnesota in the NFC Championship final, securing their place at the Super Bowl with a 38-7 victory. However, this 14K gold 1969 Western Conference championship-winning ring, awarded to cornerback Earsell Mackbee, will remind Eagles fans of better times.
Signed New England Patriots Super Bowl LI photograph
Guide price: $3,000-$5,000
Sunday's Super Bowl could see the New England Patriots add a sixth Super Bowl title to its collection. It would be a third title in the last four seasons, as the club's era of Super Bowl dominance continues. However, regardless of the result, the Patriots' victory in last year's Super Bowl LI is secure. This limited edition photograph, one of 12 produced, holds the signatures of more than 30 players from that incredible victory, in which the Patriots overturned the Atlanta Falcon's 25-point lead to claim the Vince Lombardi trophy.
Tom Brady signed New England Patriots helmet
Guide price: $1,500-$2,500
Tom Brady looks set to surpass former San Francisco 49ers linebacker Charles Haley's haul of five Super Bowl wins this weekend. A victory over the Eagles would make Brady the most successful player in Super Bowl history with six wins. Much like Brady at the Super Bowl, Hunt Auctions' collection of Brady-signed memorabilia, such as this replica Patriots helmet, will likely be the star of the show this weekend.