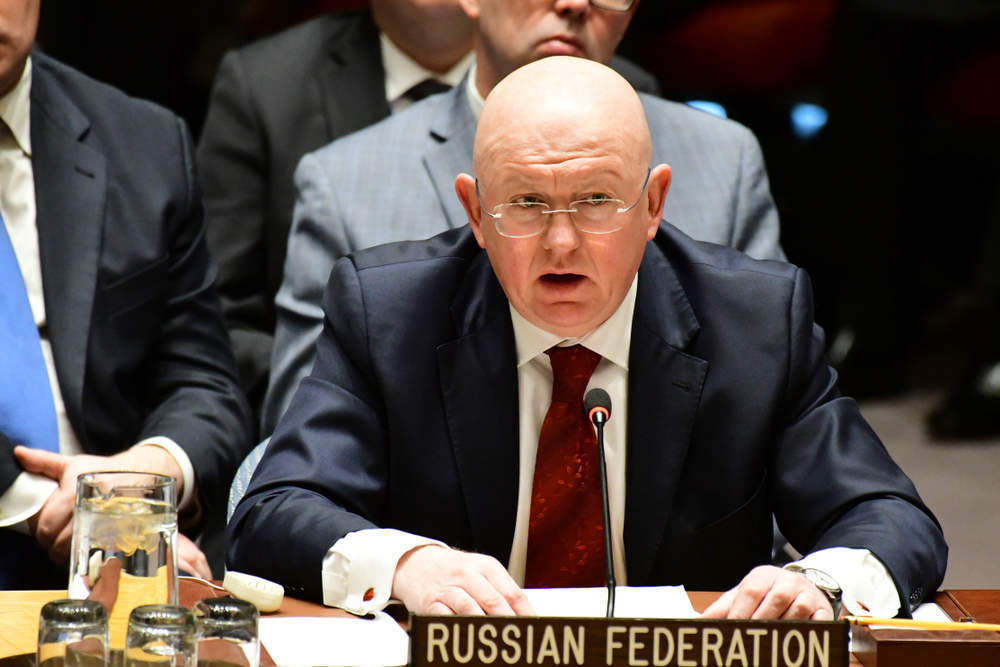 The UN Security Council has scheduled an emergency meeting on Syria this afternoon.
At the request of Russia, members will discuss the threat to peace and security posed by potential air strikes on Syria.
International tensions over Syria have been mounting since last Saturday, after an alleged chemical attack killed between 40 and 75 people, including children, in the Syrian city of Douma. Douma is the last town under the control of anti-Assad rebels in the Eastern Ghouta region.
The US and its allies assert that the attack was the work of the Assad regime and Syrian forces. However, both Syria and its main ally Russia have called the attack a "fabrication" and denied any use of chemical weapons.
Russia's foreign minister Sergei Lavrov has today said Russian experts have examined the site of the alleged attack in Douma, east of Damascus, and found no trace of chemical weapons.
He said Moscow had "irrefutable information that it was another fabrication".
The international community is now waiting to see whether the US, the UK and France will take military action the country. Assad warned the West against attacking Syria, saying that "any possible action will only cause more instability in the region and threaten international security and peace".
Earlier in the week, Russia had promised to shoot down any US missiles aimed at Syria, and to retaliate against their launch sites. This prompted a typically bombastic response from Trump, who tweeted that Russian President Putin was responsible for the attack due to his backing of "Animal Assad" and that there would be a "big price" to pay.
Many dead, including women and children, in mindless CHEMICAL attack in Syria. Area of atrocity is in lockdown and encircled by Syrian Army, making it completely inaccessible to outside world. President Putin, Russia and Iran are responsible for backing Animal Assad. Big price…

— Donald J. Trump (@realDonaldTrump) April 8, 2018
He also promised that "smart" missiles would be on their way, foreshadowing US plans for military action in a way he had previously criticised Obama for.
Russia vows to shoot down any and all missiles fired at Syria. Get ready Russia, because they will be coming, nice and new and "smart!" You shouldn't be partners with a Gas Killing Animal who kills his people and enjoys it!

— Donald J. Trump (@realDonaldTrump) April 11, 2018
Trump later backtracked on this statement, saying that he never said when such an attack could take place. Meanwhile, US officials have been quoted as saying that blood and urine samples from victims in Douma have tested positive for chlorine and a nerve agent.
Never said when an attack on Syria would take place. Could be very soon or not so soon at all! In any event, the United States, under my Administration, has done a great job of ridding the region of ISIS. Where is our "Thank you America?"

— Donald J. Trump (@realDonaldTrump) April 12, 2018
Despite condemning the attack, Germany has ruled out any military invention against Syria and will be seeking other ways to help. Speaking at a press conference Chancellor Angela Merkel said:
Germany will not participate in any possible military action… But we acknowledge and support that everything has to be done to signal that this use of chemical weapons is unacceptable.
Yesterday, however, French President Emmanuel Macron said that he had "proof" that the Syrian government was responsible. He said he would decide "in due course" whether France would respond with air strikes. Macron and Trump are reported to have been in close contact via phone.
The UK is also weighing up whether to take military action. A Downing Street spokesperson said that Theresa May and Trump had "agreed it was vital that the use of chemical weapons did not go unchallenged, and on the need to deter the further use of chemical weapons by the Assad regime. They agreed to keep working closely together on the international response."
Yesterday, May conducted an emergency meeting in Downing Street and got Cabinet backing to deploy UK forces in the event of a US-led assault on Syria. Ministers agreed that it was "highly likely" that President Assad was behind the chemical attack and that such actions should not go "unchallenged".
According to YouGov polling, the British public is against the UK supporting a missile attack on Syria. May has disregarded demands for a Commons vote on the issue.
Reports from The Times suggest that a US air and naval strike force – the largest deployed since the Iraq war – are already heading to Syria for possible military again, having set off overnight. The mobilisation apparently includes warships and submarines with enough power for a significant military campaign against Assad.
Britain is thought to have already deployed submarines armed with Tomahawk land-attack missiles. The Times also reported that a Russian anti-submarine aircraft is in position at a base in the west of Syria. Airlines have begun to halt flights to parts of the Middle East due to fears over Syrian airstrikes.
The Labour leader Jeremy Corbyn has accused May of "waiting for instructions from President Donald Trump on how to proceed" and that UK military intervention "risks escalating an already devastating conflict."
In a statement Corbyn said:
[The] US administration is giving alarmingly contradictory signals. Even US defence secretary James Mattis has said we 'don't have evidence' and warned further military action could 'escalate out of control'…

…Britain should press for an independent UN-led investigation of last weekend's horrific chemical weapons attack so that those responsible can be held to account.
The Organisation for the Prohibition of Chemical Weapons (OPCW) has sent a "fact-finding team" to Syria which they say will begin work on Saturday.
Corbyn also called for peace talks and a ceasefire in Syria, rather than any military action.
He said:
The need to restart genuine negotiations for peace and and an inclusive political settlement of the Syrian conflict, including the withdrawal of all foreign forces, could not be more urgent.
Corbyn reportedly asked for a security briefing on privy council terms today about the Syrian crisis but has not yet received a response.
Today's meeting of the UN Security Council, which is slated to start at 10 am EDT, comes after a closed-door meeting of the council yesterday. Vassily Nebenzia, Moscow's UN ambassador, requested the meeting saying that the "immediate priority is to avert the danger of war".
Nebenzia told reporters:
[The] danger of escalation is higher than simply Syria, becuase our military are there on the invitation of the Syrian government.
Yesterday, Maria Zakharova, a spokeswoman the Russian foreign ministry, told Sky News that Russia will move to protect its troops in Syria from US missiles.