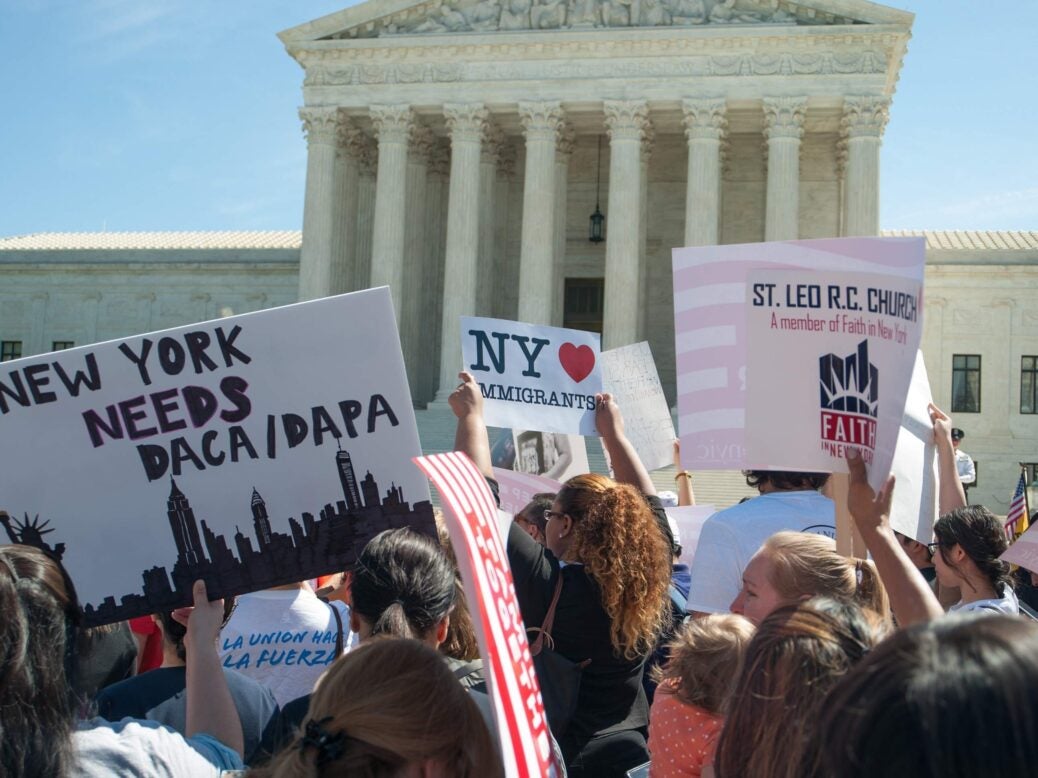 It's September and Silicon Valley is teaming up to criticise US president Trump's latest immigrant plans.
Flashback to January when it was the controversial Muslim travel ban and it feels like this administration hasn't moved on much over the past eight months.
This week's criticisms are regarding Trump's decision to end the Deferred Action for Childhood Arrivals or DACA program.
What is DACA?
DACA was introduced by the Obama administration in 2012 as a way to protect the children of undocumented immigrants that had settled in the US. These children are known as Dreamers, after the DREAM Act which was never ratified by Congress.
To be considered as a Dreamer, applicants had to have arrived in the US before they were 16 and lived there since June 15 2007. They also had to be under the age of 31 on 15 June 2012.
As well, Dreamers would have to be in school, a high school graduate or have been honourably discharged from the military. They could not have been convicted of a felony, three misdemeanours or a serious misdemeanour.
If they passed these criteria, Dreamers were allowed to stay in the US and not be deported. This status was renewable every two years. In addition, they were eligible for work permits too.
Since DACA was passed, Dreamers have been able to obtain driver's licenses, go to college, get legally secure jobs and pay income taxes.
This didn't make them a permanent US citizen; they couldn't apply for state welfare for instance, but it was a middle ground between illegality and permission to stay in the US.
Why has Trump decided to end it?
The Trump administration has decided to phase out, or "wind down" DACA. This means that it won't accept new DACA applications; however, it will still accept renewal applications that are set to expire on 5 March 2018.
Republicans have been against DACA from the start, particularly after Obama attempted to expand the programme in 2014, calling it an executive overreach.
Earlier this year, 10 state attorney generals told Trump to end DACA, giving him a 5 September deadline and it looks like he's stuck to it.
Trump has passed the baton of DACA over to Congress to "legalise" it.
Congress now has 6 months to legalize DACA (something the Obama Administration was unable to do). If they can't, I will revisit this issue!

— Donald J. Trump (@realDonaldTrump) September 6, 2017
Dreamers in the US will have to wait and see what Congress decides to do with their status and how best to proceed after this.
What is the response from Silicon Valley?
Microsoft was one of the first companies to speak out against the administration's decision to end DACA. Around 39 Dreamers work for the company and it has pledged to protect its employees.
Microsoft's president and chief legal officer, Brad Smith, said:
"For the 39 Dreamers that we know of who are our employees, our commitment is clear. If Congress fails to act, our company will exercise its legal rights properly to help protect our employees. If the government seeks to deport any one of them, we will provide and pay for their legal counsel.

"We will also file an amicus brief and explore whether we can directly intervene in any such case. In short, if Dreamers who are our employees are in court, we will be by their side."
Apple's Tim Cook has also condemned the decision by Trump to end the programme.
250 of my Apple coworkers are #Dreamers. I stand with them. They deserve our respect as equals and a solution rooted in American values.

— Tim Cook (@tim_cook) September 3, 2017
As well, a whole host of companies have written an open letter to Trump, as well as Paul Ryan and Nancy Pelosi, as part of Facebook's Mark Zuckerberg's Fwd.us political group.
Amazon's Jeff Bezos, Airbnb's Brian Chesky, Brit + Co's Brit Morin, Cisco's chief executive Chuck Robbins, and eBay's president and chief executive Devin Wenig are just a few of the people that have signed the letter.
It makes the point that at least 72 percent of the top 25 Fortune 500 companies count DACA recipients among their employees.
The letter says:
"Dreamers are vital to the future of our companies and our economy. With them, we grow and create jobs. They are part of why we will continue to have a global competitive advantage."
The decision to end DACA will have wide-reaching consequences for immigrants and their children. However, it isn't all that surprising, given that Trump has made comments in the past that suggested he would end the programme.
As well, when you look at the break down of people who are eligible for DACA, you can see why Trump disliked it. Around 74 percent of the eligible population was born in Mexico or Central America. And we all know how Trump feels about people from Mexico.