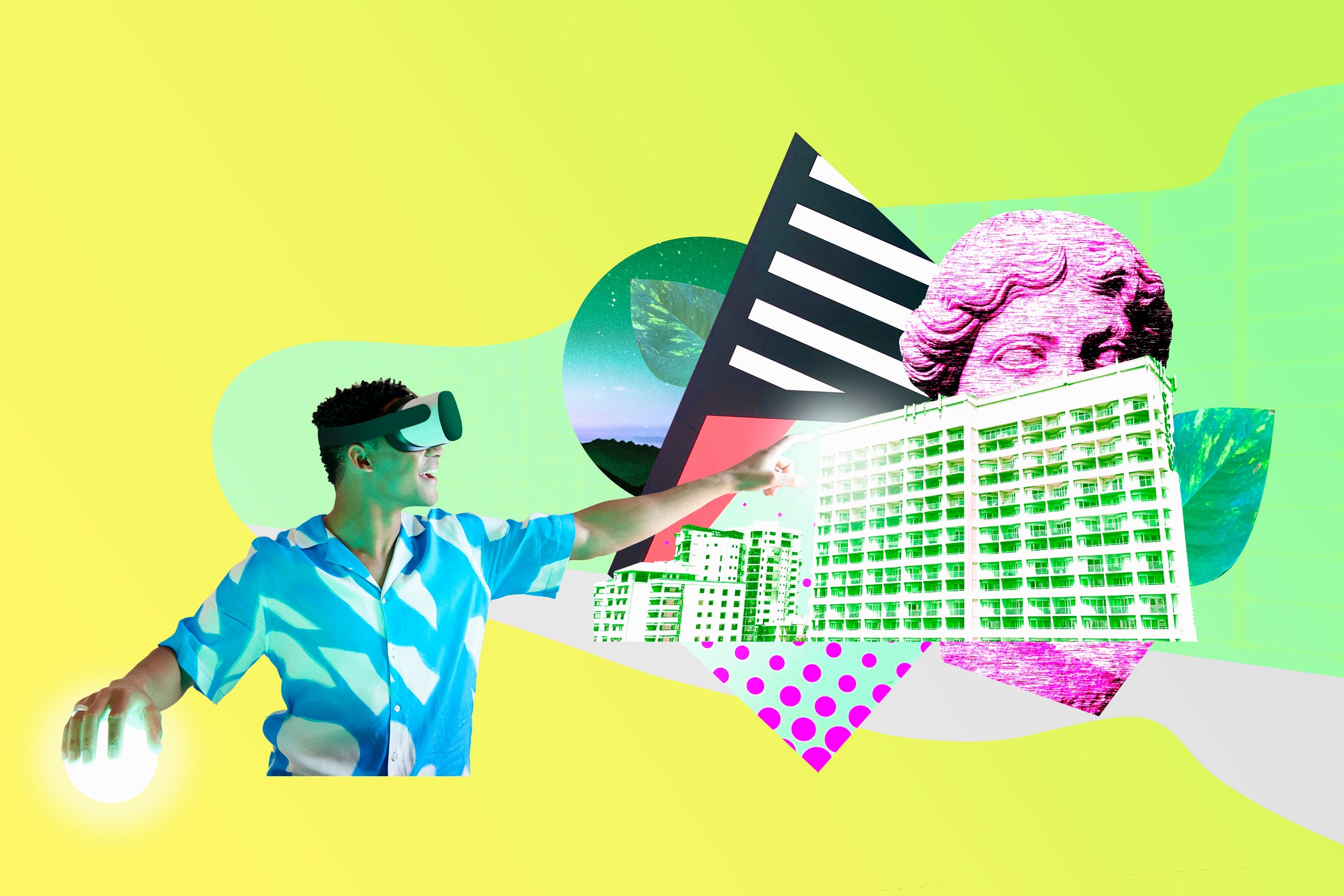 Metaverse ventures closed a number of multi-million deals in 2022 despite the turbulence caused by the Ukraine war, crypto crashes and mass-layoffs in the tech industry. However, that doesn't mean the industry didn't suffer the same investment decline as the rest of the tech industry.
Author Neal Stephenson first coined the term "the metaverse" in the 1992 sci-fi novel Snow Crash, which described it as a computer-generated world accessible through virtual reality (VR) goggles. Since then the concept has exploded into a multibillion-dollar industry that is made up of several different technologies and concepts.
It's clear that the metaverse has come a long way in a short space of time, and that's without even mentioning the contribution Meta CEO Mark Zuckerberg has added to the sector.
How Meta's pivot kicked of the metaverse
In October 2021, Zuckerberg announced he would rebrand Facebook to Meta, reflecting the founder's grand ambitions to transcend the average social media loop he'd helped create and bring the metaverse into the homes of millions.
"The metaverse will feel like a hybrid of today's online social experiences, sometimes expanded into three dimensions or projected into the physical world," Meta said in a statement announcing the change.
"It will let you share immersive experiences with other people even when you can't be together – and do things together you couldn't do in the physical world."
How well do you
really

know your competitors?

Access the most comprehensive Company Profiles on the market, powered by GlobalData. Save hours of research. Gain competitive edge.
Company Profile – free sample
Thank you!
Your download email will arrive shortly
Not ready to buy yet? Download a free sample
We are confident about the unique quality of our Company Profiles. However, we want you to make the most beneficial decision for your business, so we offer a free sample that you can download by submitting the below form
By GlobalData
Several months after the switch, Zuck hammered home his hopes for the metaverse even more, telling CNBC he envisioned "around a billion people in the metaverse doing hundreds of dollars of commerce".
Even though most of the billionaire's metaverse moments have been universally panned online, the metaverse has had a burst of popularity because of Zuckerberg's contribution.
While the metaverse is a complicated and broad prospect, there was a surge of interest in it after Zuckerberg made Meta's pivot. Google searches for the word "metaverse" spiked in the months following Meta's pivot. However, interest had dropped by half by mid-2022.
Every company and their cousin seemingly wished to get involved in some way. Last year was no different, with unexpected players jumping out of the woodwork to keep up with the fast-emerging Web3 revolution.
"Although the metaverse is in the early stages of development, it has the potential to be the next mega-theme in digital media," says research firm GlobalData, "the metaverse could transform how people work, shop, interact and consume content."
JP Morgan is one example. The banking giant certainly made metaverse waves last year. While it didn't make the list for biggest deals in the field last year, becoming the first leading bank to launch a branch in the metaverse. The branch, or lounge, was launched in Decentraland, the supposed blockchain utopia that has been mocked for its low-attendance virtual raves and general low number of active users.
The JP Morgan lounge didn't wow some of the hacks that visited it. Some, like Forbes' Ron Shevlin' said that the branch was mostly just a piece of digital real estate that worked as a way for the bank to demonstrate its blockchain achivements so far. Still, the move could pave the way for other banks to enter the space. It seems likely that JP Morgan will make similar moves in the future, given that the bank estimates that the metaverse holds a market opportunity of $1tn in annual revenue.
Metaverse deals in the VR and AR sectors have dropped in 2022
Key technologies making up the metaverse right now are things like augmented reality (AR), VR, blockchain, the internet of things, Web3 and more.
Despite being early in its life cycle, people are already experiencing the metaverse in a variety of different ways. Virtual concerts are now part of the general music and gaming culture. Industry heavyweights like hip-hop artist Travis Scott have teamed up with Fortnite to deliver completely virtual live show. Fashion designers are also using VR to design outfits with an AR flare, as seen by Verdict at Meta's drag fashion show last year.
Given the massive role that VR and AR play in the forming of the metaverse, we dug deep into deals data to see how investment has changed over the last decade; before we unveil our list for the biggest metaverse deals from last year.
The number of VR and AR deals carried out each year has increased steadily over the past decade. Back in 2013, the industry secured $465m across 33 deals. Those figures skyrocketed over the next decade. The growth of the metaverse deals in the AR and VR space reached its peak in 2021.
That year the industry secured over $18.9bn across 311 venture financing, private equity, equity offering,and equity offering deals.
That bull run ended last year and turned into a bear market. Publicly traded tech companies saw their shares begin to collapse due to a combination of factors contributing to market volatility, such as surging interest rates, pandemic fallouts and Russia's illegal war in Ukraine.
The VR and AR industry did not remain completely safe from the market turmoil. The number of capital raises in the sector plummeted last year, with just over $5bn raised by VR and AR projects across 283 deals.
However, as we previously mentioned, the metaverse incorporates many more technologies than just VR and AR. Despite the volatile market last year, some huge deals were made to push technology's golden child forward.
Join Verdict as we take a look at the very biggest metaverse deals from 2022.
Anduril Industries raises $1.48bn in Series E Funding
The biggest metaverse deal in 2022 came from Anduril Industries, a defense technology company, that managed to raise a whopping $1.48bn from a Series E funding round at the beginning of December.
Anduril, founded in 2017, has been dedicated to innovating the US and allied military capabilities with advanced technology.
Its family of systems are powered and functions through Lattice OS, an AI-powered operating system that they claim turns thousands of data streams into a real-time, 3D command centre.
Anduril says it will be using the funding to accelerate its research and development to bring autonomous defense capabilities to the market.
"Anduril is a technology partner, not an equipment provider," said Brian Schimpf, co founder and CEO of Anduril Industries.
"Anduril has proven that our model — recruiting talented engineers, building quickly and efficiently using venture dollars, and selling next-generation technology off the shelf to the government — works."
Valor Equity Partners is a longtime investor in Anduril and led the round. A flurry of other investors contributed to the fund, including Founders Fund, Andreessen Horowitz, General Catalyst and more.
"Since its founding five years ago, Anduril has designed, built and fielded innovative capabilities at scale, at unprecedented speed," said Antonio Gracias, founder and chief executive of Valor Equity Partners.
"Anduril has a massive opportunity to create even more impact for the US and its allies, and we grow more confident in its mission with every opportunity to invest. Valor is excited to continue supporting the company operationally and financially as the business grows and scales."
Checkout secures $1bn in Series D funding
Checkout.com, a unicorn payments company, managed to bag a whopping $1bn through a Series D funding round in January 2022 – bringing the company to a valuation of $40bn.
The valuation represented a healthy 167% jump in just 12 months, following a valuation of $15bn in 2021 after its Series C funding round of $450m.
Checkout.com markets itself as a full-stack payments company. It acts as a gateway, risk engine, payment process and acquirer to its customers.
Businesses using the service are able to process payments directly to their site or app, while also using other hosted payment pages, created payment links and more. Checkout.com's customers of the past include TikTok and MoneyGram.
The investors that made up the whopping $1bn funding round is long, with well over 10 investors putting their cash into the payment company.
Checkout.com said they have been profitable for several years, so a lot of the money from investors was just adding money to its balance sheet for long-term growth, TechCrunch reported.
"By combining an elegant technology stack with industry expertise and an 'extra-mile' approach to service over the past decade, we've built deep partnerships with some of the world's most innovative companies," founder and CEO Guillaume Pousaz said in a statement.
"Our Series D is validation of that work—but given we're still in 'chapter zero' of our journey, it will also fuel our efforts to unlock the enormous untapped opportunity ahead."
Last year, Checkout.com lowered the price at which staff exercised their stock options, going from $242 per share to around $64. The cut put its internal valuation at $11bn.
eFuse bags $981.7m in Venture Finance
eFuse, a US-based web mobile application, which acts as a hub for esports and video games, raised $981m in venture finance in July 2022.
The fundraising round, which was brought in by 48 investors, represented the large role in which video games and esports are playing in the growth of the metaverse.
Video games have been a huge part of the metaverse since its inception into the mainstream. Roblox and Epic Games, some of the most famous developers of modern day, have been testing their chops at virtual concerts and more.
Flexport raises $935m in Venture Funding
Flexport, a provider of technology-forward freight services, managed to bag a whopping $935m in new money during a Series E funding round in February 2022.
The investment was led by venture-capital giants Andreessen Horowitz and billionaire Michael Dell's MSD Partners, Canada-based Shopify.
Three previous investors DST Global, Founders Fund and SoftBank Group Corp's Vision Fund also participated.
The round brought the freight service company's valuation to a whooping $8bn high, Wall Street Journal reported.
Flexport, as well as offering vehicle services, connects importers, exporters, airlines and more through its cloud-based platform.
Ryan Petersen, founder and chief executive of San Francisco-based Flexport said the reaise "signals that the market recognises the need for a tech-enabled logistics ecosystem that has the visibility and resilience to handle unexpected challenges of any scale."
The company said it hopes to use the money to expand into new markets and increase their technology's workflow.
Verse Innovation bags $805m in Series J Venture Funding
Also making the list for one of the biggest metaverse deals in 2022 is Verse Innovation. The Indian technology company runs news aggregator Dailyhunt and short-video platform Josh. It netted a cool $805m in funding in April 2022.
The whopping investment was led by Canada Pension Plan Investment Board which put in a healthy $425m. The next investments were given by several firms over the world, including Ontario Teachers' Pension Plan Board, Luxor Capital, and more.
Verse Innovation says it hopes to use the money to enhance all of its platforms, improving its AI, machine learning and data science, according to Tech in Asia.
The company has seen huge success with its Josh app, which is recording over 150 monthly active users – while news aggregator Dailyhunt has over 350m monthly users.
Last year's investment round brought the company's valuation to over $5bn.
Verse Innovation also wants to dip into the Web3 space, focusing on the monetisation of influences, ecommerce and live streaming.
The raise came on the back of the Google and Goldman Sachs Group-backed startup securing $1.5bn in 2021.
Klarna Bank bags $800m in Venture Funding
Klarna, the neobank that has helped push a generation to shift away from traditional credit cards, secured an $800m financing round in July 2022.
The round saw Klarna's valuation decrease to $6.7bn. This was down from the whopping $45.6bn valuation it had achieved just one year prior off the back of a $639m SoftBank-led funding round.
The backing came during a time of extremely testing circumstances – with high inflation, rising interest rates and looming fears of a devastating recession putting the buy-now-pay-later's business plan into jeopardy. Later in the year, Klarna followed up the down round by cutting huge slabs of its workforce.
However, the challenges didn't stop Klarna from receiving backing from its existing investors – including Sequoia, Silver Lake and Commonwealth Bank of Australia.
Klarna said it would use the fresh funds to boost its market in the United States.
Think and Learn (Byjus) secures $800m in Series F Funding
India-based educational technology and online tutoring company, Think and Learn Ltd (Byju's), managed to secure a whopping $800m in Series F funding in 2022.
The funding round was led by BlackRock Inc, Sumeru Ventures, Virtuvian Partners LLC and others.
Byju Raveendran, the co-founder and chief executive of Byju's, invested $400m into the company, making up half of the total funding round.
The round led Byju's to a valuation of around $22bn, TechCrunch reported.
"We continue to witness accelerated growth in India and international markets through both organic and inorganic routes," Raveendran said.
"Our sustained focus is on achieving our long-term goals around creating lifelong value for our learners. For that, we are imagining and reimagining the way students will learn, unlearn and relearn in the future. Our aspiration is to build something that will last for decades."
The company, which is made for students preparing to pursue undergraduate and graduate level courses, has amassed a total of 150m users. This is an increase of around 80m since 2021.
Bolt Technology secures $711m in Venture Funding
Ride-hailing company Bolt bagged $711m in a January 2022 funding round, bringing the Estonia-based startup to a $8.4bn valuation and cementing its place in the top ten biggest metaverse deals in 2022.
The round was led by Sequoia Capital and Fidelity, leading to backing from Owl Rock, Whale Rock and several previous investors.
The eight-year-old company is a heated competitor of ride-hailing and food delivery giant Uber, especially in London and Paris.
"Cities increasingly see that they want to switch over from private car ownership" to ride-hailing and other "shared mobility" options like electric scooters and car-sharing, Bolt CEO and co-founder Markus Villig told CNBC in an interview.
Bolt says they will be using the funds to develop product research and expand into new cities.
This includes building up one of their new products Bolt Market, which was launched during the pandemic and sells itself as a 'supermarket in your pocket.'
"This new investment will help us accelerate its expansion rapidly in 2022 as we plan to have hundreds of stores operational by the end of the year," Bolt wrote in a statement.
"We've developed products that offer better and more affordable alternatives for almost every purpose a private car serves," Villig said.
"We're committed to working with cities to help people make the switch towards shared mobility options like ride-hailing and light vehicles to transform urban areas into sustainable, people-friendly spaces."
Bundl Technologies (Swiggy) raises $700m in Venture Funding
Bundl Technologies Private Ltd, more commonly known as Swiggy, raised a $700m in a January 2022 funding round, putting it in the top ten metaverse deals of the year.
The India-based online food ordering and delivery company saw investment from over 10 firms, led by venture capitalist firm Invesco.
Baron Capital Group, Sumeru Venture, Kotak, IIFL AMC Late Stage Tech Fund, Axis Growth Avenues AIF-I, Sixteenth Street Capital, Ghisallo, Smile Group and Segantii Capital were some of the other investors that participated in the funding round.
Existing investors Qatar Investment Authority, ARK Impact and Alpha Wave Global also joined, according to Verdict Food Service.
The company was quoted by The Telegraph as saying in a statement: "This investment comes at a time when the adoption of food and online grocery is accelerating and the consumer demand for Swiggy's many services continue to grow."
The latest fundraising follows Swiggy's $1.25bn investment round last July. At that time, the company was valued at approximately $5.5bn.
In the last 12 months, Swiggy's food delivery business is said to have doubled its gross order value (GOV).
SumUp Payments secures $621.67m in Venture Funding
SumUp Payments, a financial technology company, received $621m in venture funding in June 2022.
The funding valued SumUp at a healthy $8.5bn and was raised with 50% equity and 50% debt.
Bain Capital Tech Opportunities led the round, with several other companies joining the investment: including Sentinel Dome Partners, FinCapital, Crestline, BlackRock and more.
The company was founding 2012 with the aim of helping small merchants start, run and grow their business through a reliable payment solution.
The decade-old company has grown its financial services into a super app that provides merchants with a business account and card, online store, invoicing solutions and more.
SumUp is used by over four million businesses around the world in over 30 countries – and employs an internal team of over 3,000.
Marc-Alexander Christ, SumUp co-founder and CFO, said of the round: "SumUp has received consistent support from the global investment community in our mission to help small merchants succeed."
Darren Abrahamson, a managing director at Bain Capital Tech Opportunities, added: "SumUp has continually evolved to empower a growing and diverse field of small businesses with payment solutions and tools to efficiently connect with their everyday consumers. SumUp's leadership team has led the company to sustained and accelerated growth through expansion to more than 30 countries where they have had a direct and positive impact on the small business ecosystem."
GlobalData is the parent company of Verdict and its sister publications.