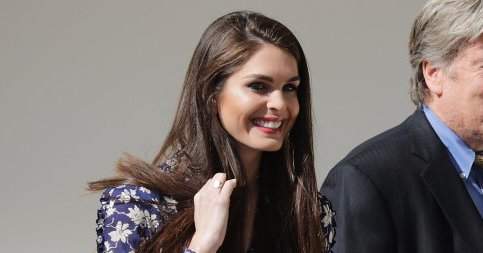 Former teen model Hope Hicks has replaced Anthony Scaramucci as US president Donald Trump's interim head of communications.
Scaramucci was fired last month after just 10 days in the permanent role.
The 28-year-old from Connecticut has landed herself a salary of $179,700 — the same as Trump's chief strategist Steve Bannon.
Hope Hicks is the new WH comms director…she's never tweeted or done an on-record interview, part of the reason she's avoided trouble

— Yashar Ali (@yashar) 16 August 2017
Here is Hope's (rather short) CV
Despite her limited interaction with the media and her reluctance to use Twitter, Trump's preferred method of communication, she has managed to become the youngest person in history to serve as a US president's communications director.
A close friend of Trump's eldest daughter, Hicks first got to know the Trump family in 2012 while promoting Ivanka's fashion line.
Two years later, she started working in a public relations capacity for the Trump Organization, before becoming a press aide.
Trump picked Hicks, just 26 at the time, for the role of press secretary in January 2015.
According to Hick's account (told to New York magazine):
 Mr. Trump looked at me and said, 'I'm thinking about running for president, and you're going to be my press secretary.'
While in the role Hicks is said to have handled around 250 press enquires every day.
While she hasn't tweeted herself, Hicks has taken dictation from the president for his tweets, then texting them to an aide who does the actual tweeting.
On December, it was announced that Hicks would become part of the Trump Administration, in the newly created position of the White House director of strategic communications.
In January 2017, Hicks was included on the Forbes 30 Under 30 list, having "served as a one-woman press team for Trump's historic presidential campaign".
Hicks reportedly shares many of her own father's traits. Paul Hicks III was the executive vice president of communications and public affairs for the National Football League (NFL) until July 2015.
One official described Hicks as "untouchable" while another said she was the president's "emotional support".
The Trump administration will "make an announcement on a permanent communications director at the appropriate time," a White House spokesman said.