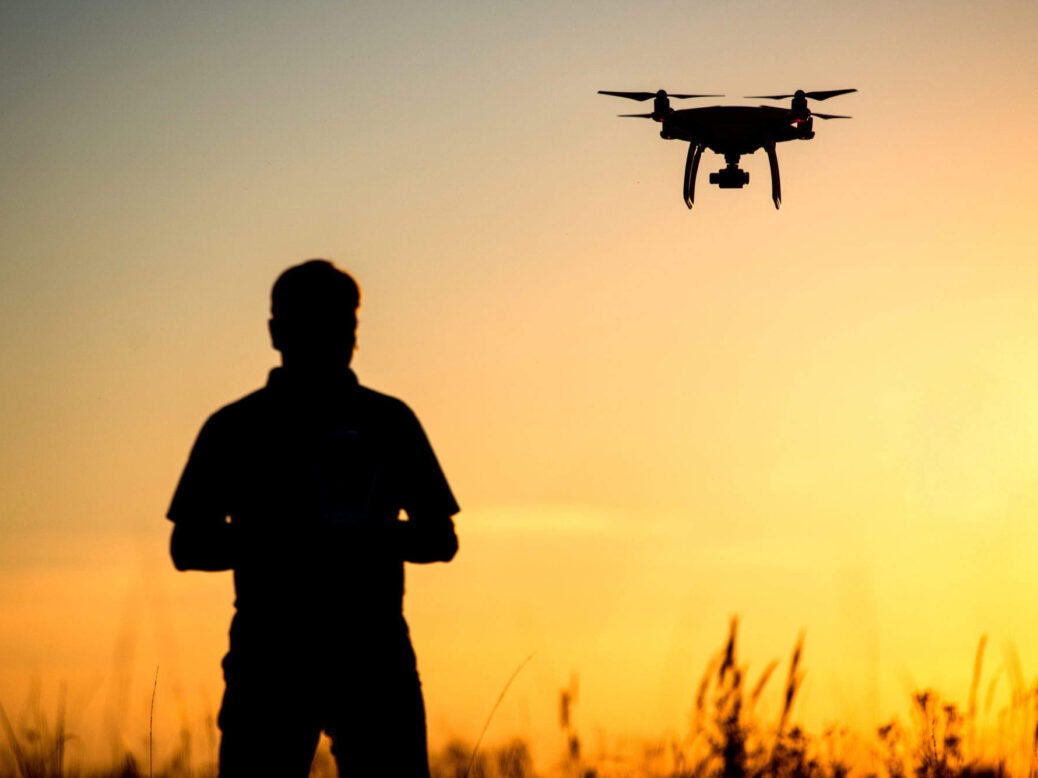 The UK Government today brought into force a range of drone laws that threaten up to five years in prison and an unlimited fine for those that breach them. UK drone laws are being introduced after an increasing number of near-misses with aircraft.
According to the Civil Aviation Authority (CAA) figures, the number of near-misses between an aircraft and a drone has increased year on year since 2014. In 2017, flight crew and air traffic control reported 93 incidents to the authority.
In October last year, a drone came within 5ft of the cabin window at an altitude of 1,700ft. The UK Airprox Board put it in the highest category of risk.
Government research has found that "drones could cause significantly more damage than birds of a similar mass".
The new laws are an update to the Air Navigation Order 2016, which aims to improve safety in the interim before a full drone bill is released.
What are the new laws?
It is now illegal for drones to fly above 400ft. Drones must not fly within 1km of an airport's boundaries.
The UK dronecode has always imposed these restrictions. But, as of today, those flouting the rules can face an unlimited fine, up to five years in prison, or both.
The code also advises pilots to keep to a distance of 50m from people and property and at least 1km away from aircraft. Pilots must also be able to maintain sight of the drone at all times.
From 30 November 2019, pilots using drones weighing 250g or more must register them with the CAA. Drone pilots must take an online safety test to ensure they are capable fliers.
However, these laws could come into force sooner, with the government looking to introduce a minimum age.
The CAA and airports have the power to make exceptions to these restrictions in specific circumstances.
Recreational drone use has steadily increased, with people using them for aerial photography and even drone racing.
Commercially, the likes of Amazon are exploring using drones for deliveries.
Drones also have an increasingly important role in inspecting national infrastructure, such as railways and power stations.
UK drone laws welcomed
All of this means the skies are getting busier, with consultancy firm PwC estimating that the drone industry could be worth £42bn in the UK by 2030.
UK drones lead at PwC Elaine Whyte welcomed the changes.
"Today's new drone laws are certainly a positive step in the right direction, helping to make that important differentiation between a hobbyist and a commercial user," she told Verdict.
The Department for Transport is currently receiving consultation from experts for the future drone bill.
"It will be interesting to see how the collated findings then feed into the draft drone bill expected later this year to continue to improve our approach to this emerging technology," said Whyte.
Vodafone UK enterprise director Anne Sheehan pointed to the benefits of tighter legislation for businesses and individuals using drones, and predicts that the arrival of 5G will "broaden the application of drones still further".
"As the sector becomes more regulated, businesses will feel more secure to explore the use of drones, for example using them to enhance existing security at concerts or events, or secure remote assets," he said.
"Putting more governance around the technology will also increase its credibility, meaning organisations and individuals are now obliged to use drones in a smarter and compliant manner."
Research released today by the CAA shows that the British public is in favour of tighter UK drone laws, with 77% of UK adults believing that more regulation is needed.
The drone community echoed this sentiment, with 75% welcoming more regulation.
Read more: UK drone standards aim to tame 'Wild West' airspace.