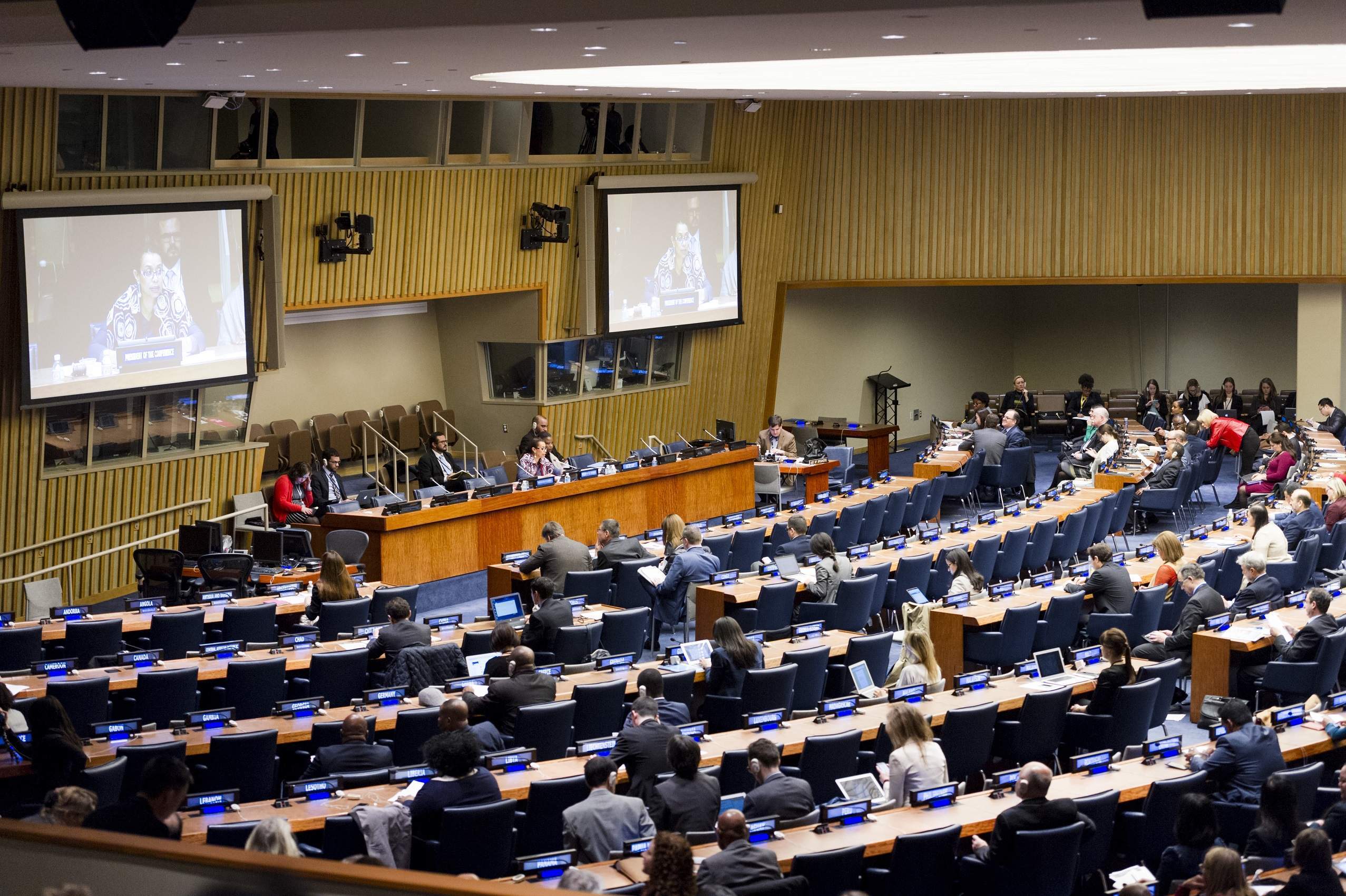 Negotiations began this week at the United Nations (UN) to discuss a treaty to outlaw nuclear weapons.
The aim of the talks is to negotiate a "legally binding instrument to prohibit nuclear weapons, leading towards their total elimination."
At the start of the negotiations, the UN high representative for disarmament affairs, Kim Won-soo said:
"Let us all work harder and more creatively, so that we can achieve our common goal of a world, safer and more secure, without nuclear weapons, and better for all."
However, the negotiations faced a backlash from 40 countries, particularly those that are known nuclear weapons states, including the US and the UK.
The US's ambassador to the UN, Nikki Haley, was vocal on the fact that the world is not safe enough for a ban on the weapons. Haley said:
How well do you
really

know your competitors?

Access the most comprehensive Company Profiles on the market, powered by GlobalData. Save hours of research. Gain competitive edge.
Company Profile – free sample
Thank you!
Your download email will arrive shortly
Not ready to buy yet? Download a free sample
We are confident about the unique quality of our Company Profiles. However, we want you to make the most beneficial decision for your business, so we offer a free sample that you can download by submitting the below form
By GlobalData
"We would love to have a ban on nuclear weapons but in this day and time we cannot honestly say that we can protect our people by allowing the bad actors to have them and those of us who are good trying to keep the peace and safety not to have them."
The US commander of Nato forces also said a ban was unrealistic. When testifying before the House Committee on Armed Services this week, General Curtis Scaparrotti cited North Korea's recent nuclear provocations and Russia's aggressive military modernisations as reasons why a ban would not work.
The world has been discussing whether or not countries should have nuclear weapons for years. Now we are at the stage where we have nine states with nuclear capabilities: the so-called recognised nuclear weapon states made up of the US, UK, France, Russia and China, and the new recent players, Pakistan, North Korea, India and Israel. All of these states oppose a ban treaty, so how would this ever be possible to enforce?
Why is it so hard to get nuclear states to discuss a ban treaty?
When all the nuclear states oppose a treaty, surely it would never be possible to negotiate one? According to Emil Dall, research fellow in proliferation and nuclear policy at the think tank Royal United Services Institute (RUSI), there is support for a ban, but there are issues to take into consideration.
"First of all, all states can probably agree that we should get rid of nuclear weapons in the long term. The difference is really in the process through which we get rid of the weapons," Dall tells Verdict.
Attempts have been made in the past that could lead to disarmament, such as the Nuclear Non-Proliferation treaty in the 1960s.
"In the treaty there are five recognised nuclear weapons states and one of the articles stipulates that those five states need to make progress towards disarmament on an undefined timeline," explains Dall.
"Now we're at the stage where many states are frustrated by the lack of progress towards the goal of complete nuclear disarmament. And from the point of view of the recognised states, they're equally frustrated because they don't feel they are able to progress towards complete nuclear disarmament due to the security situations they find themselves in."
"Also, there are four other states now which possess nuclear weapons but are not part of the treaty."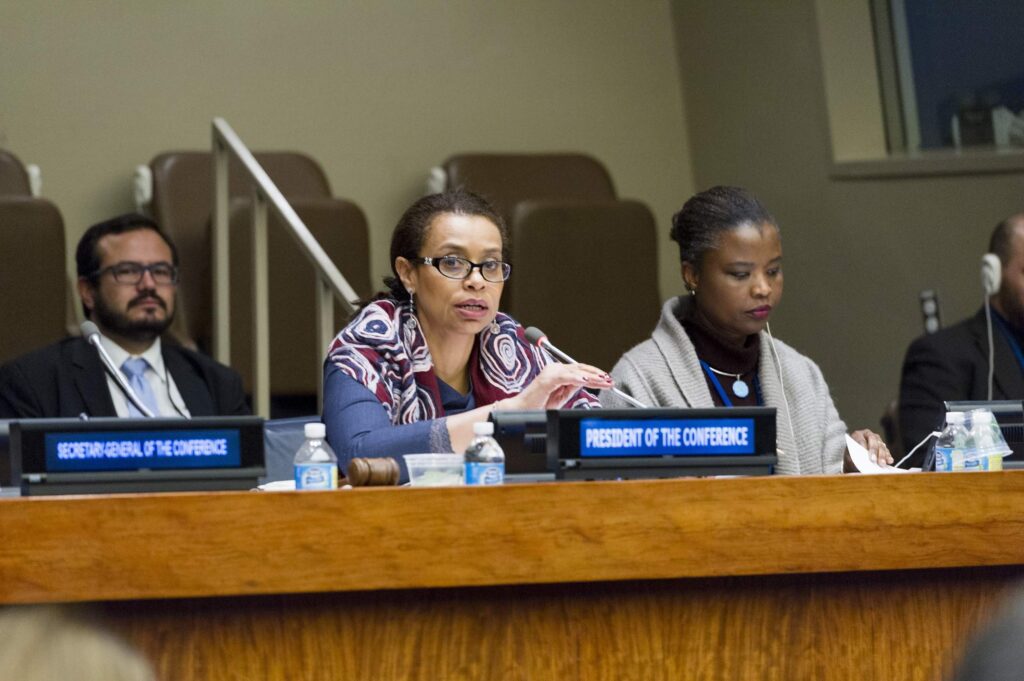 What are the security issues that prevent disarmament?
Security issues for each nuclear state will be different, but as long as the threat, perceived or not, is there states will not agree to a ban treaty.
"For the US that is currently [the threat from] North Korea on the agenda. And things like Russia haven't gone away," says Dall. "We've seen a decline in relations between Russia and Nato and that causes the alliance to believe we still need nuclear weapons to deter against an unlikely event, which would be an attack on our territories."
If there was a ban treaty, how would it affect the UK?
The UK possess around one percent of the total global stockpile of nuclear weapons. It has been making efforts to reduce its stockpile, taking the number of warheads on each submarine down from 48 to 40, and reducing the number of operational missiles on each sub to no more than eight.
The UK defence budget is around £35.1bn and of that total six percent is spent on nuclear weapons, around £2bn.
"The UK is an interesting one. Of all the countries that have nuclear weapons, we are probably the country with the largest domestic opposition to the weapons out of everyone – it is much more of a public debate in the UK," says Dall.
"The UK also maintains a very low stockpile of weapons. We only have one delivery mechanism, the submarines, and for the UK to go any lower that would probably be unfeasible as it maintains this low stockpile."
If the UK were to get rid of its weapons, it would be an expensive feat too. The Ministry of Defence has estimated that nuclear decommissioning would cost around £4bn over several years.
How could a treaty like this be enforced?
Worldwide, there are approximately 15,395 nuclear weapons, of which 4,120 are deployed with operation forces, according to the Stockholm International Peace Research Institute (SIPRI). The US and Russia are the top two players: Russia has the most nuclear weapons, around 7,290 and whilst the US has less, at 7,000, it has the most deployed warheads of all the states: 1,930.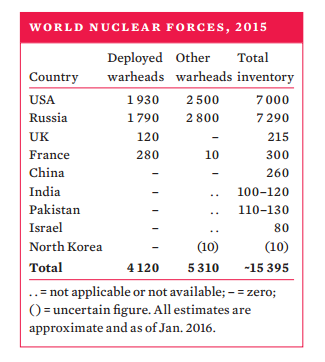 As well, it is thought that around 1,800 of these weapons are kept in a state of high operational alert.  As a result, ensuring that all weapons were disposed of once a ban treaty was enforced would not easy to achieve.
Thanks to other treaties like the Comprehensive Test Ban (CTB) treaty, states are being monitored about their nuclear activity. The CTB organisation, based in Vienna, monitors activity around the world and is able to detect if a country tests nuclear devices.
"So there's different, small components that could make up a verification of such a treaty should it ever come into full effect," explains Dall.
"But how you would verify with confidence that every single nuclear weapon is gone from the US and Russia for example, who maintain thousands of weapons between them, that's going to be a challenge."
Will it ever be possible to have a world without nuclear weapons?
Despite all this; the costs, the security aspects, the current lack of response by nuclear states to engage in ban talks, this doesn't mean there will never be a world without them.
On the current ban treaty talks, Dall believes it is constructive to have these conversations.
"It is constructive to talk about nuclear weapons and the role they play in our security. I would have hoped [the talks] would be more of a conversation that take into considerations some of the security concerns that the nuclear weapons states, Nato allies and East Asian allies feel.

"In that way, I think we can more adequately get to a place where we can say how do we deal with this and reduce it and work towards a situation where nuclear weapons are no longer relevant to our security. But right now, they very much are."