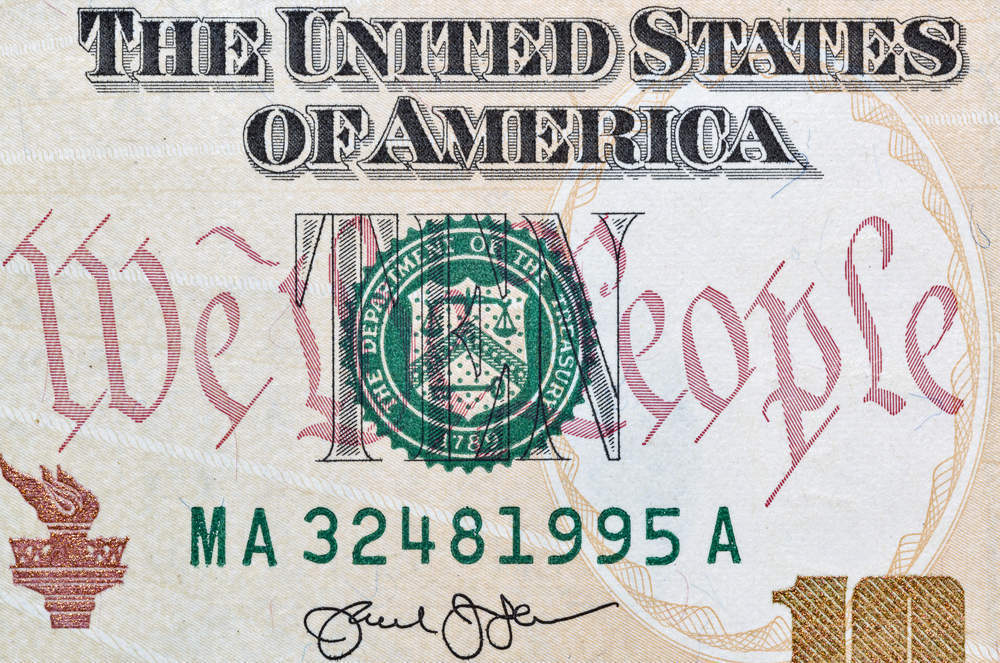 The latest Congressional Budget Office (CBO) report on the state of the US economy will not be easy reading for US President Donald Trump — warning debt could rise to a level comparable to World War II and the 2008 financial crisis.
The non-partisan budget watchdog has forecast the US budget deficit will surpass $1 trillion by 2020 as tax cuts and spending increases signed by President Donald Trump do little to boost long-term economic growth.
Debt is set to hit $28 trillion — around 96% of US GDP — by 2028.
While previous forecasts have predicted the country's budget deficit — the gap between how much the government takes in and how much it spends — would cross the $1 trillion dollar mark, the latest estimate is two years sooner than previously thought.
Meanwhile, the US budget deficit is expected to swell to $804 billion this year, an increase in last summer's projections of $242 billion.
The report warned that Trump's recent tax cuts and spending hikes will raise the country's long-term debt with only a short-term boost to the economy and that this would have "serious negative consequences" for the US.
Michael Peterson, who heads the budget watchdog Peterson Foundation, said:
Today's CBO report confirms that major damage was done to our fiscal outlook in just the past few months. This is the first forecast to take into account the recent tax and spending legislation, and it's clear that lawmakers have added significantly more debt on top of an already unsustainable trajectory.
The CBO lifted its economic growth forecast for this year and next to 3.3% and 2.4% respectively.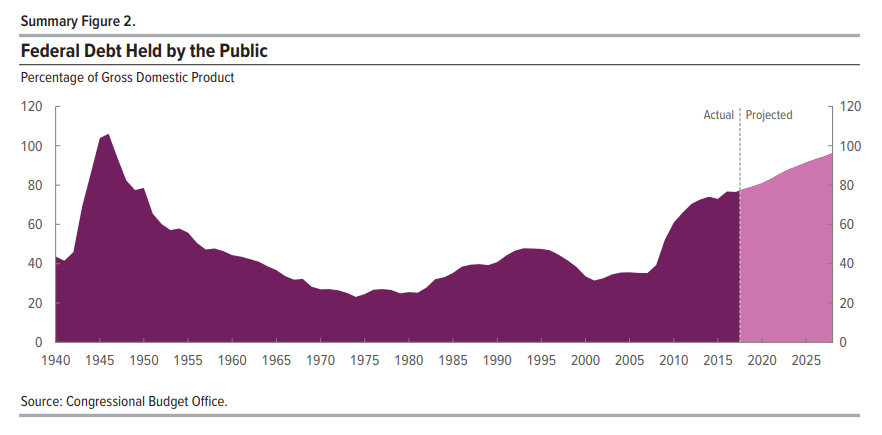 The CBO report said:
During the 2020-2026 period, a number of factors dampen economic growth: higher interest rates and prices, slower growth in federal outlays, and the expiration of reductions in personal income tax rates.

As deficits accumulate in CBO's projections, debt held by the public rises from 78 percent of GDP (or $16 trillion) at the end of 2018 to 96 percent of GDP (or $29 trillion) by 2028. That percentage would be the largest since 1946 and well more than twice the average over the past five decades.
The CBO warned rising debt could mean there is increased likelihood of a fiscal crisis in the US and there would be a greater risk that investors would become unwilling to finance the government's borrowing unless they were compensated with very high interest rates.
CBO budget director Keith Hall said:
The federal budget deficit grows substantially over the next several years. Federal debt is projected to be on a steadily rising trajectory throughout the decade. The timing of this is really concerning because we're not coming out of a recession.