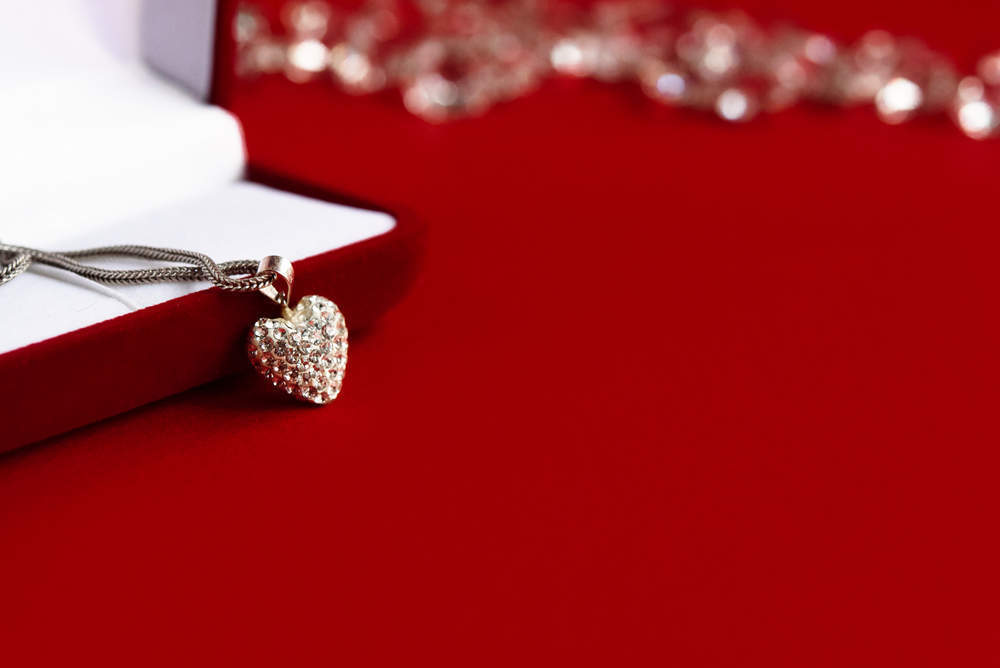 Whether created by corporate greed or in the name of love, Valentine's Day is a day of thoughtful gifts, romantic gestures and maybe something a little more if you're lucky.
What better way to say "I love you" than the biggest, most expensive jewel that you can get your hands on?
If you're stuck on what to buy your other half this Valentine's Day, here are a few of our favourite jewellery gifts.
Midnight Planétarium watch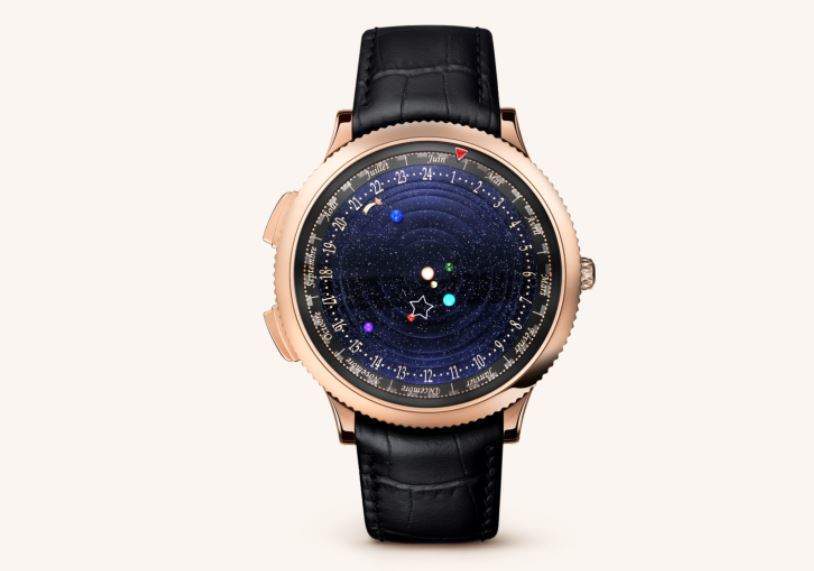 How much does it cost? – £198,800
The perfect gift for – The one that you love to the moon and back
What makes it a good gift? – The Midnight Planétarium is a star-themed watch worn by the stars. Hollywood actor Matt Damon was spotted wearing one of these Van Cleef & Arpels creations as he picked up his Oscar for The Martian in 2016.
This complex piece, produced in small numbers due to the difficulty of creating them, shrinks our solar system down to wristwatch size. Earth, Mercury, Venus, Mars, Jupiter and Saturn loop around the sun according to the actual length of time that it takes them to orbit.
It doesn't exactly fit Valentine's Day's romantic theme, but you can always throw in a mushy comment about the recipient being the centre of your universe.
Buy a Midnight Planétarium here
Senturion Meteorite bracelet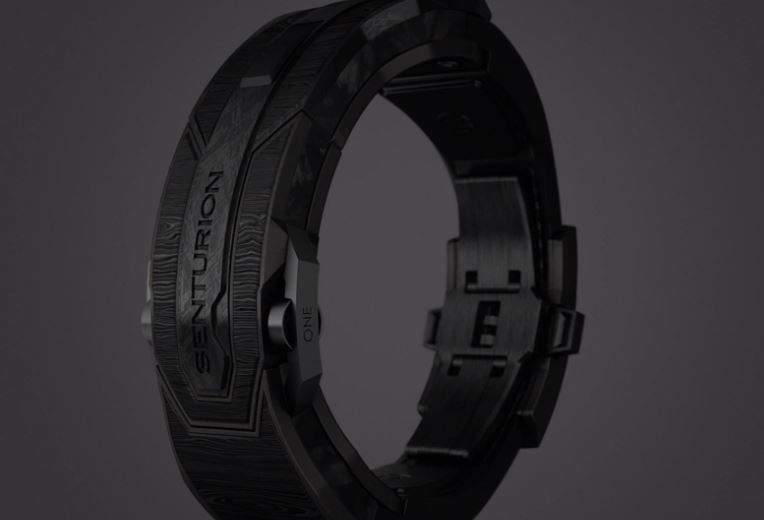 How much does it cost? – £101,800
The perfect gift for – The one that fell from the heavens
What makes it a good gift? – This luxury accessory might be sleek, stylish and high-tech, but it is anything but modern. The metals at the core of Senturion's Meteorite collection bracelets previously travelled the universe for four billion years before findings its way into our Valentine's Day gift guide.
The Widmanstatten pattern (the scratched surface you can see on the side of the bracelet) is the result of millions of years of cooling out among the stars, making each of these limited-production bracelets unique.
If you're more into cold, hard features than cold, hard space rocks, Senturion bracelets can also be used to unlock your supercars. If you're considering this purchase, we assume you have plenty of those too.
Buy a Senturion Meteorite bracelet here
Apple Watch Hermés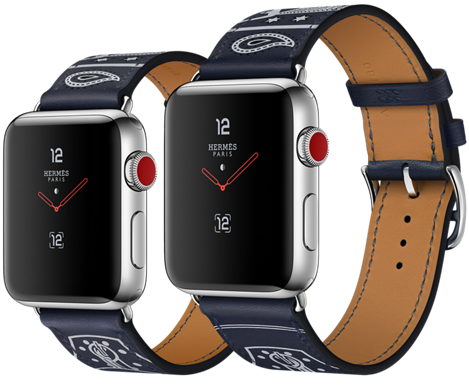 How much does it cost? – £1,199
The perfect gift for – The apple of your eye
What makes it a good gift? – An Apple Watch says I love you, but a Hermés Apple Watch shows true commitment. The French fashion brand has been partnering with Apple since 2015, creating leather straps that add a touch of luxury to the already high-end product.
Hermés currently offers three variations based on its own iconic watch straps – Single Tour Rallye, Single Tour Éperon d'Or and Double Tour. Likewise, the watch casing is made from stainless steel, rather than aluminium which is used in cheaper models.
Paying an extra £800 for some steel and a few centimetres of leather might not sound like great value, but love is more important than money.
Buy the Apple Watch Hermés here
Sholdt Triple Diamond Engagement Ring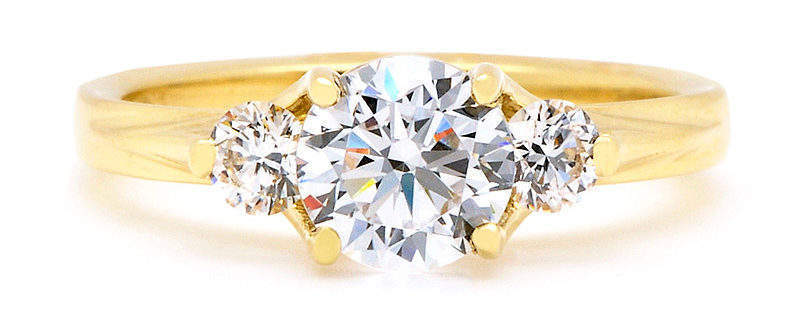 How much does it cost? – $2,900
The perfect gift for – Your future princess
What makes it a good gift? – The announcement of British royal Prince Harry's engagement to American actress Meghan Markle generated plenty of excitement last year. The centre piece of the royal engagement was the £120,000+ sparkler that Harry presented to Markle.
While it's impossible to get your hands on the same unique engagement ring, there are plenty of similar looking rings that offer much of the same at a more affordable price. This alternative, by Seattle-based ring-maker Sholdt, offers three sparkling diamonds set on a 18K gold ring, available in yellow, rose or white gold.
Buy the Sholdt Triple Diamond Engagement Ring here
Cartier Love Bracelet
How much does it cost? – $3,600
The perfect gift for – Your one true love
What makes it a good gift? – This one means forever. Well not really, but almost.
Cartier launched their line of Love bangles in 1969, but the popularity of the bracelet has resurged in recent years after a number of celebrities were spotted wearing them. Designed to "turn a promise into a commitment", Love bracelets are screwed together so that they can't be removed without the accompanying screwdriver.
Available in yellow, pink or white gold, Cartier has a forever bracelet to suit every wrist.
Buy a Cartier Love Bracelet here
Bayou With Love x Dell Opal Hoop Earring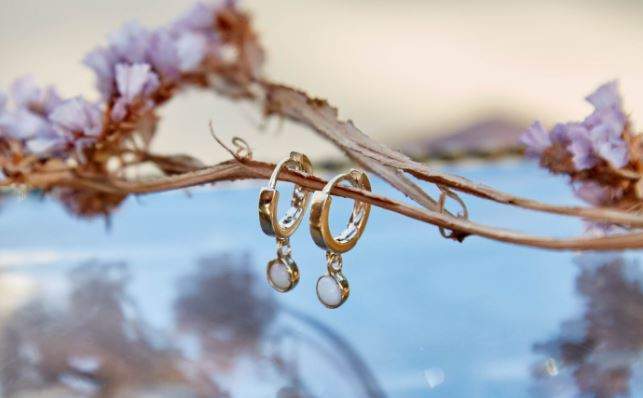 How much does it cost? – $168
The perfect gift for – The one who loves the environment more than they love you
What makes it a good gift? – Valentine's Day may be gimmick cooked up by retailers to take your hard-earned money, but at least this Valentine's gift will do some good.
Just 12.5 percent of electronics are responsibly recycled globally, but tech company Dell has teamed up with Hollywood actress Nikki Reed in an attempt to change that. The result? A collection of rings, necklaces and earrings made from 14 karat gold removed from old Dell computers.
Complete with an ethically sourced opal, these earrings are a safe gift for those that care.
Buy it here
Motiv ring
How much does it cost? – $199
The perfect gift for – The runaway bride
What makes it a good gift? – Wearable tech is all the rage and fitness trackers are among the most popular products. Companies like Fitbit have shrunk data-collecting devices down in size, packing powerful tech into tiny gadgets that we can wear on our wrist. However, Motiv has one-upped the fitness watch by creating a tracker small enough to wear on your finger.
The Motiv ring tracks activity, sleep and heart rate, pushing the data to a companion smartphone app that can help you to set goals and see them through.
It might not be quite as romantic as a diamond ring, but techies and gym rats will appreciate it more.
Buy a Motiv ring here
Dopamine & Serotonin Molecule necklace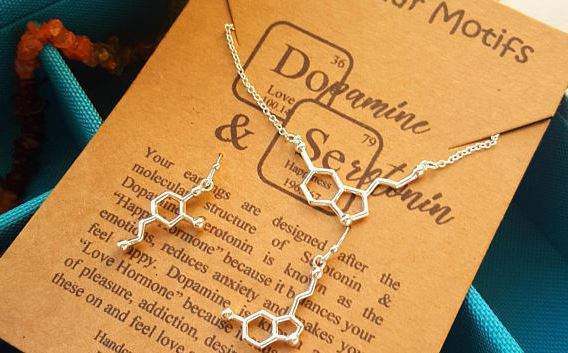 How much does it cost? – £37
The perfect gift for – The one who gets your heart racing and adrenal gland secreting
What makes it a good gift? –Serotonin and dopamine are neurotransmitters that help the brain to function, but these hormones might go over the head of anyone that isn't well read up on science and such. Serotonin is better known as the happiness hormone as it balances emotions and reduces anxiety, while dopamine is often associated with feelings of love, pleasure and desire.
What better to give this Valentine's Day than the gift of love and happiness? So it's not a £100,000 ring, but it's the thought that counts, not the price tag…
Buy a Dopamine & Serotonin Molecule necklace here
Á Cheval necklace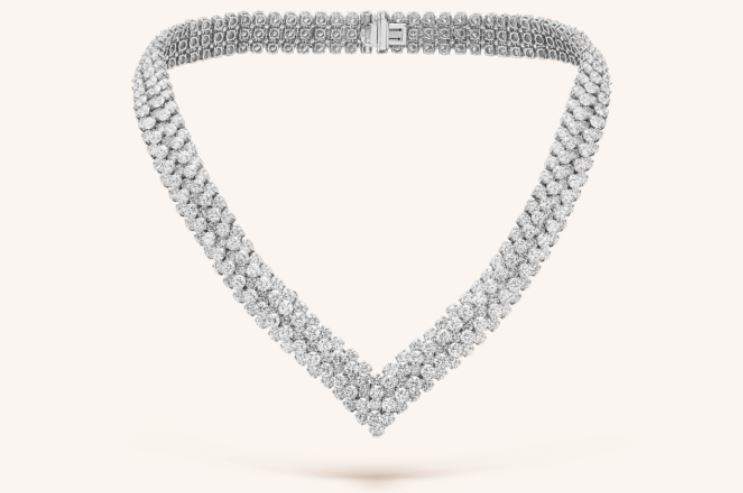 How much does it cost? – £728,000
The perfect gift for – Someone who looks like a million dollars
What makes it a good gift? – …Scratch that. It's not the thought that counts, but the amount of diamonds, and this $1m necklace from high-end jeweller Van Cleef & Arpels has plenty. 465 rounded diamonds, to be exact, superimposed on a platinum necklace to create an "effect of brilliance and relief".
Without accompanying gems and jewels, the outcome is a simple one that provides all the elegance that you want from a seven figure piece of jewellery.
Buy a Á Cheval necklace here
Verdict deals analysis methodology
This analysis considers only announced and completed artificial intelligence deals from the GlobalData financial deals database and excludes all terminated and rumoured deals. Country and industry are defined according to the headquarters and dominant industry of the target firm. The term 'acquisition' refers to both completed deals and those in the bidding stage.
GlobalData tracks real-time data concerning all merger and acquisition, private equity/venture capital and asset transaction activity around the world from thousands of company websites and other reliable sources.
More in-depth reports and analysis on all reported deals are available for subscribers to GlobalData's deals database.