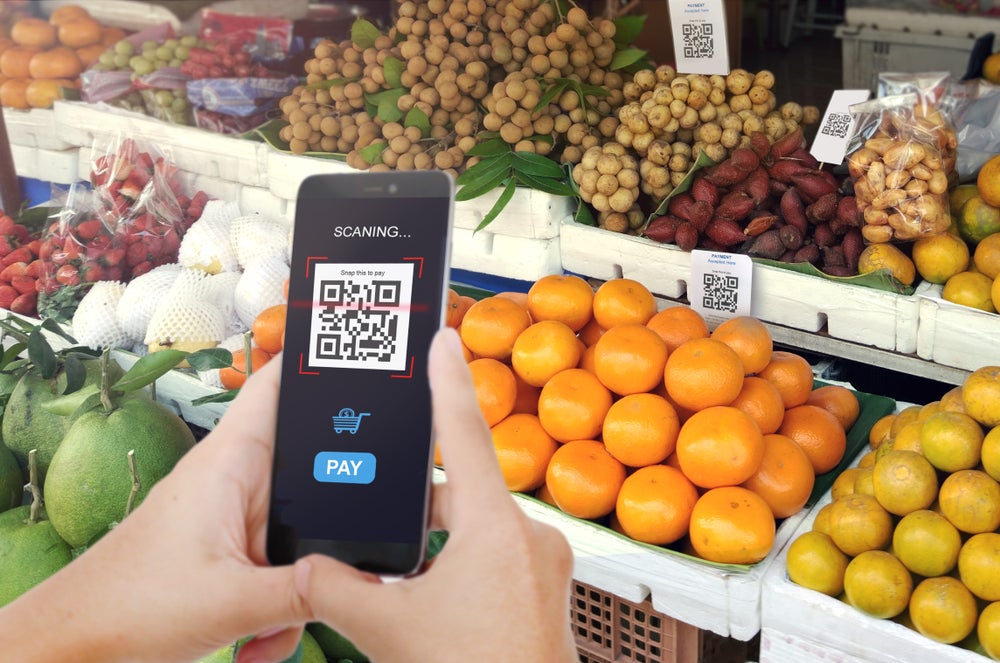 As consumer retail spend continues to shift online and shoppers shop less in physical stores, the mobile channel is becoming increasingly important. The online market is set to be the fastest growing area of retail within the next five years and spend via smartphone is rising rapidly as consumers continue to turn to their convenient handheld devices to complete everyday tasks. So what is mobile in retail in business and what are the main trends?
Why does mobile in retail matter to business?
As mobile technology plays an increasingly important part in consumers' everyday lives, impacting the way shopping journeys are carried out, retailers must shift their business focus to make mobile a priority. Even those retailers that do not operate transactional websites must consider the effect that changing shopping habits, due to the rising use of mobile, are having on their business.
Retailers are responding to the growth in mobile spend in various ways. Many have introduced functional apps and mobile-optimised websites to ensure the mobile shopping experience is user-friendly and seamless in order to drive conversion despite the screen size being much smaller than most desktops or laptops. Other retailers have introduced features on smartphones that enhance the in-store shopping experience such as QR code scanners or augmented reality tools.
The most pioneering examples of using mobiles to enhance the physical store shopping journey rely on customers downloading an app which they then use to scan products instore and quickly check-out at the end of the journey allowing customers to simply walk out of the store, while the app processes the payment through their saved payment method.
What are the main themes around mobile in retail?
5G network advancement
As the demand for faster mobile broadband internet increases, the technology must be developed to support this, hence the introduction of 5G. Yet this requires both network providers and devices to upgrade in order to support these faster speeds – network towers must be enhanced and consumers must buy newer devices. Newer devices tend to be backward compatible so for those that own a 4G compatible phone, these products can also communicate through 3G and 2G. By 2020, it is predicted that mobile broadband internet will be 5G which will be 1,000 times faster than the current iteration, 4G, and reach download speeds of 100 gigabits per second. This could mean that an eight gigabyte HD movie could be downloaded in just six seconds compared to seven minutes on 4G and over an hour on 3G. It will also provide greater network stability to ensure a more consistent connection to the internet limiting network dead spots.
The introduction of 5G will allow consumers fast access to necessary information, aiding mobile purchasing as well as browsing on-the-go. For stores offering free Wi-Fi, there will be the expectation that these speeds will be matched.
Improved mobile device hardware
Mobile phone models are regularly being updated and released by leading brands with improved hardware such as longer battery life and better processors as well as larger screen display sizes. The improved hardware of mobile phones will lead to enhanced performance and greater utilisation of these devices. This will become even more important as mobile phones are used more for functions like augmented and virtual reality.
Screen sizes have also changed dramatically, with some of the latest mobile phones acting more like a tablet. This leads to better user experience, particularly for browsing and purchasing, giving shoppers greater confidence when they can easily view product details, imagery and video content.
The increased memory capacity of mobile phones is also increasingly important. This means that mobile users can store more apps, which is important as retailers ramp up investment in their apps.
Increased functionality of mobile devices
The improved functionality and capabilities of mobile phones have led to increased use both overall and in terms of the variety of uses, with mobile phones becoming even more of a staple item. This is particularly key with the more recently launched augmented reality capabilities of devices. The capability will no doubt increase in use and importance over time as augmented reality and virtual reality becomes more popular and QR codes, for example, are more widely adopted.
The connected consumer and the connected customer experience
Consumers are becoming increasingly connected, with mobiles being used to communicate through SMS, calls, emails and social media as well as to conduct research via the internet and make purchases, and voice assistants being used to control smart home technology and purchase items via the internet for example. Companies need to be accessible via an increased number of digital touchpoints in order to tap into the connected consumer, stay top-of-mind and keep customers satisfied. Those which create a seamless and connected customer experience by engaging with shoppers via voice assistants, apps, social media, email marketing and other forms, will be successful in keeping their brand front-of-mind.
Artificial Intelligence
There are many components to Artificial Intelligence (AI) that retailers can use to improve the shopper journey. The most applicable uses are image recognition, machine learning and chatbots. Many of these are available to use in stores and online already. For example, using image recognition in the store app to direct its customers to similar products and a simplistic chatbot that allows shoppers to locate items in their local store. AI can also be used in the home with AI-enabled voice assistants becoming more accessible. With these smart assistants also capable of ordering replenishment items to the home, there is a clear retail opportunity that stores must capitalise on.
Augmented Reality and Virtual Reality
The consumer applications of Augmented Reality (AR) and Virtual Reality (VR) are relatively recent. Despite VR headsets being showcased as early as 1994, it was not until 2016 that these headsets became commercially viable. While the main appeal of these items is in gaming, enabling users to enter into an immersive experience, these devices also have the potential to enrich consumers' retail experience.
VR is unlikely to become a mainstream tool for retailers as consumers are unlikely to be enticed into a purchase of an item just because they have seen it through a VR headset. However, there are experiential formats in which this technology can be applied.
Unlike VR, AR technology is more accessible and does not require additional devices for consumers to interact with it. A shopper's mobile is the quickest way in which retailers can apply AR technology for both online and offline purchases. AR enhances the shopping experience by layering on virtual components like images and graphics on to a real-world situation. AR was brought to the forefront with the launch of the mobile game app, Pokémon Go in July 2016. While this has no major retail impact it did generate excitement around this technology. The development of this software has now seen retailers such as IKEA use it to help its customers visualise its products in their own home.
This technology also has the potential to be used to analyse shopping habits. For example, retailers are becoming more interested in how customers interact in store, using beacon technology, heat maps can be generated and overlaid instore to highlight where hot spots for customer interaction are. This can then be used to determine optimal store layouts. The potential for this technology is only just being recognised and as it becomes more accessible, the use of AR and VR will develop.
The rise of the personalised shopping journey
The rise of online shopping has meant retailers have the opportunity to gather a greater amount of data but also presents a challenge in terms of linking up relevant information to provide valuable insights which companies can act on. Data can be used to personalise and improve the shopping experience whereby large product ranges online can often be overwhelming and the journey is largely impersonal compared to the traditional offline shopping experience. Personalisation provides an enhanced consumer journey through which shoppers are presented with the most relevant information and content such as edited recommendations of products which the user is most likely to buy based on past purchases or viewed items. Retailers and brands can expect this to positively impact conversion rates and increase loyalty.
App and browser user experience
Before fast connectivity on mobile, websites were built and designed for a laptop or desktop computer screen meaning when using the small screen of a mobile, browsing and purchasing items was impractical and cumbersome.
Initial developments to mobile sites ensured that retailers were able to take the most important aspects of their full desktop website and translate it into a more user-friendly format for mobile. Many retailers' websites would automatically adjust in response to the device on which it is being viewed however advancement in this technology now means that the website could become even more adaptable to screen size. Websites built using responsive design will adapt to the size of the screen rather than adapting to the device or browser type, ensuring greater flexibility.
Mobile apps, on the other hand, are already adapted to screen however with these applications taking up valuable storage space on mobiles, retailers must ensure additional functionality is included to encourage consumers to download.
What is the history of mobile in retail?
Alexander Graham Bell was the first person to be awarded a US patent for the invention of the telephone in 1876. However, much has changed since his original design that has allowed retailers to use consumer's own devices as a tool for adding value to stores, sharing more information and allowing consumers to purchase through their phones. Here are some notable events in the global mobile landscape, both past and future.
Key milestones in the mobile landscape
1973: Prior to 1973, "mobile telephones" were limited to being installed in cars and other vehicles. The first company to produce the modern-day handheld telephone was Motorola in April 1973. The device weighed 1.1 kilograms and measured 23 by 13 by 4.5 centimetres.
1983: While the first automatic analogue cellular systems were first used in Tokyo in 1979, it was in 1983 that the first US 1G network was released by Ameritech. The mobile phone that was launched to support this was called the DynaTAC 8000 X, had a talk time of just 35 minutes and took 10 hours to charge.
1991: The first GSM network was launched in Finland in 1991, marking the rise of the 2G phone network.
1993: IBM Simon was introduced to the world, and was arguably the world's first smartphone. It was a mobile phone, pager, fax machine and a PDA. It included the features: a calendar, address book, clock, calculator, notepad, email and a touchscreen with a QWERTY keyboard.
1993: Second generation mobile phones entered the market, introducing a new form of communication: SMS or text messaging. While the first machine-generated SMS message was sent in 1992, it was not until the following year that the first person-to-person SMS messaging occurred. The world's first ever SMS message was sent in the UK. A developer for a telecom contractor tasked with developing a messaging service for Vodafone. The text message read "Merry Christmas" and was sent to Richard Jarvis, a director at Vodafone, who was enjoying his office Christmas party.
1998: The first mobile payments were trialled in this year in Finland and Sweden. Mobile phones were used to pay for a Coca-Cola vending machine and car parking. The first commercial payment system to mimic banks and credit cards was launched in the Philippines by mobile operators Globe and Smart.
2001: In November 2001, South Korea's KTFreeTel became the first provider of an "app store". It ultimately closed when Apple launched its iPhone and App Store six years later.
2002: The pre-commercial trial network with 3G was launched in Japan in 2001. However, 3G did not come to Europe until the following year. The European launch of 3G was in Italy and the UK by Three/Hutchison group. These high connection speeds allowed for a transformation in the industry with media streaming of radio and television now a possibility. RealNetworks and Disney were among the first to offer this content.
2002: The first phones with a built-in camera were launched commercially. These included the Nokia 7650 and the Sanyo SPC-5300
2007: Steve Jobs announces the release of the first iPhone at the Macworld convention in January 2017. He states that the device would be available to consumers in June 2007.
2007: By the end of 2007, 295million consumers had access to 3G networks worldwide.
2007: Between 2005 and 2007, a number of high profile phone hacking cases came to light, leading advertisers to boycott the News of the World (one of the newspapers involved) resulting in its closure.
2008: In 2008, both Google and Apple release their app stores to the market. In July 2018, Apple's App Store was opened and in October 2008, Google Play was launched, on opening its original name was Android Market.
2010: In June 2010, Sprint released the first smartphone that could be considered to use "4G".
2013: 4G networks now have mainstream access in the UK. 2014 Nokia offered the first wireless charging device with its Windows 8-powered Lumia 920.
2014: Apple Pay is launched, followed by Samsung Pay in 2015.
2016: Blackberry shuts down its phone design and manufacturing for good after the rise of Apple and Google phone systems become the leading mobile phone systems.
2017: In October 2017, it was announced that Windows Mobile production would be ending after seven years due to a lack of market penetration and lack of interest from app developers.
2018: After just over a year on trial with its employees, Amazon Go is opened to the public in January 2018.
2018: In 2018, it was announced by both Apple and Android retailers that their devices were vulnerable to a major security flaw due to a microchip flaw. This left devices vulnerable to hackers.
2020: The first 5G smartphones are predicted to launch by 2020.
---
This article was produced in association with GlobalData Thematic research. More details here about how to access in-depth reports and detailed thematic scorecard rankings.