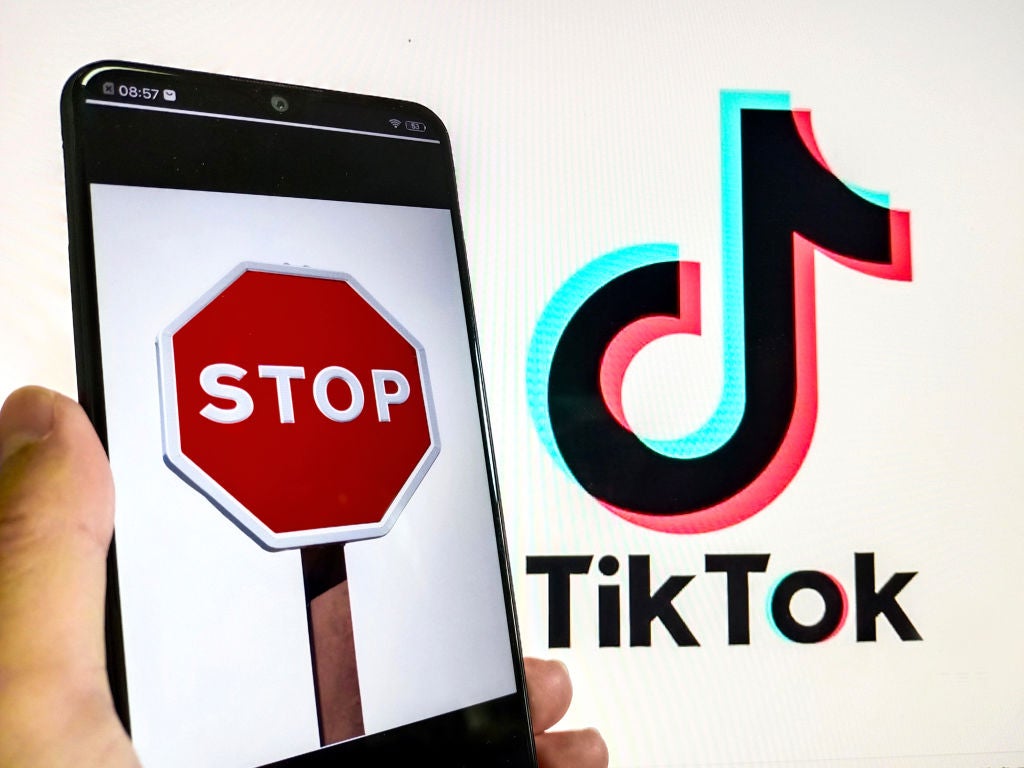 It's been a difficult few months for popular Chinese-owned video app, TikTok, as lawmakers ramp up their attempts to restrict the app's access across the globe.
On 18 May 2023, Montana became the first US state to ban the app from operating and being downloaded over concerns about user data security.
The landmark ban, which is set to take effect on 1 January 2024, has been criticized as an infringement on free speech by many users of the platform. Five users even filed a lawsuit against the state.
Montana's decision follows government bodies and countries, including the UK, Canada and the EU, all taking their own stance on the app.
Many governments are fearful that TikTok, which is owned by Chinese company ByteDance, may be used by the Chinese government to collect user data for political purposes.
Security experts have voiced similar concerns. Sarah Bauerele Danzman, a professor at Indiana University, told ABC News: "We don't have smoking gun evidence. But we do know that if the [Chinese government] asks TikTok for any data, they would be compelled to provide it and we also probably wouldn't know if they did."
How well do you
really

know your competitors?

Access the most comprehensive Company Profiles on the market, powered by GlobalData. Save hours of research. Gain competitive edge.
Company Profile – free sample
Thank you!
Your download email will arrive shortly
Not ready to buy yet? Download a free sample
We are confident about the unique quality of our Company Profiles. However, we want you to make the most beneficial decision for your business, so we offer a free sample that you can download by submitting the below form
By GlobalData
However, other experts have spoken out against the ban and questioned why governments are singling out one app.
"We all agree that we need lawmakers to be making privacy-first choices in their legislation, but this can't be at the expense of compromising people's freedoms online or banning the platforms they chose to use," Lauren Hendry Parsons, privacy advocate at ExpressVPN, told Verdict.
TikTok has denied all claims that it collects more data than other social media companies and called the bans "disappointing".
Here is a list of every jurisdiction that has enforced a TikTok ban so far:
The European Union
The European Commission and EU Council temporarily banned TikTok from employee phones on 23 February as a cybersecurity measure.
"To increase its cybersecurity, the Commission's Corporate Management Board has decided to suspend the use of the TikTok application on its corporate devices and on personal devices enrolled in the Commission mobile device service," The Commission said at the time.
Shortly after, the European Parliament announced it would be blocking TikTok from all of its government-issued phones on 28 February.
This led to a wave of bans across Europe as other countries followed suit.
United Kingdom
The UK government banned TikTok from all government electronic devices on 16 March 2023.
A Government Cabinet Office security review ruled that the video-sharing app was prohibited over fears of Chinese government interference and surveillance.
Speaking on the day of the ban, Chancellor of the Duchy of Lancaster Oliver Dowden said: "The security of sensitive government information must come first, so today we are banning this app on government devices. The use of other data-extracting apps will be kept under review."
In a government press release, the UK government explained how TikTok was able to access and collect a "range of data on the device, including contacts, user content, and geolocation data".
Australia
TikTok is currently banned on all Australian government devices.
Mark Dreyfus, Australia's attorney general, announced he had authorised a mandatory direction to ban the Chinese-owned app from government phones on 4 April.
"The direction will come into effect as soon as practicable," he said in a statement.
Adding: "Exemptions will only be granted on a case-by-case basis and with appropriate security mitigations in place."
The government released a statement following the ban, stating TikTok "poses significant security and privacy risks" due to its "extensive collection of user data and exposure to extrajudicial directions from a foreign government that conflicts with Australian law."
Lee Hunter, general manager of TikTok for Australia and New Zealand, pushed back against the country's decision. He claimed, "there is no evidence to suggest that it is in any way a security issue for Australians."
"Our millions of Australian users deserve a government which makes decisions based upon facts and who treats all businesses fairly, regardless of country of origin," Hunter said in a statement.
New Zealand
New Zealand announced TikTok would be banned from all of its parliamentary devices on 17 March 2023.
The country's MPs were informed via email from the parliamentary service stating: "The Service has determined that the risks are not acceptable in the current New Zealand parliament environment.
"The decision to block the TikTok application has been made based on our own analysis and following discussion with our colleagues across government and internationally.," it read.
France
France banned TikTok from government phones on 24 March 2023.
The country's ban is different from that of the UK, as it currently prohibits the use of any "recreational" apps meaning that as well as TikTok; Twitter, Instagram, Facebook, and more are also banned.
A government spokesperson said: "Recreational applications do not have sufficient levels of cybersecurity and data protection to be deployed on government equipment.
"These applications can therefore constitute a risk to the protection of the data of these administrations and their public officials.
"This prohibition applies immediately and uniformly. Exemptions may be granted on an exceptional basis for professional needs such as the institutional communication of an administration."
United States
Montana, a state of just over a million residents, announced it will be banning TikTok from residents' personal devices, in a landmark move taking effect on 1 January 2024.
"To protect Montanans' personal and private data from the Chinese Communist Party, I have banned TikTok in Montana," Montana Governor Greg Gianforte wrote in a tweet.
Legislation signed by Gianforte makes it illegal for both Google and Apple to house TikTok in their app stores. As it currently stands, there will be no charges for individuals using the app.
In addition to the Montana state-level ban, the US government ordered all of its federal employees to remove TikTok from their government phones on 28 February 2023.
Currently, over half of all US states have banned TikTok from government devices over fears of data breaches from China.
TikTok said it was "disappointed" by the decision from Congress stating, "a political gesture that will do nothing to advance national security interests – rather than encouraging the Administration to conclude its national security review."
Despite many lawmakers pushing for the US to ban the app nationwide, a widespread ban was blocked in March over fears of free speech being infringed upon.
Austria
Austria banned TikTok from government employees' work phones on 10 May 2023.
Austria's Interior Minister Gerhard Karner said: "It will be banned from work mobile phones. On private phones outside the state network it will of course be possible (to use the app)."
Afghanistan
The Taliban announced a nationwide ban of TikTok in April 2022, claiming it was negatively impacting the younger generation.
A Taliban spokesperson was quoted by The Sun stating that the application's "filthy content was not consistent with Islamic laws."
TikTok was banned from the country at the same time as the popular mobile game PUBG.
Denmark
Denmark ordered a ban of TikTok on work devices in March, 2023. The country's Defense Ministry cited security concerns and ordered employees to remove the application as soon as possible.
Canada
Canada banned TikTok from government mobile phones on the 28 February 2023.
Canadian prime minister Justin Trudeau said: "I suspect that as governments take the significant step of telling all federal employees that they can no longer use TikTok on their work phones, many Canadians from business to private individuals will reflect on the security of their own data and perhaps make choices.
"I'm always a fan of giving Canadians the information for them to make the right decisions for them."
India
India announced it was banning TikTok along with 58 other popular Chinese-owned phone apps in June 2020.
The country believes the app is a threat to its national security, claiming the company is secretly collecting information and obtaining data illegally.
Before the ban, India represented the biggest international market for the company with over 200m users.
Taiwan
TikTok was banned from Taiwan's government devices in December, 2022. The move came after a warning from the FBI that TikTok posed a national security risk.
Chris Wray, US FBI director, had spoken at the University of Michigan a few days prior to the ban warning against the use of TikTok.
Wray said China had the ability to control what users see on the app by controlling the recommendation algorithm. He said this allowed the country " to manipulate content, and if they want to, to use it for influence operations."
"All of these things are in the hands of a government that doesn't share our values, and that has a mission that's very much at odds with what's in the best interests of the United States," Wray added.
The US FCC Commissioner called the decision from Taiwan "smart".
GlobalData is the parent company of Verdict and its sister publications.