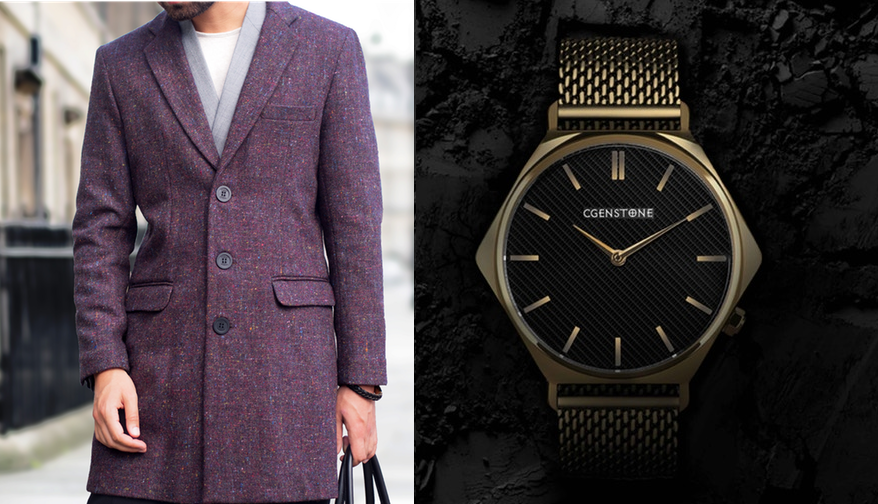 If you're looking for some interesting new products to spend your hard-earned cash on this week, look no further. Once again, we've delved deep into Kickstarter, the internet's beloved crowd-funding website, to find some of the best new luxury products heading to the market.
Last week we focused on projects that were already fully funded, but this time around we've gone for a few that you can still invest in. Most of these have a good chance at reaching their funding goal, but every pledge will count!
In a nutshell:
Fashion that you can reassemble according to your needs is a huge trend right now. These shoes fit into that genre, and they're designed for working women. In brief, they're high heels which you can mix-and-match to suit your needs. If you're wearing stilettos and want to change to something blockier, you can slide the heel off and replace it with another, more comfortable component. Same goes for the straps. If you need something simple for work then just clip those straps on, but if you're going to an event and want something a little dressier, you can simply switch them over.
Minimum to pay to get the product:
$150 is all you need to pay for a pair of shoes in whichever colour you wish, a set of straps in whatever style or colour you wish and everything else you need. This one only comes with one set of heels though. It's a $100 on the RRP.
Best pledge reward:
For $325 you can acquire one set of shoes, with heels in every width, three sets of straps. That means you can make a up to 27 different combinations of shoes.
Will it reach the funding goal?
Possibly. Attrenti are in the early days of their campaign. There's 30 days to go and they still need raise 98% of their funding goal. It could definitely happen, but time will tell!
How well do you
really

know your competitors?

Access the most comprehensive Company Profiles on the market, powered by GlobalData. Save hours of research. Gain competitive edge.
Company Profile – free sample
Thank you!
Your download email will arrive shortly
Not ready to buy yet? Download a free sample
We are confident about the unique quality of our Company Profiles. However, we want you to make the most beneficial decision for your business, so we offer a free sample that you can download by submitting the below form
By GlobalData
In a nutshell:
Simply put, the MOAI is a robot which sticks to the side of your aquarium to clean the glass. It drives back and forth along the glass to keep things clean automatically. You control it with your phone. But the really cool aspect of the whole business is the HD camera on the robot. You can use this to take up-close photos of your fish, and clips which you can share with your friends. Again, you can control it with your phone, so you can move your MOAI to exactly the right spot to get the perfect snap!
Minimum to pay to get the product:
$199 will get you a single MOAI unit and all the accessories you need for it.
Best pledge reward:
$379 will pay for two MOAI units, one for each side of your tank. If you want to view your fish from every angle, this is the reward you should pick. Plus you'll make a saving of $219 compared to retail price.
Will it reach the funding goal?
Already fully funded!
In a nutshell:
Polaroid imitators are a huge gadget trend at the moment, but Prynt takes this one step further. Clipping onto the bottom of your Android phone, this neat gizmo prints the photos you take. You can print from your camera roll or from your social media accounts. You can also add a video to your prints so that when you scan them with your phone, they'll come to life on screen!
Minimum to pay to get the product:
Paying $119 will reward you with one Prynt unit and pack of 10 ZINK sticker paper!
Best pledge reward:
$149 gets you Prynt Pocket Lover pack. That includes the device itself, 40 sheets of ZINK sticker, and an accessory kit that includes a paper pouch, hanging photo clips, standing photo holder, photo album, ZINK Mini Sticker Paper. In stores all that would cost $199, so you'll make a 25% saving too.
Will it reach the funding goal?
Yep, easily. With 35 days (at the time of writing) to go, this one is already over 62% funded.
In a nutshell:
We wrote recently about the future of cinema and how it might incorporate 4D experiences. However while we were looking at the big screen, Vortx was focused on bringing 4D to the small screen. The Vortx is a box that sits by your computer while you play games. It's essentially a fan that blows hot and cold air towards you, but it does so in accordance with what's on your screen. Say you're playing a game with a huge explosion happening near to your character; the Vortx will hit you with a blast of hot air. If you're trekking through a frozen wasteland, it might blow a cold wind at you.
Minimum to pay to get the product:
$99. You'll get a first production unit and be eligible to join the beta programme.
Best pledge reward:
$218 will get you two of the Vortx units and a set of two exclusive branded shirts. You could use the units to get a 4D surround effect!
Will it reach the funding goal?
It seems reasonably likely. With 34 days (at the time of writing) to go, Vortx has reached about a third of its funding goal.
In a nutshell:
If you wear contact lenses, chances are you have a plastic case for them. The trouble is that these cases often need to be replaced because they get dirty or broken. Glasce is offering a new vision for contact lens cases: glass. The cases are simple, reusable, and just look a lot more classy than the standard plastic cases.
Minimum to pay to get the product:
$45 will get you one Glasce case.
Best pledge reward:
For $180 you can get five cases. If there are multiple people in your household who wear contacts this could be perfect. Or they'd make a handsome gift for a friend or colleague.
Will it reach the funding goal?
It's possible but less likely than others. With 26 days to go, Glasce has only reached 8.5% of its required funding. If you think it's a good idea, be sure to invest and tell everyone you know about it!
In a nutshell:
It's a watch. Honestly, that's all there is to it. That being said, there are a lot of watches looking for funding on Kickstarter, and the Cgenstone ones really stand out. With their unique hexagonal design, they're certainly eye-catching. They definitely look professional and certainly have an air of luxury that classic round watches can't hope to match.
Minimum to pay to get the product:
If you get one soon, you pay as little as $89 for a hexagonal watch with a leather strap. However, this is a special early bird price so quantities are limited.
Best pledge reward:
Honestly, the cheapest pledge reward is probably the best. If you want a metal mesh wriststrap rather than a leather one though, the super early bird price is $120.
Will it reach the funding goal?
Probably. 29 days left and these watches are about 29.5% of the way there.
In a nutshell:
There are few coffee-drinkers in the working world who haven't invested in a travel cup for their morning beverage. Cerio applies that same concept to your breakfast. It's essentially a plastic box that sits in the top of a tumbler. You put cereal in the box and milk in the tumbler. You can then 'sip' your breakfast cereal in the same manner as taking a swig of coffee from a travel mug. The Cerio is designed so that the perfect amount of cereal and milk come out at the right time to make sure each mouthful is just right and you don't run out of milk before your cereal is done. Considering that having breakfast has been proved to improve concentration, mood, and weight maintenance, this could be the perfect idea for professionals who might not have time to eat before heading to the office.
Minimum to pay to get the product:
$15 is the super early bird price. For that you get the Cerio, but not a tumbler to go with it.
Best pledge reward:
For $25 you can get the Cerio and a compatible tumbler so your whole breakfast experience can fit together!
Will it reach the funding goal?
Don't count on it. Despite having 60 backers, Cerio has only made it 15.5% of the way to its funding goal. With 28 days to go, it has plenty of times, but the momentum needs to pick up in a big way!
In a nutshell:
A rather novel idea, this product combines a web app and a physical product. When you buy a Hexatope pendant, you have to go to the app and design it yourself using a unique hexagonal grid. You can customise features such as the depth of your design and the colour, as well as the actual shape of the pendant. The designs are then hand-produced in London. If you're into quirky, handmaid jewellery that you can't get on the rack, look no further.
Minimum to pay to get the product:
To get a pre-designed one it's just £60. But if you want to be one of the first to create your own pendant, the super early bird price is £70.
Best pledge reward:
The most decadent pledge reward costs £600. That might sound like a lot, but for that price you get a personally made Hexatope pendant in solid 18ct gold.
Will it reach the funding goal?
This one's at just over a quarter of its funding goal with only 21 days left. It could pick up with some big backers, but it's not a certainty by any means.
In a nutshell:
One for the smaller people in your household. Wonderstructs is a marble run redesigned for the modern age. The creator designed the product because he wanted to create a project his kids could work on using their brains and tactile senses. The is made from laser-cut wood, and all the parts clip together. You attach it to the wall with sticky no-nails, no-glue magnets. Then your kids can create a marble track with all manner of gadgets from tippers to conveyors. If you're worried that your kids are spending too long on their phones and need a fun, complicated project, look no further!
Minimum to pay to get the product:
At the time of writing it's you can still get it for $175. Unfortunately, there's only one left, and after that sells, it will cost $200 to get one.
Best pledge reward:
For $360, you can get two Wonderstructs sets, which gives you double the possibilities for making a marble run. Or you could give the other one as a gift. And let's face it, there's a good chance this could become a must-have Christmas present, so there'll probably be plenty of small people who'd be willing recipients!
Will it reach the funding goal?
Already fully funded!
In a nutshell:
The world has a huge plastic problem. The plastic bottles, bags, and packaging we take for granted is causing a huge problem for our oceans. Because plastic isn't biodegradable, if it gets into the ocean, it will float there for years. Thankfully, a company called ECOLYN has the answer. They're making nylon out of ocean waste to turn into clothes. These swim-shorts are made out of that nylon. However, unlike some cheap nylon fashion items, these are designed with luxury in mind. For a start, they come with zipper pockets to keep your valuables safe when you're out of the water. The pockets are big enough for an iPhone X – handy for taking some underwater pictures! There's a hook for your sunglasses too. And most importantly, they're comfortable; the inner lining has been redesigned to maximise comfort.
Minimum to pay to get the product:
€45 will get you one pair of Fighetti swim shorts at the super early bird price. At the time of writing there's still plenty left, so get your bids in while you can. 
Best pledge reward:
All the other pledge rewards just get you more and more pairs of swim shorts. If you only need one pair, you're best off going for the above.
Will it reach the funding goal?
This ethical product definitely deserves to make it across the finish line. Unfortunately, it's looking like that may not happen. With four weeks to go, this one is only 12% of the way there! Still, a last-minute marketing blitz could revive the fortunes of this one.
In a nutshell:
Once upon a time, Irish tweed was the fabric to have your jacket made of. These days, more and more 'Irish' tweed is made outside of Ireland. Pedraza believes at least 90% of Irish tweed is made out of the country. They're hoping to bring tweed back to Ireland with their line of handmade jackets. And they're aiming for a seriously high-end release here. Their jacket are made from Donegal tweed and feature a silk twill lining, an antique bronze chain for hanging, engraved wooden buttons, and you can choose to have an underlined jacket too. Safe to say, they look absolutely gorgeous!
Minimum to pay to get the product:
The early bird offer will get you one jacket for £250. Not bad considering they'll be sold at £495 at retail.
Best pledge reward:
Again, unless you need multiple jackets, go for the above. If they reach their goal, they'll even throw in a free leather card holder too!
Will it reach the funding goal?
Pedraza's campaign could honestly go either way. With just ten days left, 57% of the funding goal has been met! If you want to give this one a chance then share it like crazy!